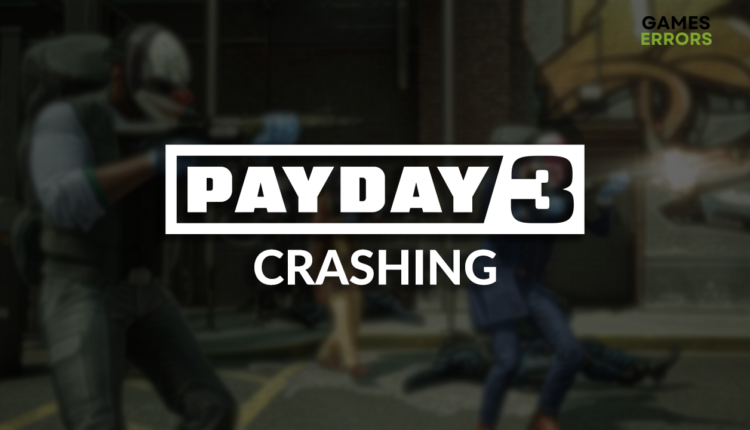 Payday 3 Crashing: How to Prevent It
There is no good moment for a game crash, but it is the worst when it happens in the middle of the Payday 3 heist! Let's see what we can do about that. 👾
Gamers are reporting that the Payday 3 crashing issue persists no matter what they do. In the sea of potential problems, we separated the most frequent ones and paired them with the most suitable fixes. Take action and apply these solutions to prevent crashes in Payday 3.
If you struggle with performance rather than stability, learn how to fix Payday 3 stuttering.
Why is Payday 3 crashing?
Payday 3 crashes due to poor system specifications, corrupted game files, missing or outdated DirectX, an outdated GPU driver, pilled-up cache files, low virtual memory, unnecessary background apps or startup services, or problems with temporary files on your PC.
How do I stop Payday 3 from crashing?
Start by applying the following checks and fixes:
Here is the list of solutions to prevent the Payday 3 crashing problem.
1. Update GPU driver
Time needed: 5 minutes
GPU driver controls the work of your graphics card and allows it to perform correctly. Graphics card manufacturers often release updates that include patches and bug fixes for issues on your PC. You must manually update your GPU driver or use a driver updater tool to receive these.
Click on the Windows icon, type Device Manager, and open it.

Double-click on the Display Adapters section.

Right-click on your GPU and select the Update driver option.

Select the Search automatically for drivers option.
Install the driver update.
Restart your PC.
Did you know that there is a way to manage your drivers automatically? Meet Outbyte Driver Updater, a swift and reliable tool that allows you to have an interruption-free gaming experience while it handles all tasks related to driver updates!
⇒ Get Outbyte Driver Updater
2. Delete cache files
Cache files are designed to boost the performance and stability of games on your PC. However, in some situations, they are counter-productive, so we advise you to go to the Local folder of your PC and delete cache files from there.
Use the Windows Key + R shortcut to open the Run dialog, type %localappdata%, and hit OK.

Use the CTRL + A shortcut to select all files in the folder.
Press the Delete key on your keyboard to delete all the files in the folder.
➡ If prompted to confirm, click on Yes.
➡ If some files can't be deleted, click on Skip.

3. Increase Windows virtual memory
The latest AAA titles require plenty of RAM. A good idea is to increase your virtual memory which serves as an extension to memory on your PC. Usually, it is allocated by Windows, but we advise you to manually set it to 2x of your RAM.
Use the Windows Key + R shortcut to open the Run dialog, type control, and hit OK.

Click on the dropdown next to View by and select Large icons.

Click on the search, type Performance, and click on Adjust the appearance and performance of Windows.

Navigate to the Advance tab and hit the Change button under the Virtual Memory section.

Disable Automatically manage paging file size for all drives.

Select the Custom size button, enter values 2x of your RAM in MB, and hit the Set button.

Click OK and restart your PC.
Extra steps
Here are some additional steps to take if the Payday 3 crashing issue still occurs on your PC:
❌ Disable background apps: This way, no background apps will cause compatibility issues.
🧹 Perform a Disk Cleanup: Click on the Windows icon, type Disk Cleanup, and open this tool from the search results. Run it with the temporary files selected and restart your PC afterward.
💽 Perform a Clean Boot: This method includes disabling all non-Microsoft startup services.
🔁 Reinstall Payday 3: The last resort is to uninstall Payday 3, delete all files and folders related to it, and restart your PC. Use your game distribution platform to install the game.
Related articles:
Conclusion
In conclusion, you can start troubleshooting the Payday 3 crashing problem by checking system requirements and game files and updating the DirectX. The most suitable solution for this problem includes performing GPU driver updates, deleting cache files, and increasing Windows virtual memory.
Don't forget to disable background apps and unnecessary startup services. Perform a Disk Cleanup to get rid of temporary files. Reinstall the game if everything else fails in resolving stability issues in Payday 3.