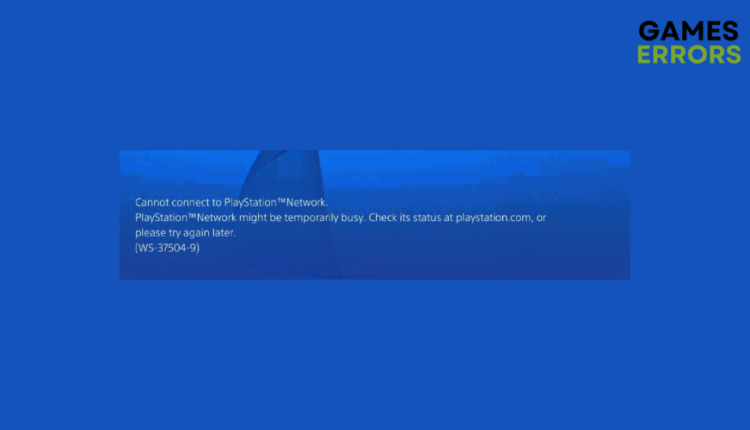 PS4 Error WS-37504-9: Fix it Like a Pro
Get past PS4 Error WS-37504-9 by using our troubleshooting steps below🎯
X
INSTALL BY CLICKING THE DOWNLOAD FILE
Have you tried sending a message to someone or adding a friend but instead get a ps4 error ws-37504-9?
You're not alone. Many players on various platforms, including Reddit and Gamespot forums, have reported the same issue. This can be frustrating for anyone as it ruins the gaming experience.
If you are currently experiencing the PS4 error WS-37504-9, keep reading to find out what it is, why it is happening, and how to fix it.
What is PS4 error WS-37504-9?
The PS4 error WS-37504-9 basically means PlayStation Network service is under maintenance. This means that the servers are either overloaded with users or the servers are down.
This causes connectivity issues that can prevent you from accessing PSN services.
Most people have reported encountering this issue during peak hours when there is high traffic, during holidays, or on weekends when many people are online.
How to fix PS4 error WS-37504-9?
Fixing this issue technically can't be fixed on your end. Therefore, visit the official PlayStation website to check the status of the PSN servers periodically and check your internet connection.
Also, try connecting to the PSN servers during off-peak hours when fewer people are using the service, such as late at night or early in the morning.
If this issue persists, jump into the following potential solutions that just might fix the issue.
Table of contents:
1. Clear browser cache
Is your browser holding on to outdated information that is causing problems with accessing the PSN network? Clearing your browser's cache usually deletes all saved data. This way, the next time you log in, it should be just like the first time.
Make sure the PS4 console is turned on and connected.
Find and select the "Internet Browser" application on the PS4 dashboard.
Once the browser is open, access the menu by pressing the "Options" button on the controller.
Navigate to "Settings" using the controller.
In the "Settings" menu, select "Delete Cookies". and confirm the action by selecting "OK".
Next, select "Clear Website Data." and select "OK".
Wait for the process to complete, and then exit the Internet Browser application.
2. Change the DNS Settings
Time needed: 4 minutes.
Go to the PS4 menu and select the "Settings" option.
From the Settings menu, select "Network" and then choose "Set up Internet Connection".

Select either "Use Wi-Fi" or "Use LAN Cable" depending on the type of connection you are using.

On the next screen, select "Custom" and then choose "Automatic" for the setup IP Address.

For the DHCP Host Name setting, select "Do Not Specify".

Select "Manual" for the DNS Address option and enter the following Primary and Secondary DNS Addresses respectively: 8.8.8.8 and 8.8.4.4.
Complete the rest of the internet connection setup as usual.
Check to see if the PS4 error WS-37504-9 has been resolved.
3. Re-Link Your Account to PSN
Try logging out and in of your PSN account. To do this:
On your PS4, navigate to "Settings."
Select "Account Management" on the next screen and then choose "Sign Out."
Wait a few minutes, and then go back to "Settings" and select "Account Management" again.
Choose "Sign In" to sign back in to your account.
4. Update Your Console
To update your console's system software, follow these steps:
Go to "Settings" on your console.
Select "System Software Update."
Choose "Update Now" to start the update process.
Extra steps:
If none of the above solutions help you fix PS4 error WS-37504-9, try contacting support for professional troubleshooting issues.
Restart your console
Related articles:
Conclusion
We hope any of these solutions have helped you fix PS4 error WS-37504-9. Let us know what worked for you in the comment section below.
If you encounter any issues or errors while playing your favorite games and require support, feel free to contact us here. Our team is always ready to assist you and ensure your gaming experience is seamless and enjoyable.