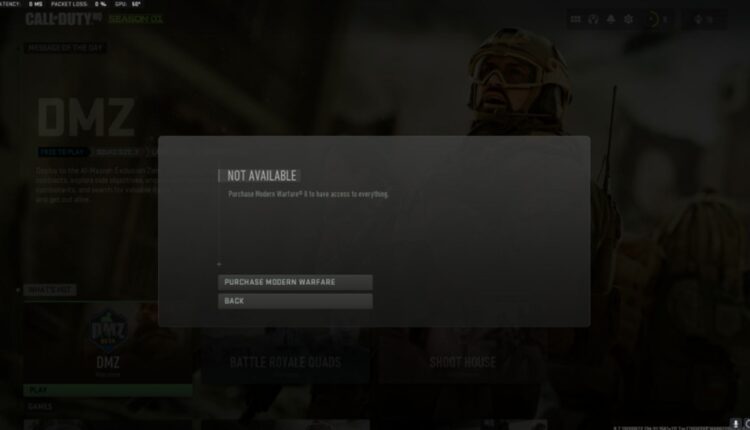 "Purchase Modern Warfare 2" Error in Warzone 2 [Quick Fix]
X
INSTALL BY CLICKING THE DOWNLOAD FILE
Many users trying to play the battle royale in the brand-new Warzone 2 are encountering errors. Players who simply want to play the recently released game experience for free are not happy with the "Purchase Modern Warfare 2 to have access to everything" error message.
How much does Modern Warfare 2 cost? 💰
Gamers are ready to buy MW2 in order to play Warzone 2. The game has a price of $70 on all platforms, however, you will not have to buy it because of the error message.
Why does it say to purchase modern warfare when I already have it?
This is the question that some players ask on forums, isn't it funny? Don't worry, you don't have to purchase MW2 in order to play Warzone 2. In this article, you will find all the details you require to solve this error notification.
How to fix "purchase Modern Warfare 2 to have access to everything" in Warzone 2?
The game claims that in order to access social features like the friend list and cross-platform play, gamers of Warzone 2 must purchase Modern Warfare 2, although this is false. Thankfully, the error message is just a temporary bug as a result of the high demand on the game's servers on launch day.
If Warzone 2 is completely free to play, why is it necessary to purchase anything? We have a bug on our hands here. The true issue is that there are so many players attempting to play that the servers can't handle it. Because of that, the server goes crazy and tells you to buy Modern Warfare 2. To learn how to resolve the "purchase Modern Warfare II to have access to everything" issue, follow the instructions below.
Restart the game (it should work)
Update Warzone 2 and install the most recent version
Restart your PC or console
Restart your WiFi router or internet connection
Use a premium VPN
To enjoy an uninterrupted game with your friends, use a premium VPN. This will not affect the FPS and Ping giving you the best crash-free gaming experience. ExpressVPN runs servers in 94 countries and it offers fast connections and compatibility with many different devices.
Some players claim that a recent update to Warzone 2 fixed the problem so you can go and enjoy your match with your squad.
Usually, the problem with those kinds of issues is because of the server difficulties that are also generating game crash troubles. "Your profile was signed out" is also a common issue and to fix that in just one step, simply follow our guide.
If your game is interrupted or crashed on your PC, make sure to check out our latest article to quickly solve the issue.
If you encounter any issues or errors while playing your favorite games and require support, feel free to contact us here. Our team is always ready to assist you and ensure your gaming experience is seamless and enjoyable.