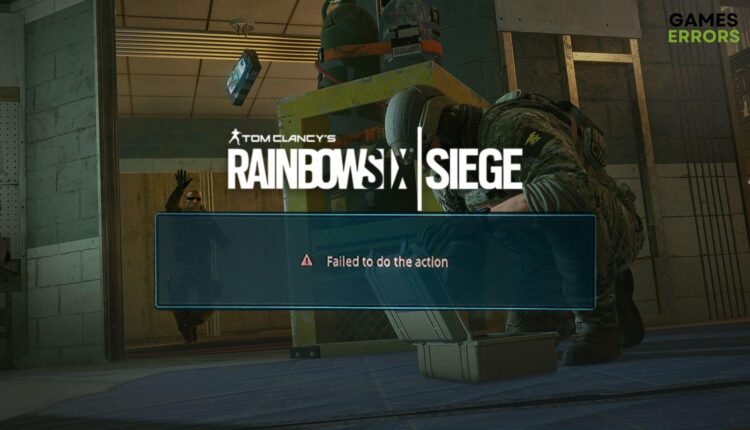 Rainbow Six Failed to Do the Action: Quickest Ways to Fix It
Check crossplay compatibility issues and follow these methods to fix failed to do the action error in Rainbow Six Siege ✅
X
INSTALL BY CLICKING THE DOWNLOAD FILE
Are you getting failed to do the action error in Rainbow Six Siege while inviting friends? If yes, this article will help you to get rid of this error.
Like CS GO, Tom Clancy's Rainbow Six Siege is a team-based multiplayer shooter game. If you want to play it with friends, you must invite them. But, if it doesn't work due to the failed to do the action error, it must be a frustrating experience. Luckily, there are solutions.
What is causing failed to do the action while inviting friends in Rainbow Six?
If you keep encountering failed to do the action in Rainbow Six Siege, it can be because of any of the following reasons:
Server issues: In many cases, this type of problem may appear due to sudden maintenance, outage, or other server-related issues.
Crossplay Compatibility issues: Rainbow Six Siege supports crossplay multiplayer. However, there are some limitations depending on your device and your friend's device. It can be a reason why you can't invite due to the failed to do the action error.
Problematic game components: Problematic game components and files can be another reason why you are repeatedly encountering this problem.
You may find other reasons as well. But, these are the most common ones.
How do I fix Rainbow Six failed to do the action?
After doing deep research, we have found the most successful solutions to solve this friend-inviting error. However, before getting started, ensure the following things:
Make sure that you have a stable internet connection.
Disable your antivirus and firewall to see if it helps.
Ensure that you are not using any proxy or VPN.
Now, follow these methods one by one to fix failed to do the action in Rainbow Six Siege:
1. Check the crossplay compatibility
If you and your friends are on different platforms, you must make sure there are no crossplay compatibility issues. Currently, Crossplay support is available between PC, Stadia, and Luna or Xbox and PlayStation.
If you are on PC and your friends are on Xbox or PS5, you will not be able to invite them. You or your friends must play on a compatible platform.
2. Check the server status
You must check Tom Clancy's Rainbow Six Siege server status for the platforms you are using. To do it, follow these steps:
Visit this Rainbow Six service status page.
Make sure everything is alright.
You can also visit Rainbow Six's Downdetector page to determine if other users are having similar problems.
3. Verify the game files
Time needed: 3 minutes.
If there are no server issues or crossplay compatibility problems, you must repair the game files to fix Rainbow Six Siege failed to do the action.
This method only works on PC. If you don't use Steam, skip it and follow the next method.
4. Reinstall the Ubisoft Connect
Press Win + I on the keyboard to open Windows Settings.
Locate the Ubisoft Connect.
Follow any onscreen steps to finish the uninstallation process.
Visit the Ubisoft Connect website.
Click on the Download button to save the installer on your PC.
Install it.
Restart your computer.
Now, if necessary, re-install the game. Then, launch Rainbow Six and try to invite friends and see if you still encounter failed to do the action error or not.
You also can try different DNS addresses and troubleshoot internet connection if none of the above methods are applicable to you.
If you are interested, learn how to fix Rainbow Six Siege Connection Error 3-0x0001000b.
This article has explained how to fix Rainbow Six failed to do the action. Let us know in the comment box if you have any suggestions or opinions.
If you encounter any issues or errors while playing your favorite games and require support, feel free to contact us here. Our team is always ready to assist you and ensure your gaming experience is seamless and enjoyable.