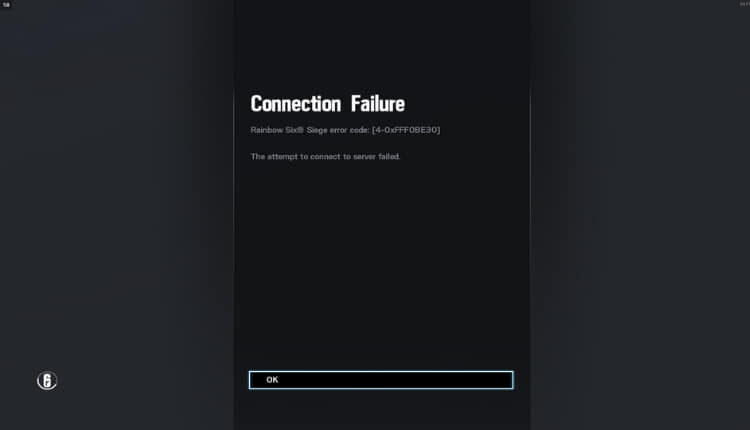 Rainbow Six Siege Connection Error 3-0x0001000b: How to Fix
Rainbow Six Siege Error Code 3-0x0001000b is likely related to your PC's Antivirus 🛡️
X
INSTALL BY CLICKING THE DOWNLOAD FILE
Tom Clancy's Rainbow Six is one of the most iconic tactical shooters ever created. However, from time to time, the game encounters certain errors like error code 3-0x0001000b that prevent players from playing it properly. Many Rainbow Six: Siege players report issues with online functions during the game. More specifically, players may experience slow server connections, failed connection attempts, or even connection errors.
What does error code 3-0x0001000B mean?
Rainbow Six Siege Error code 3-0x0001000B means that you've lost connection to the servers.
The first thing you can do is restart your router and modem. If it still doesn't work, don't worry we have enough solutions to fix it asap.
Why is my Rainbow Six Siege not connecting to servers?
There could be several reasons why your Rainbow Six Siege game is not connecting to the servers. Some possible causes include:
Internet connection issues: Make sure your device is connected to a stable and fast internet connection.
Strict NAT type: If you have a strict NAT type, it may be difficult for your device to connect to the game servers. You may need to change your NAT type or try port forwarding to resolve this issue.
Firewall or antivirus software: Your firewall or antivirus software may be blocking the game from connecting to the servers. Try temporarily disabling these programs and see if the issue persists.
Server maintenance: The game servers may be down for maintenance or experiencing issues. Check the game's official social media accounts or the developer's website for any updates or announcements.
Router or modem issues: Your router or modem may be experiencing issues or may need to be restarted. Try restarting your router or modem and see if the issue is resolved.
Game or system updates: Make sure you have the latest updates for the game and your device's operating system.
How do I fix Rainbow Six Siege connection error?
1. Check your firewall/antivirus
One common cause for connection issues in Rainbow Six: Siege can be your antivirus software. Sometimes your antivirus or firewall can block the game from accessing the Internet and cause network issues to appear.
To fix the problem, you need to be sure that the game can access the Internet, so add the game to the list of exclusions in your antivirus and firewall. If that doesn't work, you might want to try disabling certain antivirus features or completely disabling your antivirus.
Some users reported that disabling their antivirus doesn't solve the problem, and if that's the case, you might have to uninstall your antivirus. Once you uninstall the antivirus, check if the issue is still there. If removing the antivirus solves the issue, your next step would be to consider a new antivirus software.
2. Consider using a VPN ✅
Several users reported that they fixed the problem with Rainbow Six: Siege simply by using a VPN like ExpressVPN. According to them, using a VPN solved their connection problems, so you might want to try that as well.
As far as gameplay is concerned, you won't have to worry about lag spikes, lag, or general disconnections anymore since ExpressVPN regulates your Internet connection to provide a steadier flow.
ExpressVPN uses a variety of techniques to fix lost and corrupted packets, so match issues with Rainbow Six: Siege will now be a thing of the past. In fact, all common drawbacks of using VPNs, such as reduced bandwidth, are also something you will not experience while using this gaming-optimized VPN tool.
3. Forward your ports
You will need to forward these ports to your computer's IP address for the best possible connection:
Uplay PC:

TCP: 80, 443, 14000, 14008.

Game Ports:
For more information on how to configure your network ports, visit the official websites of your software and hardware manufacturers. There are also dedicated programs that you can use to forward your ports.
4. Check background applications
In some cases, background applications can cause connectivity issues to occur in Rainbow Six: Siege. However, you can fix this problem simply by disabling startup applications. To do that, just follow these simple steps:
Press Windows Key + R and enter msconfig.
Go to the Services tab and check to Hide all Microsoft services.
Repeat this step for all items on the list.
Close Task Manager, and go back to the System Configuration window.
Once your PC restarts, check if the issue is still there. If the issue is resolved, you can start enabling services and startup applications one by one until you find the problematic app or service.
5. Reset your host's file
Sometimes your host's file can get changed, and that can cause Rainbow Six: Siege connection issues to occur. To fix this problem, you just need to reset your host files to the default.
Once you reset your host's file, the issue should be resolved and you'll be able to run the game without any problems.
6. Make sure there are no locked ports
Your Internet Service Provider may have applied network restrictions that could be blocking your Rainbow Six: Siege connection. You can contact your ISP for more information.
7. Change your server
Many users reported high ping while playing Rainbow Six: Siege. This can be caused because you're connecting to an automatically picked server.
The server is usually picked based on your ping, and sometimes it might connect you to a server that is far away causing unnecessary lag.
This can be a big problem, but you can fix this issue simply by making changes to a single file. To do that, follow these steps:
Make sure that Rainbow Six: Siege is completely closed.
Go to DocumentsMy GamesRainbow Six – Siege directory.
Inside you should see a single directory with a long file name. Access that directory.
Inside it you should see GameSettings file. Open this file with Notepad.
When the file opens, scroll all the way down to the [ONLINE] section.

There you should see a list of servers along with their abbreviations.
Select the server you want, for example wus would be US West, and change the DataCenterHint value accordingly.
In our example, we would just have to make the following change DataCenterHint=wus and save the file.
After changing the server, start the game again and check if the issue is resolved. For best performance, be sure to select the server that is closest to you.
It's worth mentioning that you might have to repeat this solution several times in order to successfully change your server.
8. Verify the integrity of game files
To do that, just follow these steps:
Start

Steam

and go to your Library.
The verification process will now start. This can take a while, so be patient and don't interrupt it.
If you're having connection issues in Rainbow Six: Siege, the issue might be file corruption. Sometimes the game files can get corrupted and that can lead to this and many other problems.
However, you can easily check if your game files are damaged and repair them right from Steam. Once the process is finished, start the game again and check if the Rainbow Six Siege server connection error is still there.
9. Disable the Windows firewall
Press Windows Key + S and enter firewall.
Now select Turn off Windows Defender Firewall (not recommended) for both Public and Private network settings.
If you're experiencing Rainbow Six: Siege connectivity issues, it's possible that Windows Firewall is preventing the game from working properly.
What are some common Rainbow Six Siege connection errors?
Rainbow Six: Siege is a great game, but many users reported various connectivity issues. Speaking of issues, here are some common problems reported by users:
Rainbow Six Siege error code 3-0x0001000b PC – This is a common error that can appear in the game. If you encounter it, be sure to check your antivirus and firewall and make

sure

that the game is added to the list of exclusions.
Rainbow Six Siege disconnected from server – Sometimes you might get disconnected due to problems with the server. However, you can always change your server manually to fix this problem.
Rainbow Six Siege trouble connecting, connection problems PC – Sometimes third-party applications can cause this issue to appear. To fix the problem, disable all startup applications and services and check if that helps.
Rainbow Six Siege connection failed, failure, to server lost, poor, drops – These issues can occur due to problems with your ports, and in order to fix the issue, you need to forward the necessary ports.
Rainbow Six Siege yellow connection – Sometimes you might get a yellow connection icon due to your hosts' file. To fix the problem, simply reset your host file to default and the issue should be resolved.
These are some R6 connection errors that can occur, but we hope that you managed to fix connectivity issues by using one of our solutions.
Let us know which solution worked best for you to fix the Rainbow Six Siege server connection error.
If you have any other suggestions or questions, don't hesitate to leave them in the comments section below.
If you encounter any issues or errors while playing your favorite games and require support, feel free to contact us here. Our team is always ready to assist you and ensure your gaming experience is seamless and enjoyable.