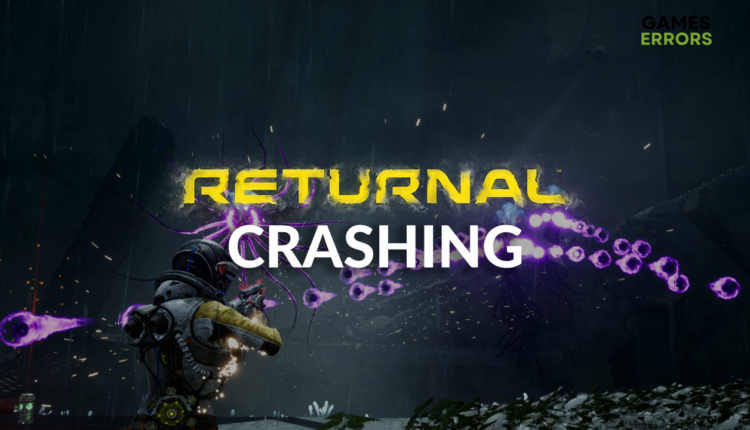 Returnal Crashing on PC: How to Fix It
Annoyed by frequent crashes in Returnal? Many gamers are, so we collected the best solutions in one place to make the game work flawlessly! 👾
X
INSTALL BY CLICKING THE DOWNLOAD FILE
The chances are that you will face a problem with Returnal crashing sooner or later. Since this can be a very stressful problem to troubleshoot, especially if you lost hours of the game progress, we collected the most valuable information and ways to fix it.
If you experience performance issues while your graphics card is not doing much, check how to troubleshoot low GPU usage in Returnal.
Why is Returnal crashing?
Returnal is crashing due to a lack of available hardware resources, poor internet connection in multiplayer mode, outdated GPU driver, lack of Visual C++ dependencies, and apps running in the background. Another thing to consider is if Windows and Returnal are updated to the latest version.
How do I fix Returnal crash on PC?
The easiest fixes and checks to solve Returnal crashes are:
Check your PC specifications: It must meet the minimum system requirements for Returnal. If it doesn't meet, consider upgrading the component that is not fulfilling the requirements.
Check your internet: If crashes occur in multiplayer mode, you must ensure a stable internet connection. We recommend you use a wired internet connection and periodically reset networking devices. If you are suspicious about your network, the best is to contact your ISP and explain the problem.
Use dedicated GPU: If your system has integrated and dedicated GPU, chances are that Returnal is using integrated GPU by default. Many gamers confirmed that the game does this for unknown reasons, so a workaround is disabling integrated GPU and leaving the game with only one choice.
However, if you still have issues, then follow these step-by-step solutions.
1. Update the GPU driver
Time needed: 5 minutes.
If you experience frequent Returnal crashing, it is likely related to your graphics card. You must have the latest driver update to ensure your GPU is running smoothly.
Click on the Windows icon, type Device Manager, and open it from the search results.

Double-click on the Display Adapters section.

Right-click on the GPU and select the Update driver option.

Click on Search automatically for drivers.
Install the driver update.

Double-check using another tool if the Update Driver Wizard doesn't find a driver update.

Restart your PC.
A driver updater tool of our choice is DriverFix. This tool will scan, monitor and update the GPU drivers whenever an update is released. It works flawlessly with other device updates, so you don't have to worry about driver-related issues.
2. Lower the graphics settings
Many Returnal fans report preventing game crashes once they lowered their graphics settings. In this example, we will advise you to lower them to Low. Still, if you want to preserve nice details, we strongly suggest you experiment and find a good balance between the level of detail, performance, and stability.
Launch Returnal and navigate to Settings.
Navigate to the Graphics tab.

Disable Vsync.
Set the preset to Low.
Once again, if this solves your issue, set the preset to Custom and find a balance that works for you.
Save the changes.
3. Install Visual C++ dependencies
Many game developers use Visual C++ Redistributable dependencies to make the development process faster and more efficient. However, bugs and crashes might occur if you don't have Visual C++ installed. This is why we advise you to download and install the latest version on your PC.
Open the Visual C++ Redist Packages download page.
Download the installation package.
➡ x64 is for 64-bit Windows
➡ x86 is for 32-bit Windows

Run the installation package and follow the installation steps.
Restart your PC.
4. Close background apps
Before running Returnal, close all the apps running on your PC. However, there will still be some 'hidden' apps you are unaware of, so we advise you to use Task Manager to close them.
💡 If any apps you use create overlays, we strongly recommend you disable the overlays if you want to keep the app running. Most often, this will be apps like Steam and Discord.
Use the CTRL + Shift + ESC shortcut to open Task Manager.
Find an app that you don't need while playing Returnal.
Right-click on it and select End task.

Repeat the process for all the apps you don't need while playing Returnal.
⚠ Important: Never terminate apps and processes related to Windows or your security software. Doing this can lead to system malfunction and security vulnerabilities, landing you in even greater trouble.
Extra steps
There are a few more things you can do if you have already applied previously listed solutions and fixes without meaningful results:
🎮 Run Returnal with DirectX 11: Some gamers claim that crashes didn't appear anymore after adding DirectX 11 as the preferred version in the game setting. This is applicable in the single-player mode.
⬆ Update Returnal: Although the game should be updated automatically via the game distribution platform, there is a chance that an update was skipped. Manually check for updates on Steam or Epic Games Launcher to ensure you didn't miss any patches for frequent crashes.
🔁 Reset your Windows: There is an option to completely reset the Windows and have a clean installation. Although not very convenient, you can do it and check if Returnal crashing will still occur. Remember that you can choose whether to delete or keep all files and apps.
Conclusion
We hope that the Returnal crashing is not your issue anymore. Let us know which solution worked the best for you, and leave a comment if you found another method that worked. Feel free to reach out if you have any other problems.
If you encounter any issues or errors while playing your favorite games and require support, feel free to contact us here. Our team is always ready to assist you and ensure your gaming experience is seamless and enjoyable.