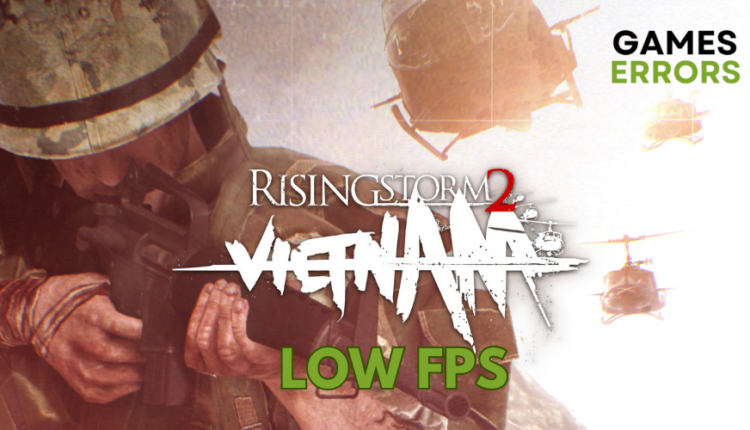 Rising Storm 2 Vietnam Low FPS: How to Boost Performance
Here's everything you need to know about Rising Storm 2 Vietnam and how to fix it ASAP👓
Like its predecessors in the series, Rising Storm 2: Vietnam is a tactical first-person shooter game emphasizing large-scale teamwork with realistic mechanics and combat.
As with any video game, you will likely experience low FPS during gameplay. This can be frustrating and ruin the gaming experience.
We have researched why you may be experiencing low FPS levels and how to fix it as quickly as possible.
Why does Rising Storm 2 Vietnam have low FPS?
Reasons, why you may be experiencing low FPS levels are multiple and varied. Some of the common reasons include:
Poor PC hardware specifications
Running background apps that are resource-consuming
Corrupted game files
Outdated graphics driver
Game Bar features that demand a lot of your PC resources
Steam cache files.
How do I get more FPS in Rising Storm 2 Vietnam?
Before jumping into the solutions below, always ensure:
Table of contents:
1. Update your graphics driver
Time needed: 4 minutes
Keeping your graphics driver up-to-date is crucial for a smooth gaming experience, especially when playing Rising Storm 2: Vietnam. Many game problems, such as low FPS, can be attributed to outdated drivers. To update your graphics driver:
Click on the Windows icon or press the Win key
Then, type "Device Manager" in the search bar and open it from the search results.
Double-click on the Display Adapters section in the Device Manager window.

Right-click on your graphics card or GPU and select the "Update driver" option.

Choose the "Search automatically for drivers" option.

Proceed with the installation of the driver update.
Restart your PC to apply the changes.
Stay on top of driver updates to enhance your gaming experience and minimize performance-related problems. You can achieve this by using Outbyte Driver Updater. This third-party tool ensures your graphics driver is regularly updated. You can optimize your PC's performance, enjoy Rising Storm 2: Vietnam at its best FPS, and avoid potential issues that may arise from using an outdated driver.
⇒ Get Outbyte Driver Updater
2. Clear Steam cache
Clearing the Steam cache folder can effectively resolve problems related to poor in-game performance and stability caused by corrupted files. If you face issues with Rising Storm 2: Vietnam low FPS or stability, follow the steps below.
Open File Explorer by pressing the Windows Key + E shortcut.
Paste the path to the Steam directory: (default: C:\Program Files (x86)\Steam) in the File Explorer address bar and press Enter.
Right-click on the appcache folder and select Copy.
Use the Windows Key + D shortcut to navigate to the Desktop.
Create a backup of the appcache folder by using the CTRL + V shortcut (paste).
Go back to the Steam directory, right-click on the appcache folder, and select Delete.
Restart your PC.
3. Modify Game Bar settings
Certain features of the Game Bar, like background recording of gameplay, can cause a significant decrease in FPS in Rising Storm 2: Vietnam. This is due to the resource-demanding nature of the recording process. To fix this issue, we recommend disabling or limiting these features in the Game Bar. Here's how to do it:
Click on the Windows icon and select Settings (gear icon).
In the Settings window, choose Gaming.
Disable Xbox Game Bar.

Navigate to the Captures tab within the Gaming settings.
Disable Background recording.
Disable Xbox Capture.
4. Disable fullscreen optimization
By disabling full-screen optimization, you allow the game to have better control over system resources, potentially improving FPS, reducing input lag, and providing a smoother gaming experience. To do this:
Right-click on Rising Storm 2: Vietnam's shortcut or executable file
Select "Properties" from the context menu.
In the Properties window, navigate to the "Compatibility" tab.
Check the box that says "Disable full-screen optimizations."
Click on the "Apply" button, and then click "OK" to save the changes.
Repeat these steps for any other game executables or shortcuts that you want to disable full-screen optimization.
⭐Keep in mind that the impact may vary based on your hardware and software configuration.
5. Roll-back graphics card driver
By reverting to a previous driver version known to work well with the game, you can potentially resolve these issues and improve overall performance. To do this:
Open Device Manager as you did before.
Double-click on the graphics card driver to open its Properties.
Go to the Driver tab.
Click on "Roll Back Driver" and follow the prompts to complete the process.
Restart your PC to apply the changes.
🚩However, it's important to choose the appropriate driver version and proceed cautiously to avoid any further issues.
Related Article:
Conclusion
Low FPS levels in Rising Storm 2 Vietnam can be a frustrating experience. We hope one of the above solutions has helped you fix the problem. Let us know what has worked for you in the comment section below.