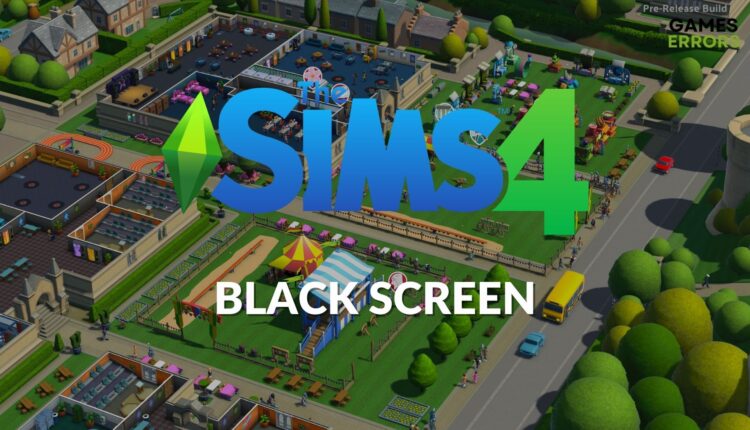 Sims 4 Black Screen: How to Fix it Quickly
The players experience black screen issues on Sims 4, so we're coming up with efficient fixes
X
INSTALL BY CLICKING THE DOWNLOAD FILE
Sims 4 was published by EA Origin and has been made available on both Steam and Origin platforms.
Lately, players of this game have complained of the game showing a black screen when they try to play. The black screen issue usually comes in various forms including Sims 4 black screen with sound, black screen with cursor, after loading, and so much more. 
This issue can be frustrating, so we've listed some steps that could help get this solved as soon as possible.
💻 Why is my Sims 4 opening up with a black screen?
Outdated game

: Game developers often release new updates and patches for a game file. If you have not updated Sims 4 in a while, it might not launch, thereby causing Sims 4 to a black screen while playing

Outdated graphics driver

: One component that will always affect your gameplay is the graphics driver. An outdated graphics driver causes numerous issues while playing games on PC and one such is the Sims 4 black screen crash

Incompatible system requirements: Your PC specifications must meet the minimum requirements to play Sims 4. If it does not, your Sims 4 game might open up with a black screen
Cache files

: Corrupted files in the EA app can affect your game. To have it fixed, you need to clear Origin and EA cache.
How do you fix a black screen on Sims 4?
When your Sims 4 game opens up with a black screen, certainly there is either a problem with the game or your PC.
To solve any lingering issue of a black screen on launch, there are easy steps to guide you. However, before trying out these fixes, it is always advisable to carry out these basic preliminary checks:
Inspect your PC to ensure it meets the requirement

Ensure you have a stable data connection

Restart the game

Check if EA to confirm that the game server is still up
1. Update the Graphics Driver
If Sims 4 is opening with a black screen, an outdated graphics driver might be the cause. Here is how to update your graphics driver:
Click

Windows + X keys and select Device Manager

from the Windows taskbar.

Click and expand the

Display adapters

option which will lead to the graphics card option.

Restart your PC to apply the results.
DriverFix
is the go-to solution if you need a time-saving and efficient tool to manage your drivers. This method is suitable because it repairs or updates all of your PC's drivers and fixes any crashing issues on this game in less than 3 minutes.
2. Verify the integrity of game files 
Verifying the integrity of the game file on Steam or Origin can help you resolve issues like this in a very short time. This is how to proceed:
Under the

Library

tab, right-click on

Sims 4.
Open

Origin

and click

My Game Library

on the left side.

At the end of the process relaunch your game to see if this worked. 
3. Update Sims 4
It is important to frequently check for game updates and install the new updates to fix issues like Sims black screen on Windows 10.
If you have not updated your game lately, follow the steps below to update:
➡️ For EA Desktop App
Open the

EA Sport desktop app

and locate the

Profile

section at the top right corner of the screen.

Click on the

arrow icon

next to Profile.

Select

Settings

from the drop-down menu.

In the Updates section, click on the

Download

tab.

Activate

Update Games automatically

and

Enable background services.

Once this is done, restart the PC to ensure all changes have been applied.
➡️ For Steam Launcher
Open the

Steam client

and go to

Library.

On the left pane, select

Sims 4

from the available options.

Click on

Automatically search for updates.

After this, install all available updates and close app.

Restart your PC and launch the game again.
4. Run the game as an administrator
Running the game as an administrator will prevent system issues that might negatively affect your game. To run the game's exe file as an administrator, do the following:
Right-click on

Sims 4

in your game folder.

Right-click

Properties

on the drop-down list. 

Select

Apply

and

Ok

to save changes.
5. Clear cache files
Not clearing your cache files often could lead to Sims 4 black screen. To clear out cache files, simply locate your Sims 4 folder on your PC.
You can find it inside the Electronics Arts folder inside your
Documents folder →
Delete files like the
localthumbcache.package →
G
o into the
Cache folder
and delete all files except the
file.cache
file. 
Conclusion
Your Sims 4 screen can go black when you want to play the game. This issue is very common and can kill your gaming spirit. 
Besides that, you can also face different problems such as Sims 4 crashing without error and our guide can fix it too.
We are sure the fixes above will help you solve this issue. If Sims 4 goes black after trying out our solutions, you should consider reinstalling the game. 
If you encounter any issues or errors while playing your favorite games and require support, feel free to contact us here. Our team is always ready to assist you and ensure your gaming experience is seamless and enjoyable.