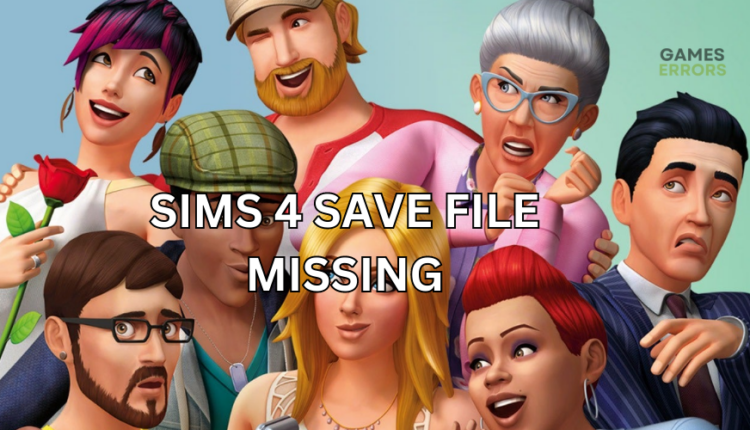 Sims 4 Save File Missing: Simple Fixes
Missing months worth of gameplay due to saved files missing is enough to give any player a heart attack. Learn how to fix this below 👇
Picture this: You're generations into your Sims 4 game, and you have mods, custom content, and tray files saved on your EA or Origin app. However, when you go to launch your game again, the title restarts without your saved progress data, as if you're playing the game for the first time. If this has happened to you, you're not alone. Many players have reported their Sims 4 save file missing, especially after updating the game. For some, it's one or two recent save files missing, and for others, it's months worth of gameplay and numerous builds.
After investigating online forums and testing solutions on our PCs, we have developed a few foolproof solutions worth trying to fix the Sims 4 save file missing problem.
Why is my Sims 4 save file gone?
By default, Sims 4 saves your game progress in the Documents > Electronic Arts folder. If your PC lacks enough storage, the game will likely move the saved files to cloud storage. However, this only happens if you have enabled cloud synchronization on your PC, allowing Sims 4 to move your existing Sims 4 folder to cloud storage. When Sims 4 saves files to your cloud, the local folder on your PC remains empty. As a result, Sims 4 creates a new save file every time you launch it.
Other possible reasons why your Sims 4 save files are missing include the following:
Outdated game
Antivirus interference
Sync issues
How to fix the Sims 4 save files missing?
We recommend doing the following pre-checks before diving into our troubleshooting guide:
Update Sims 4 to the latest version
Disable security programs on your PC, such as antivirus
If your Sims 4 save files are missing, here are some fixes to try:
1. Free up space on your PC
If you have insufficient storage on your PC, Sims 4 won't be able to save progress data in your local storage. Check whether you have enough free space on your PC. If you don't, free up some space. You can empty your downloads folder, delete large videos and pictures, or move them to an external hard drive. Do the same for applications and software you don't frequently use. Sims 4 requires enough storage space to launch properly and save progress data.
2. Check the load game
Your PC may be storing Sims 4 save files in another folder other than Documents > Electronic Arts, which is why they may be missing. In this case, check the load game to identify the location of Sims 4 save files on your PC. To do this:
Launch Sims 4.
On the right menu bar, click the Load game button.
Hover over the round button to see the correct path for your Sims 4 save files.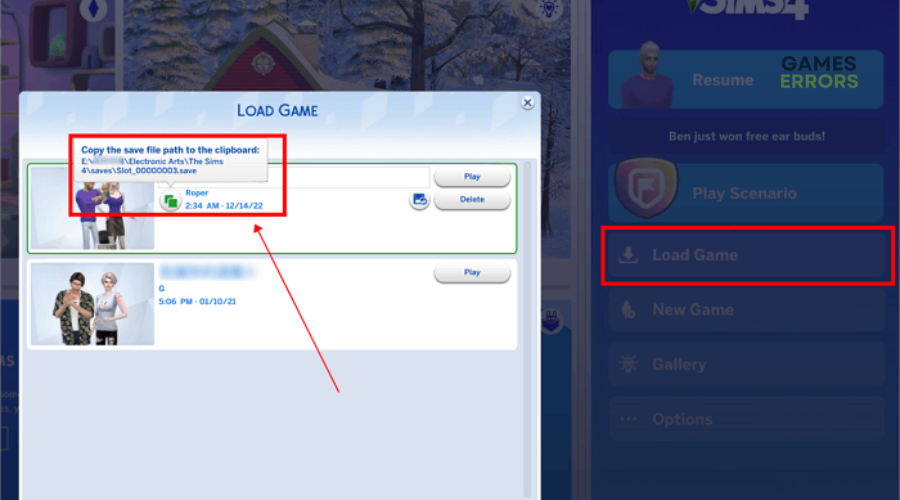 Copy this path and type it on your PC to find the location of your Sim 4 save files.
3. Turn off cloud sync
Time needed: 3 minutes
If your Sims 4 save files are not in their default local storage folder, they're likely synced to the cloud. Turning off cloud sync ensures the game doesn't save progress data in the cloud, leaving your local folder empty. Here's how to do this:
Open OneDrive

On the system tray, right-click the OneDrive icon to open it.

Open settings

Click the Settings icon on the top left corner and select the Settings option to open it.

Account

Navigate to the Account tab and select Choose Folders.

Find Sims 4

You'll see a list of all the folders synced to OneDrive. Locate the Sims 4 folder and uncheck the box next to it. This will prompt your PC to stop pushing Sims 4 save files to the cloud.
4. Delete cache files
Sometimes corrupted or damaged cache files can cause issues when saving game progress data. Deleting these files helps refresh the system and eliminate glitches. To do this:
Open the default local folder for Sims 4 by navigating the following path This PC\Documents\Electronic Arts\The Sims 4\cache.
Select all the cache files in this folder and delete them.
Empty your recycle bin.
Copy your saves folder and paste it on your desktop.
Launch Sims 4 to automatically create a new save folder. Move the save folder from your desktop to the newly created folder.
Check if Sims 4 loads or not.
Related articles:
Conclusion
Sims 4 save files missing can be frustrating as it deletes hours, weeks, or months of gameplay and the time and effort put into building generations. Remember to free up space on your PC, check the load game and turn off cloud sync to fix this.