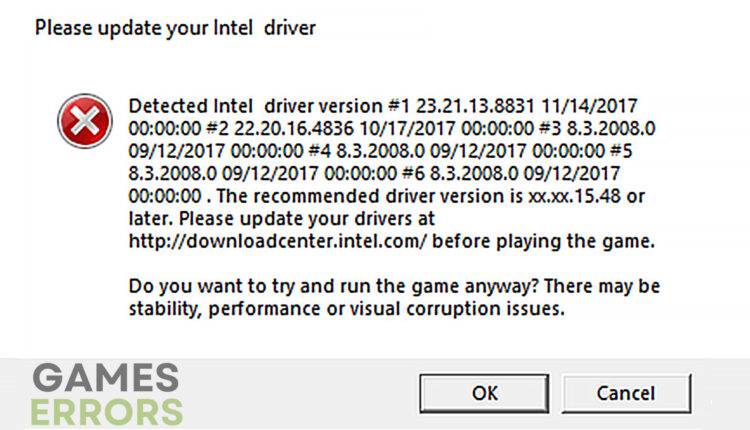 Star Wars Battlefront 2 Driver Error: Here's the Fix
Since the issue is caused by faulty or outdated GPU drivers, you need to update the drivers using the method that you find most suitable. 🧑‍🔧
Star Wars Battlefront 2 is an immersive and action-packed game played by thousands of players worldwide. However, just like any other PC game, it can encounter issues, such the Star Wars Battlefront 2 driver error that tend to ruin the gaming experience. Therefore, in today's article, we are going to cover some of the most straightforward and effective methods to fix this issue.
What causes the Star Wars Battlefront 2 driver error?
There can be several potential causes for Intel or AMD driver errors in Star Wars Battlefront 2. One common cause is outdated or incompatible video card drivers. If the installed driver version is up-to-date, the chances of such issues occurring in video games are much higher.
Another possible cause is conflicting software or driver installations. Certain software or applications running in the background could be interfering with the proper functioning of the video card driver, leading to errors such as this one.
Hardware-related issues such as faulty or overheating graphics cards can also contribute to driver errors. While this is rarely the case, you should make sure that your video card is in good condition.
How to fix the Star Wars Battlefront 2 Driver Error?
Now that we have established that this error is almost always caused by software or hardware issues with the video card let's take a look at the solutions. Still, before going any deeper, give these quick possible fixes a try as it may be able to fix the error:
Check the system requirements – Keep in mind that this game is pretty hardware-intensive and that your PC may not meet the minimum system requirements.
Close the apps in the background – Not only do the unnecessary apps running in the background consume hardware, but some of them may conflict with the game you are trying to run.
If your PC is powerful enough to run the game properly and none of the apps are interfering with the game, here are the solutions you can use to fix the driver error for good:
1. Update GPU drivers manually
There are quite a lot of different ways to approach this issue, but updating the video card manually is a uniform solution that should work for everybody. So, do update the drivers manually and resolve the Star Wars Battlefront 2 driver error. Here is what you need to do:
Press the Windows key + X and select Device Manager from the menu.
Expand the Display Adapters category.
Right-click on your dedicated graphics card and select the Update driver.
Choose the "Search automatically for drivers" option.
Restart your computer to apply the changes.
2. Update GPU driver via the official source
This method is for you if the previous one didn't find any drivers, but you still suspect your video card is not up-to-date. Both Intel and AMD provide official sources to download and update drivers for their graphics cards. Follow these steps to update your GPU drivers through the official sources:
✅ Update via Intel:
Visit the Intel Graphics Drivers website.
Download the Intel Driver & Support Assistant tool.
Install the tool and run it on your system.
The tool will automatically detect your system's hardware and suggest the latest driver updates.
Follow the on-screen instructions to download and install the recommended driver updates.
✅ Update via AMD:
Visit the AMD Drivers & Support website.
Select your graphics card series and model.
Choose the correct operating system and click Submit.
Download the latest driver for your GPU.
Run the installer and follow the on-screen instructions to install the driver.
3. Update your GPU driver using a dedicated third-party app
There are also programs that make this whole process much simpler. One of them is Outbyte Driver Updater. With Outbyte Driver Updater, you can easily update any outdated or missing drivers on your PC with a single click.
Therefore, we highly recommend you use this method as it will save you a lot of hassle. 
Additional tips on how to fix the Star Wars Battlefront 2 driver error
Disable and enable drivers – Faulty GPU drivers can sometimes be fixed by simply disabling and re-enabling them.
Reinstall the game – If none of the methods above worked, you can try reinstalling the game.
Other related articles:
Final Verdict 💬
Outdated or incompatible video card drivers, conflicting software or driver installations, and hardware-related issues can contribute to driver errors in the game. By updating GPU drivers manually, using official sources for driver updates, or utilizing tools like Outbyte Driver Updater, players can ensure their video card drivers are up-to-date and compatible.
Additionally, disabling and enabling drivers or reinstalling the game can be attempted as troubleshooting options. By following these methods, players can resolve the Star Wars Battlefront 2 driver error and dive back into the thrilling world of the game without interruption.