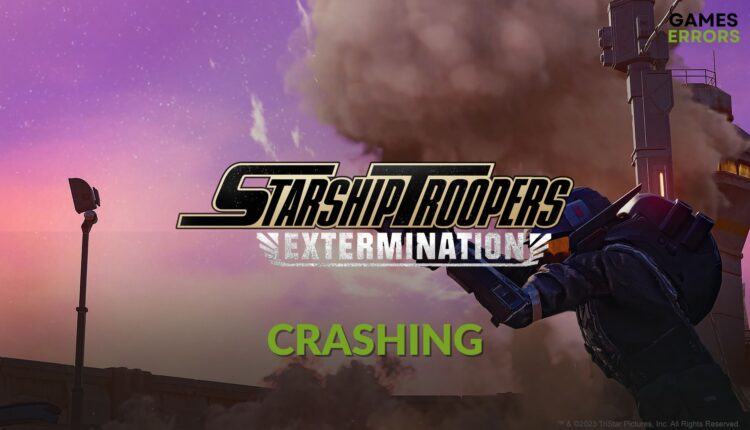 Starship Troopers Extermination Crashing: Easy Fixes
Update the GPU driver and re-install EAC to fix crashing problem on Starship Troopers: Extermination 🎯
You may notice that the Starship Troopers: Extermination is crashing on your PC. Like you, some other users are also encountering the same problem. This article will tell you how to get rid of this issue.
This new Sci-Fi Co-Op FPS game is getting deep attention in the industry because of its excellent gameplay. But problems begin when it stops working all of a sudden or randomly.
Crashing issues are not something new. But, even after having a decent PC, if this game crashes, it is really a disappointing matter.
Why does Starship Troopers Extermination crash on my PC?
Here are the most common things that can cause crashing problems on this action Sci-Fi first-person-shooter game:
Third-party services: Third-party services active in the background on your system can cause crashing problems on Starship Troopers: Extermination.
GPU driver: Outdated, corrupted, or missing graphics card driver also can be the reason.
Corrupted game components: If the essential game components and related files get corrupted or missing, Starship Troopers: Extermination may crash with or without showing error codes.
How can I fix Starship Troopers Extermination crashing?
First, you should ensure that your PC meets the system requirements for Starship Troopers: Extermination. Then, complete these quick steps before trying out the main solutions:
Disable your antivirus and firewall.
Install Visual C++ and DirectX runtime, and then restart your PC.
Ensure that there is no disk problem on your PC.
Try running the game as an administrator to see if it helps.
Now, go through the following methods to fix crashing issues on Starship Troopers: Extermination:
1. Update the graphics driver
Open the Start Menu, type device manager, and press Enter.
Click on the arrow icon next to the Display Adapters to expand it.
Right-click on the graphics driver and then click on the Update driver.
Select Search automatically for drivers.
Finish the process.
Outbyte Driver Updater is the best option for updating a graphics driver on a Windows 11 or 10 PC. This app can scan and detect the outdated GPU driver and update it by installing the most appropriate version automatically. It helps to solve crashing issues on various games.
2. Re-install the EasyAntiCheat
Time needed: 4 minutes
Currently, re-installing the EasyAntiCheat is the most effective method to fix the crashing problem on Starship Troopers: Extermination.
Right-click on Starship Troopers: Extermination, go to Manage, and then click on Browse local files.

Go to the EasyAntiCheat folder.
Click on Uninstall.
After uninstalling, double-click on that file again.
Step forward and finish the process.
Restart your PC.
Now, you can play the game again and verify if this method has worked.
3. Run in DirectX 11 mode
Go to the Steam game library.
Right-click on Starship Troopers: Extermination and go to Properties.
Make sure that you are on the General tab.
In the launch option, type -dx11 and save it.
Relaunch the game.
4. Repair Starship Troopers Extermination
Repairing the game files is another practical solution to fix Starship Troopers: Extermination's crashing issues on a PC. Here are the steps to follow:
In the Steam game library, right-click on Starship Troopers: Extermination and go to Properties.
Go to the Local Files tab.
Click on Verify integrity of game files.
Keep patience until it finishes the process.
This method also may fix the low FPS problem on Starship Troopers: Extermination.
5. Run in clean boot
Press Win + R to open Run.
Type msconfig and click on OK.
Go to the Services tab.
Click on Apply and OK.
Restart your PC.
If you see that you can run Starship Troopers: Extermination without encountering crashing issues in the clean boot, it means a third-party service is the root of the problem. Try to detect and uninstall it from your PC.
6. Re-install the graphics driver
Go to the Device Manager like before.

Restart

Windows.

Depending on your current graphics card's chipset, visit

AMD

,

Intel

, or

NVIDIA driver download page

.

Download

the game-ready driver.

Install it

on your PC.
Restart Windows.
After re-installing the GPU driver, play Starship Troopers: Extermination and see whether it still keeps crashing or not.
Additional methods:
In case the problem still exists, follow these steps:
Update Windows to the latest version.
Play the game with lower quality.
Re-install the game.
Disable XMP if it's already enabled.
If you are interested, check out this ultimate guide on how to stop games from crashing.
You have learned the methods to fix Starship Troopers: Extermination crashing problem from this article. Let us know which one has solved the issue for you.
If you encounter any issues or errors while playing your favorite games and require support, feel free to contact us here. Our team is always ready to assist you and ensure your gaming experience is seamless and enjoyable.