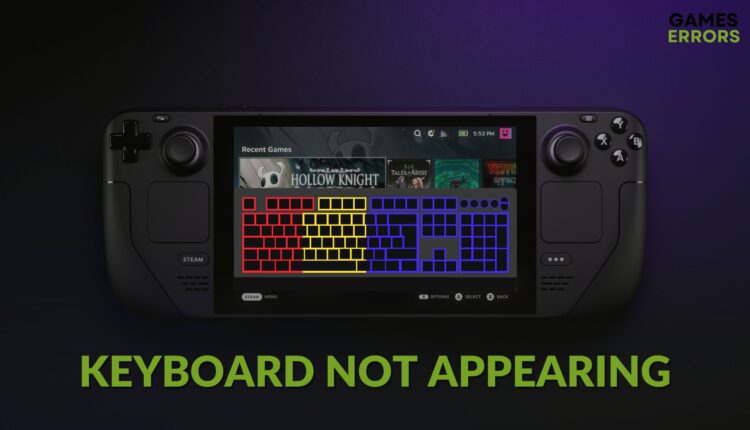 Steam Deck Keyboard Not Appearing: Best Ways to Fix It
Switch between desktop and game mode to fix keyboard not showing up on Steam Deck 🎯
Is the Steam Deck keyboard not appearing on your PC? If yes, go through this article to get the best solutions to fix this problem.
This mini gaming console may seem like a less powerful device. But it's compelling and capable of running most AAA titles. However, people also experience problems with it. One of the most common ones is the keyboard not showing up issue.
If necessary, learn how to solve Games not launching on Steam Deck.
Why is the Steam Deck keyboard not showing up?
If you notice that there is no keyboard layout appearing in Steam Deck, or it's not showing up even after trying multiple times, it is because of any of these reasons:
Connection problem: It may seem weird that the Steam Deck keyboard may not appear due to the network connection problem. But, the reality is this keyboard needs an internet connection. So, you can expect any problems due to network connectivity issues on this device.
Server status: If Steam servers are down or under maintenance, you may encounter this problem as well.
Outdated firmware: In case the Steam Deck OS is very old and outdated, you may confront this type of problem.
Temporary issues: Else this situation can appear due to a temporary issue on your device.
There may be other reasons as well. But, usually, the above ones are the most common behind this keyboard issue on this mini gaming console.
How do I fix the Steam Deck keyboard not appearing?
We have discovered the most successful methods to solve this matter. However, before trying the major methods, we suggest you try the minor ones to see if it helps. Here are the primary steps you should take:
Power cycle your internet router and the Steam Deck.
Test your internet connection and make sure it is stable enough for regular usage.
Visit the Steam Status Page and determine whether everything is OK or not.
Now, if necessary, to fix the keyboard not appearing issue on Steam Deck, follow these methods:
1. Switch between Desktop and Game Mode
Time needed: 2 minutes
To fix the Steam Deck keyboard not showing up issues, you can switch between desktop and game mode on this device. It is the most successful method.
Now, see if the Steam Deck keyboard appears or not.
2. Update the firmware
Outdated firmware can be a reason why the virtual keyboard is not opening or showing up on Steam Deck. To fix it, update this device to the latest version by following the steps shown below:
Tap on the Steam button.
Navigate to the Steam Deck settings.
Go to the System.
Go ahead to finish the process.
3. Reset Steam Deck
If the problem still persists, you can consider resetting this device. You will lose your personalized files and games. But, it is a good way to troubleshoot the keyboard not appearing issue on Steam Deck. To do it, follow these steps:
Open the Steam Deck Settings like before.
Go to the System.
Give it some time to finish the process. So, keep patience.
4. Reimage the Steam Deck
Visit the SteamOS download page from your PC browser.
Use the downloaded ISO, a pen drive with 16 GB+ storage, and a tool like Rufus to create a bootable USB drive.
Power off the Steam Deck.
Connect the bootable storage with your USB-C adapter to the Steam Deck.
Press the Volume down button + Power button and hold until you hear a chime sound.
Then, release the Volume down button and then the Power button.
Boot from the USB storage device.
Click on Proceed.
Keep your patience until it finishes the process.
5. Try a different keyboard
You also can consider using a different keyboard app or a physical keyboard. While looking for an alternative, make sure the keyboard doesn't require an internet connection, unlike the Steam Deck's default one.
If you are interested, learn how to fix Steam Deck stuck on the loading screen.
These are the best ways to fix the Steam Deck keyboard not appearing problem. If you have any suggestions or questions, let us know in the comment box.