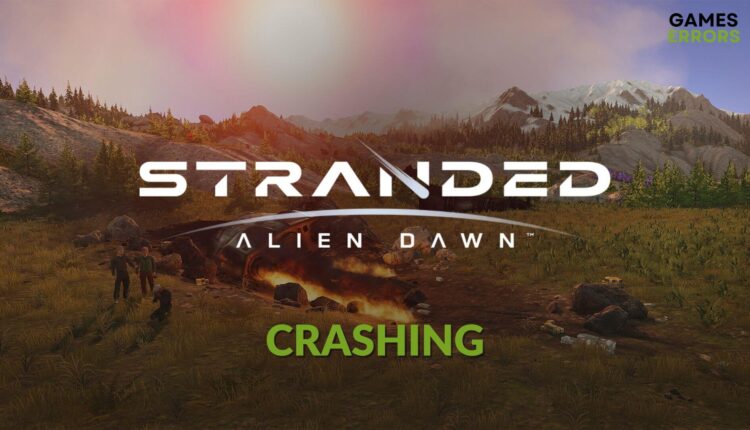 Stranded Alien Dawn Crashing: Best Ways to Fix This Issue
Update drivers and repair Stranded Alien Dawn if this game keeps crashing on your PC 💥
X
INSTALL BY CLICKING THE DOWNLOAD FILE
Is Stranded: Alien Dawn crashing on your PC? If this problem keeps bugging you, there are some effective methods you can try to fix this problem.
This survival simulation strategy game may crash with or without showing any specific error messages. You can explore a whole new planet in this game with a lot of fun and adventurous elements. But, if you don't get a smooth experience, you won't enjoy the game.
Why is Stranded Alien Dawn crashing on my Windows PC?
This planet survival title may crash on a Windows 11 or 10 PC because of the following things:
System requirements: If your PC doesn't meet the 100% system requirements, you may be able to run Stranded: Alien Dawn. But it will crash randomly.
Driver problem: Outdated or problematic drivers, particularly the GPU driver, are one of the most common reasons behind this type of problem.
Problematic game components: Outdated, missing, or corrupted components related to the Stranded: Alien Dawn can be why this title is crashing randomly at startup or during the gameplay.
Third-party services: Some third-party programs may create conflict when you launch the game. As a result, you may notice that Stranded: Alien Dawn stops working by throwing an error code or without any error messages.
How do I fix the Stranded: Alien Dawn crashing problem?
We have found the right ways to fix crashing issues on Stranded Alien Dawn. However, before going through these methods, do these quick things:
Now, go through these actual troubleshooting methods:
1. Update drivers
Time needed: 3 minutes.
To fix Stranded Alien Dawn crashing issues, you must update all of the drivers to the latest version on your PC.
Click on Search automatically for drivers.
Update all other drivers in the same way.
DriverFix is the most recommended tool for updating drivers on your PC for better gaming. Unlike the device manager, it can update dozens of drivers with just a single click. In addition, it is more powerful and capable.
2. Clear Steam cache
Clearing Steam or any client's cache can help to stop Stranded: Alien Dawn from crashing on your PC. Here are the steps to follow:
Open Steam.
Go to its Settings.
Click on OK.
Relaunch Steam.
If you use Epic Games Launcher, you will need to clear the web cache from there.
3. Cear shader cache
Open Windows Settings by pressing Win + I on your keyboard.
Click on Temporarily files.
Untick everything except the DirectX Shader Cache.
Click on Remove files.
Relaunch the game.
Clearing the shader cache will fix crashing issues on Stranded: Alien Dawn. However, when you relaunch the game, you may experience some lag or stuttering issues as the shader cache will be rebuilt. After a while, the problem will go away.
4. Repair Stranded: Alien Dawn
In Steam, go to the game library.
Right-click on Stranded: Alien Dawn and then go to its Properties.
Give it some time to finish the process.
Now, relaunch Alien Dawn and see whether it still keeps crashing or not.
Epic Games Launcher also has a similar option. If you play this game on that platform, you must repair it from there.
5. Run in clean boot
Open the Windows search box, type system configuration, and press Enter.
Go to the Services tab.
Click on Apply and OK.
Restart Windows.
In the clean boot, launch and start playing this title. If you see that Stranded: Alien Dawn is no longer stopping working or crashing, it means there is a third-party program that is the root of the problem.
We suggest you enable the services one by one from the System Configuration window until the game starts crashing again. Then, uninstall the problematic service from your PC.
Extra steps:
This planet simulator game still may have the problem. In this case, do these things as well:
For more suggestions, check out this guide on how to stop games from crashing.
These are the most effective methods to fix the Stranded: Aliend Dawn crashing problem. If you have any questions, let us know in the comment box.
If you encounter any issues or errors while playing your favorite games and require support, feel free to contact us here. Our team is always ready to assist you and ensure your gaming experience is seamless and enjoyable.