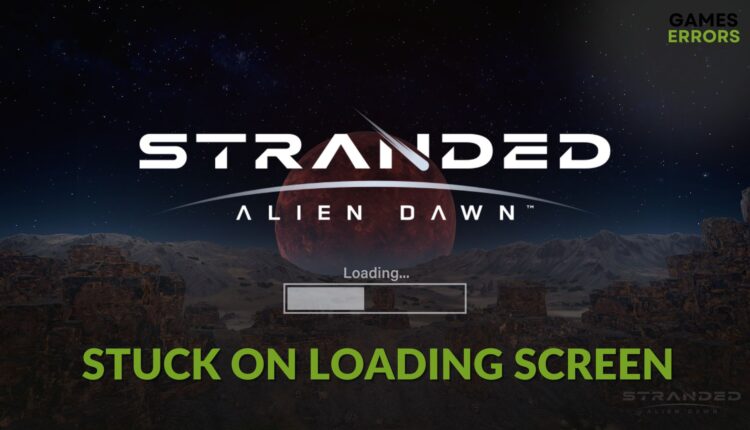 Stranded: Alien Dawn Stuck on Loading Screen [Fixed]
Update the GPU driver and repair the game files if Stranded: Alien Dawn remains stuck while loading ✅
X
INSTALL BY CLICKING THE DOWNLOAD FILE
If you have recently installed Stranded Alien Dawn on your PC, you may have noticed that it is stuck on the loading screen and stays there forever. Though not every gamer is encountering the problem, everyone still should know how to fix it.
You probably are excited to explore the sci-fi world of Stranded: Alien Dawn. But the excitement will go away when this title freezes or becomes stuck while loading. It occurs only when there is something wrong with the game installation file or on your PC.
Why is Stranded: Alien Dawn taking forever to load?
You must try to find out why the Stranded Alien Dawn is stuck on the loading screen. In most cases, you will end up finding any of these reasons:
System requirements: In case your PC lacks the required specifications, the game may not load.
Graphics driver issue: Buggy or an obsolete version of the display driver can prevent Alien Dawn from loading on your PC.
Corrupted game components: If some essential game components are missing, corrupted, or outdated, Stranded: Alien Dawn won't launch or get stuck while launching or loading.
Slow disk performance: Slow or problematic disk drives also can be the root of this problem.
How do I fix Stranded Alien Dawn stuck on the loading screen?
We have prepared the best methods to solve Stranded: Alien Dawn stuck on the loading screen. Before that, take these quick steps:
Now, go through the following methods one by one to fix the actual problem:
1. Update graphics card driver
Updating the graphics driver is one of the most effective methods to do if Stranded Alien Dawn remains stuck and takes forever to load. To do it, follow these steps:
Press Win + X on the keyboard and then go to Device Manager.
Click on the arrow icon next to the Display adapter, as shown in the screenshot.
Click on Search automatically for drivers and complete the process.
Restart your PC.
You should use a tool like DriverFix for updating any driver on a Windows 11 or 10 PC. It can update multiple drivers at once. In addition, it helps to get rid of various gaming problems as it installs the best compatible driver software.
2. Clear cache
Open Steam.
Navigate to its Settings.
Next, click on OK.
Relaunch Steam.
3. Enable high-performance mode
Press Win + I to open Windows Settings.
Close the settings.
Now, launch Stranded Alien Dawn and see if it is still stuck on the loading screen or not.
4. Repair disk issues
Open File Explorer by pressing Win + E on the keyboard.
Go to This PC.
Right-click on the disk drive where you have installed Stranded: Alien Dawn, and then click on Properties.
Navigate to the Tools tab.
Give it some time to finish the process.
5. Repair Stranded Alien Dawn
Time needed: 3 minutes.
You should take steps to repair the game files if Stranded: Alien Dawn is stuck on the loading screen.
Wait for a few moments until it finishes the process.
For Epic Games Launcher, you also can get a similar option to repair and verify the game files.
6. Run in clean boot
Press Win + R to open Run.
Type msconfig and hit Enter to open the System Configuration.
Navigate to the Services tab.
Click on Apply and OK.
Restart Windows.
At last, run the game.
In case Stranded: Alien Dawn is no longer stuck while loading, you can be sure that a third-party service is the root of the problem. You should try to find it and uninstall that program from your PC. Then, boot into normal mode.
If you are interested, learn the ways to solve Stranded: Alien Dawn keeps crashing.
These are the most effective solutions to follow if the Stranded Alien Dawn is stuck on the loading screen. If you have any questions, let us know in the comment box.
If you encounter any issues or errors while playing your favorite games and require support, feel free to contact us here. Our team is always ready to assist you and ensure your gaming experience is seamless and enjoyable.