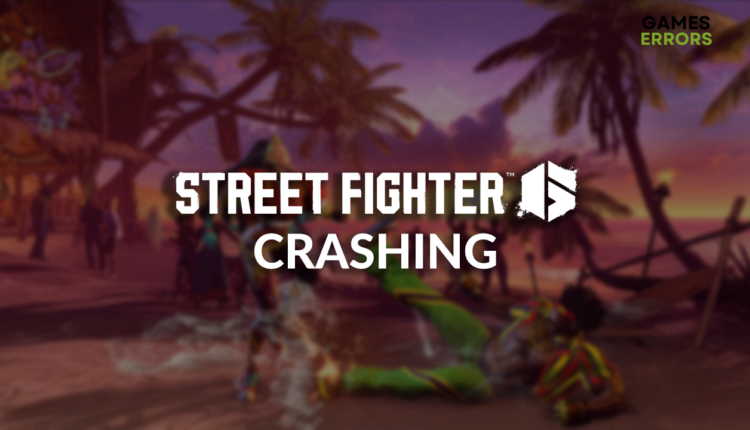 Street Fighter 6 Crashing: How To Fix It Quickly
What is more annoying than a sudden crash in a middle of a fight in your new favorite game? If you agree, you just earned yourself a ticket to fixing this annoying issue! 😎
Many players complained about Street Fighter 6 crashing, so we decided to make an ultimate guide on preventing it. We did our homework, listed the most common factors that endanger SF6 stability, and paired them with the most efficient fixes.
If you can't open SF6, learn what to do when Street Fighter 6 won't launch.
Why is Street Fighter 6 crashing?
Street Fighter 6 is crashing due to poor PC hardware, bad overclock settings, high temperatures on your PC, an outdated graphics driver, resource-consuming background apps that create overlays, enabled fullscreen optimizations, and other Windows-related issues.
How to fix SF6 crashing?
Get started with some easy checks and quick fixes that can prevent Street Fighter 6 from crashing:
Check the system requirements: SF6 isn't demanding a game released in 2023. However, you will still need some decent hardware to play it on reasonable settings.
Disable overclock settings: If you boost your PC's performance by overclocking the CPU, GPU, or RAM, we recommend you disable these overclock settings to increase SF6 stability.
Check the temperatures: High PC temperatures are another common cause of SF6 crashing. This can be fixed by changing the thermal paste and ensuring proper ventilation.
Proceed with the step-by-step solutions listed below.
1. Update the graphics driver
Time needed: 5 minutes
Your graphics card's performance is directly related to the software it uses to communicate with the rest of the system. This software is a graphics driver and is constantly updated for better performance. If it doesn't update automatically on your PC, you must do it manually through the Device Manager.
Click on the Windows icon, type Device Manager, and open it from the search results.

Double-click on the Display Adapters section.

Right-click on your graphics card and select the Update driver option.

Choose the Search automatically for drivers option.
Install the graphics driver update.
Restart your PC.
There is an easier way to update the graphics driver. Outbyte Driver Updater can update any driver on your PC automatically. This driver updater tool scans, monitors, downloads, and installs driver updates whenever necessary!
2. Close background apps
Before launching Street Fighter 6, close all apps and games you use on your PC. Even after doing so, there will still be a few resource-consuming apps left, so you need to use Task Manager to close them.
💡 Another essential thing to consider is apps that create overlays. If you want to keep these background apps running, disable the overlays in the app settings.
Use the Ctrl+Shift+Esc shortcut to open Task Manager.
Find apps that you don't need while playing SF6.
Right-click on the App you choose and select the End task option.

⚠ Warning: Avoid closing Windows-related processes or your antivirus through Task Manager.
3. Disable fullscreen optimizations
Fullscreen optimizations are a Windows feature designed to enhance your gaming experience by optimizing the system for games that run on fullscreen. However, it can cause crashes with specific game titles, so we advise you to disable it.
Right-click on the SF6 (.exe) file and open Properties.
Navigate to the Compatibility tab.
Tick the box next to Disable fullscreen optimizations.

Click on Apply and OK.
4. Perform a Clean Boot
Your PC boots with many services, depending on the number of apps installed. Another critical step towards preventing SF6 crashes is disabling unneeded services and booting in a Clean Boot mode.
Use the Windows + R shortcut, type msconfig, and hit Enter.
Navigate to the Services tab.
Check Hide all Microsoft services and then hit the Disable All button.
This way, only Microsoft services will run when you restart your PC.

Click OK and restart your PC.
Extra steps
If you still experience Street Fighter 6 crashing, try to:
🎮 Enable the Game Mode: Windows has a Game Mode feature that optimizes your system for gaming performance. Click on the Windows icon, type Game Mode, and enable it.
💻 Change the Power Mode: If you are one of the gamers that enjoy the gaming experience on a laptop, click on the battery icon in the taskbar and set the Power Mode to the Best Performance.
⬆ Update your Windows: Another factor is to have the latest version of Windows and other relevant components. Click on the Windows icon, type Check for updates, and install any pending updates.
Related articles:
Conclusion
Hopefully, these solutions permanently stopped Street Fighter 6 from crashing. Let us know how it went, and share your experience in the comment.
If you encounter any issues or errors while playing your favorite games and require support, feel free to contact us here. Our team is always ready to assist you and ensure your gaming experience is seamless and enjoyable.