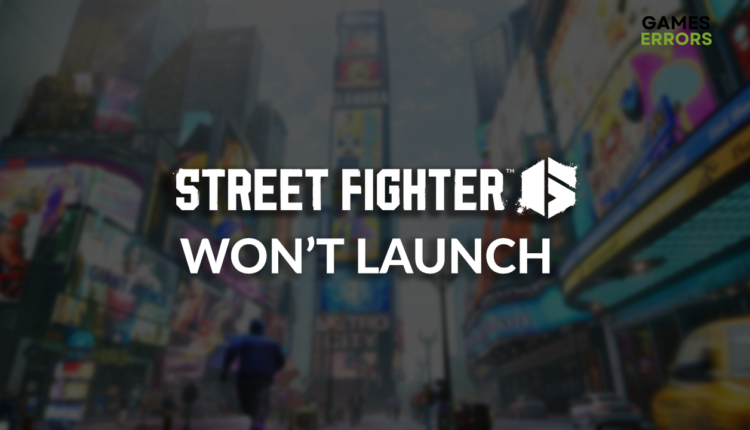 Street Fighter 6 Won't Launch: How to Make It Work
Excitement about the new Street Fighter disappeared after discovering that the game doesn't even launch? No worries, we got you covered! 🚀
X
INSTALL BY CLICKING THE DOWNLOAD FILE
Street Fighter 6 won't launch is a problem for many players, and the issue is that it is very problematic to find a single root cause for this. However, we listed the most common reasons and paired them with the most effective fixes to make SF6 work like a charm!
If the launching problem is not the only one you are struggling with, but the game stability is also troubling, learn how to prevent Street Fighter 6 from crashing.
Why Street Fighter 6 won't launch?
Street Fighter 6 won't launch due to poor hardware of your PC, problems with Windows permissions, temporary issues on your PC, corrupted game files, Windows Firewall recognizing SF6 as a threat, or missing C++ dependencies.
How to fix Street Fighter 6 won't launch?
Here are some quick fixes and checks you can apply if Street Fighter 6 won't launch:
Check the requirements: If you want to play the game on your PC, it must meet at least the minimum system requirements for Street Fighter 6.
Run SF6 as an administrator: To ensure there are no problems with Windows permissions, right-click on SF6, select Properties, navigate to the Compatibility tab, and enable the Run as administrator option.
Restart your PC: Some temporary issues on your PC might prevent SF6 from launching. This can be solved by performing a restart.
Once you do everything from the previous list, proceed with the step-by-step solutions that will SF6 launch.
1. Verify game files
Corrupted game files are the most frequent cause of Street Fighter 6 not launching issues. A great alternative to reinstalling the game is verifying the integrity of game files through Steam.
Launch Steam and go to the Library.
Right-click on Street Fighter™ 6 and select Properties.
Select the Local Files tab, and click on Verify integrity of the game files.

2. Allow SF6 through the Firewall
Time needed: 4 minutes
Your system is exposed to various threats, and the task of Windows Firewall is to prevent these threats. However, it can falsely recognize Street Fighter 6 as a threat, so you must add it as an exception.
Click on the Windows icon, type Windows Defender Firewall, and open it.

Click on Allow an app or feature through Windows Defender Firewall.

Click on Change Settings and Allow Another App.

Select Browse, and navigate to the Street Fighter 6 installation folder.
Click on the Street Fighter 6 executable file (.exe) and select Open.
Check the checkbox in columns Private and Public in the Street Fighter 6 row and hit OK.
Restart your PC.
3. Install Visual C++ dependencies
Street Fighter games for PC are built on top of Visual C++ dependencies. These dependencies are usually installed with the game, but if the game doesn't launch, it is a good indicator that you must install them manually.
Open the Visual C++ Redist Packages download page.
Download the installation package suitable for your Windows.
➡ x64 is for 64-bit Windows
➡ x86 is for 32-bit Windows

Launch the installation and install packages.
Restart your PC.
4. Delete cache files
Steam and Street Fighter 6 store cache files on your PC which help them launch quicker and run better. However, if these files aren't saved appropriately, they will cause issues when launching the game.
Use the Windows Key + R shortcut to open the Run dialog, type %localappdata%, and hit OK.
Press CTRL + A to select all files in the folder.
Hit the Delete key to delete all the files in the folder.
➡ If prompted to confirm, click on Yes.
➡ If some files can't be deleted, click on Skip.

Extra steps
Some players complain that Street Fighter 6 won't launch, even after doing everything we propose. If you are one of them, try to:
🛡 Temporarily disable the antivirus: Like Windows Firewall, your antivirus can recognize SF6 as a threat. If the game launches with the antivirus disabled, re-enable it and whitelist SF6.
💻 Perform a Clean Boot: You should disable all non-essential startup services. Run msconfig, open Services, hide all Microsoft services and disable the rest.
🔁 Reinstall SF6: Even though you already verified the integrity of game files, if the game still doesn't launch, you can uninstall it and do a clean installation once again.
Related articles:
Conclusion
These were the most common causes due to which Street Fighter 6 won't launch. Hopefully, our solutions were enough to troubleshoot the problem on your system, and you are already enjoying this awesome fighting game.