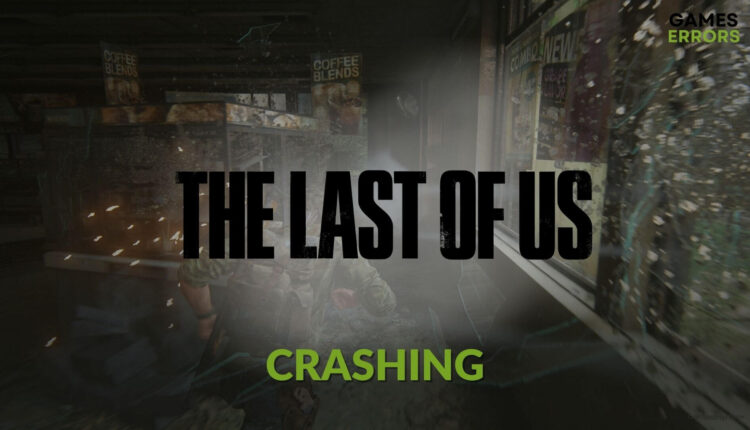 The Last of Us Part 1 PC Crash: The Best Fix You Can Apply
If The Last of Us keeps crashing, update the GPU driver and follow these recommendations 🎮
X
INSTALL BY CLICKING THE DOWNLOAD FILE
If The Last of Us keeps crashing on your PC, don't worry. There are very effective ways to fix this story-rich game's problem.
Any survival horror zombie game fan will love this title because of the stunning graphics, amazing gameplay, and excellent storyline. However, for some gamers, Last of Us may keep crashing on their PCs randomly with or without showing an error message. This is a big blow to the goodness of this game.
Why is Last of Us Part 1 crashing on my PC?
If this zombie game stops working or crashes on Windows 10 or 11, try to find out what is causing this issue. Probably, you will end up finding any of these things as the reasons:
System requirements: The new Last of Us Part 1 is a very resource-hungry game with very strict system requirements. If your PC doesn't have the necessary specifications, you will end up encountering crashing problems.
GPU driver problems: Even if you have a decent graphics card, it will not deliver proper performance if there is something wrong with the driver.
Corrupted game components: Corrupted or problematic game components and files also can make The Last of Us crashes on your PC.
Improper configurations: Any improper settings in the game or Windows can be why this third-person shooter game is crashing.
How to Fix The Last of Us crashing on your PC?
We have prepared the most effective solutions for The Last of Us PC crashing problem. But first, make sure your PC meets the system requirements of The Last of Us. Now, before trying out these methods, you should take these quick steps:
Disable your antivirus and firewall.
Complete any pending restart of your PC.
Make sure you are not overclocking anything and there is no problem with your SSD.
If the problem begins after enabling memory over-clocking, learn how to solve games crashing after enabling XMP.
Now, you can follow these methods to solve this problem:
1. Update the graphics card driver
Time needed: 3 minutes.
A highly graphics-intensive game like The Last of Us Part 1 may crash randomly if the GPU driver is problematic. So, you should update it to solve this problem.
Select Search automatically for drivers.
To install the latest game-ready official graphics card driver for your GPU, you should use DriverFix. This small app is a very powerful tool for finding the most compatible drivers for Windows PC. It helps to troubleshoot various gaming errors.
2. Clear the client cache
Open the Steam or the game launcher you are using for The Last of Us Part 1.
Relaunch Steam.
Now, play the Last of Us and see if it still crashes or not. If you use Epic Games Launcher, you will need to clear its web cache.
3. Install/repair the essential game components
Visit the DirectX Runtime download page.
Download the Runtime installer.
Install it on Windows.
Visit the Microsoft Visual C++ Redistributable page.
Click on the download link for X64 architecture.
Install it on your PC.
Restart Windows.
4. Uninstall problematic apps
If you have installed any apps recently or are using any FPS or game-boosting app, you should uninstall it to eliminate the crashing problems with The Last of Us. For this, follow these instructions:
Press Win + I to open Settings.
Restart Windows.
5. Repair The Last of Us
Open Steam and go to the game library.
Go to the Local files tab.
Click on Verify integrity of game files.
Give it a few moments to finish the process.
6. Increase virtual memory
As The Last of Us is very memory intensive, too, it often may need to use virtual memory. So, increasing its size will reduce the chance of encountering the crashing problem. Here are the steps to follow:
Press Win + I on the keyboard to open Run.
Type SystemPropertiesPerformance and then click on OK.
Navigate to the Advanced tab.
Click on Change, as shown in the screenshot.

Untick Automatically manage paging file size for all drives and tick Custom size.
Now, choose the system drive and type an increased value of the Virtual memory size.

Save the settings and restart Windows.
7. Update the game
Go to The Last of Us's Properties like before.
Go to the Updates tab.
Relaunch Steam.
Now, Steam will update this game with the highest priority when a new update is available.
8. Run the Windows Memory Diagnostic tool
Open Run like before.
Type mdsched and click on OK.
Restart your PC.
It will help to get rid of common and temporary memory problems. You will also know if there is a severe problem. In this case, you may need to change the RAM stick to fix the crashing problems with The Last of Us on PC.
Before changing the hardware, consider re-installing the game on an SSD and see if it helps.
If necessary, learn how to stop any games from crashing.
This article has explained why The Last of Us is crashing on PC and how to fix this problem. If you have any questions, let us know in the comment box.
If you encounter any issues or errors while playing your favorite games and require support, feel free to contact us here. Our team is always ready to assist you and ensure your gaming experience is seamless and enjoyable.