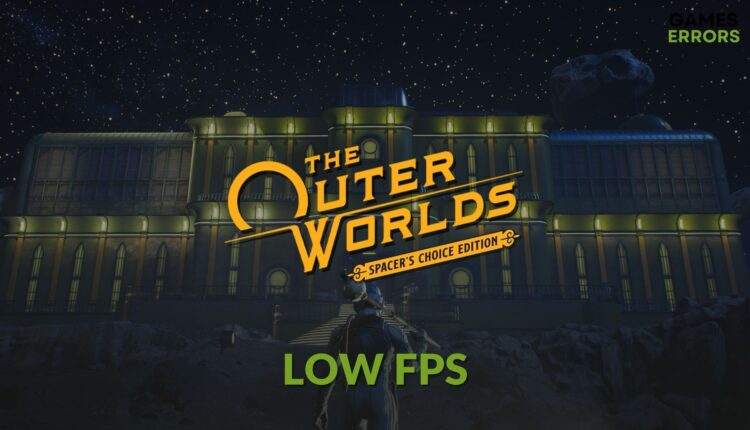 The Outer Worlds: Spacer's Choice Edition Low FPS: How to Improve
To improve FPS on The Outer Worlds: Spacer's Choice Edition, update the GPU driver and tweak graphics settings ✅
If you face The Outer Worlds: Spacer's Choice Edition low FPS problem on your PC, a few tricks and settings can help you. This article will tell you what to do if this problem occurs.
This new title brought various improvements and new gameplay compared to the original award-winning RPG The Outer Worlds. But, despite of having a decent graphics card, for example, the RTX 4080, performance issues on some computers can fade out your interest.
Why is my frame rate dropping on The Outer Worlds: Spacer's Choice Edition?
If you see sudden frame rate drop or stuttering issues, or poor performance with this new Outer Worlds from the beginning, it may be because of the following reasons:
Graphics driver problem: The first reason behind this poor FPS problem with this Outer Worlds: Spacer's Choice Edition can be the GPU driver problem.
Third-party background services: If too many services are active in the background or a few problematic ones are active, you will face a frame-dropping problem.
Known bug: It is also possible that this poor performance or stuttering issue is related to a specific version of the game.
Improper configuration: Various performance issues may appear if you play the game with improper settings.
How can I fix The Outer Worlds: Spacer's Choice Edition low FPS?
Before getting started, you should ensure the following things:
Now, you can follow these methods:
1. Update graphics card driver
Time needed: 5 minutes
To increase FPS, keeping the graphics card driver updated is the most working method.
Press Win + X and go to Device Manager.
Double-click on Display adapters to expand it.
Click on Search automatically for drivers and finish the process.
Rather than using the Device Manager, we suggest you try Outbyte Driver Updater. This tool is insanely powerful and effective when it is a driver updating task. For having a larger database, it can install the most recent version of game ready GPU driver on your PC.
⇒ Get Outbyte Driver Updater
2. Enable Game mode
Press Win + I on the keyboard to open Windows Settings.
Toggle the switch next to the Game Mode.
By default, it should be turned on Windows 11. But, if not, the above steps will do the job.
3. Reduce background services
To open the Task Manager, press CTRL + Shift + Esc on the keyboard.
Go to the Processes tab.
Select a process, and then click on End Task.
Disable all other less essential and power-hungry processes.
4. Change graphics preference
Go to Windows Settings like before.
Go to Graphics.
Find and select the Outer Worlds and click on Options.
If you don't see the game in the list, you can manually add it by clicking on the browse option. It may boost FPS on games like The Outer Worlds: Spacer's Choice Edition.
5. Repair the game files
Open Steam and go to your game library.
Right-click on The Outer Worlds: Spacer's Choice Edition, and go to its Properties.
Navigate to the Local Files.
Click on Verify integrity of game files.
If you are using Epic Games Launcher, you will get a Repair option which is similar to Steam's verify option. After repairing, launch the game, and see if it has worked.
6. Roll-back GPU driver
Open Device Manager and expand Display adapters like method 1.
Right-click on the GPU driver and go to its Properties.
Navigate to the Driver tab.
Follow any on-screen steps to finish the process.
7. Re-install the GPU driver
7.1 Uninstall the driver
Go to the Device Manager.
Right-click on the graphics card driver and click on Uninstall.
Restart Windows.
7.2 Install again
Visit AMD, Intel, or NVIDIA driver download page.
Download the driver.
Install it on your PC.
8. Tweak graphics settings
Open NVIDIA Control Panel or any other graphics card software.
Go to Manage 3D settings and click on Program Settings.
Select The Outer Worlds: Spacer's Choice Edition from the dropdown list. Manually add if not on the list.
Locate the Vertical sync and turn it off.
Also, set Pre-rendered frames to 2, Threader optimization to On, and Texture Filtering – Quality to Performance.
Increase Max Frame Rate.
Save the settings.
If you still face the same problem, update Windows to the latest version. Also, reinstall the game. If you use any third-party game booster apps, uninstall them and try playing without fullscreen optimization.
If necessary, learn how to solve The Outer Worlds: Spacer's Choice Edition keeps crashing.
This article taught you how to fix The Outer Worlds: Spacer's Choice Edition low FPS problem. If you have any suggestions, let us know in the comment box.