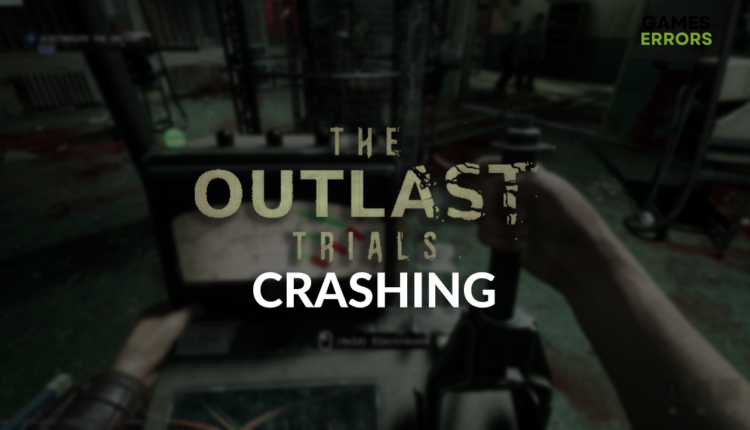 The Outlast Trials Crashing: Fix It Easily
You were deep into the story of TOT, when suddenly the biggest jump scare occurred, the game crashed! No worries, we got you covered. 👀
X
INSTALL BY CLICKING THE DOWNLOAD FILE
Experiencing The Outlast Trials crashing can be much scary than the gameplay itself. Since many players complain about this issue, we decided to put together the ultimate guide for preventing crashes in The Outlast Trials that you can quickly put into action!
Are you experiencing performance issues in this survival horror game? Learn what to do if The Outlast Trials FPS is low on PC.
Why is The Outlast Trials crashing?
The Outlast Trials is crashing due to a lack of computing power on your PC, bad overclock settings, problems with Windows permissions, outdated GPU driver, corrupted game files, resource-consuming background apps, issues with compatibility, or the DirectX version you are using.
How to fix The Outlast Trials crashing?
Perform the following checks and apply these quick fixes:
Check the hardware requirements: Your PC must meet at least the minimum system requirements for TOT to run stably. Upgrade your PC if it lacks computing power.
Disable overclock settings: If you want to improve your PC's performance by overclocking the CPU or GPU, double-check and disable these overclock settings, as they can cause TOT crashes.
Run TOT with proper permissions: Right-click on the game executable file (.exe), select Properties and navigate to the Compatibility tab. Enable Run this program as an administrator and hit OK.
Proceed with the solutions provided below.
1. Update the GPU driver
Time needed: 5 minutes.
An outdated GPU driver will cause stability and performance issues when playing games on your PC. We advise you regularly update your GPU driver. This can be done manually through Device Manager and Update Driver Wizard, but also with the help of a third-party driver updater tool.
Click on the Windows icon, type Device Manager, and open it.

Double-click on the Display Adapters section.

Right-click on the GPU and select the Update driver option.

Select the Search automatically for drivers option.
Follow the steps for the update installation.
Restart your PC.
The driver updater tool of our choice is DriverFix. This light and portable software will handle the complete driver management, so you don't have to think about it or waste time.
2. Verify game files
Corrupted game files might cause The Outlast Trials to bug and eventually crash. This is a common issue with PC games, so big game distribution platforms created a game file verification system.
For Steam users:
Launch Steam and open the Library.
Find The Outlast Trials in the Library, right-click on it, and choose Properties.
Select the Local Files section in the menu on the left.
Click the Verify integrity of game files… button.

For Epic Games users:
Open Epic Games Launcher and head to the Library.
Find The Outlast Trials, click the three vertical dots next to it, and select Manage.
Click the Verify button.

3. Close background apps
Before running TOT, close all unnecessary apps that consume your resource and cause potential compatibility issues. Besides the visible apps, we suggest you use Task Manager to disable other unnecessary background apps.
Using the CTRL + Shift + ESC shortcut, open Task Manager.
Find the apps you don't need when playing the TOT in the Processes tab.
Right-click on the app and choose End task.

⚠ Warning: Never disable Windows-related background processes or your antivirus.
4. Run TOT in compatibility mode
Different versions of Windows are compatible with different sets of libraries and dependencies. Some gamers report that running TOT in the compatibility mode solved the game stability problems.
Right-click on the TOT executable (.exe) file and open Properties.
Navigate to the Compatibility tab.
Enable Run this program in compatibility mode for Windows 8 and hit OK.

Extra steps
Some players will have more issues with preventing The Outlast Trials from crashing. If you are one of them, try to:
👨‍💻 Use another version of DirectX: Some gamers report that the crashes stopped after they downgraded the DirectX version from 12 to 11. Additionally, you can reinstall DirectX API.
💿 Disable fullscreen optimization: Right-click on the game executable file (.exe), select Properties, navigate to the Compatibility tab and check the box next to Disable fullscreen optimizations.
💻 For gaming laptops: Click on the battery icon in the taskbar and set the slider to Best Performance. Ensure the gaming laptop is charging when playing TOT in this power mode.
💡 If you recently installed a new graphics card, it can cause the game crashes. Learn how to fix game crashes caused by new GPU.
Conclusion
As you can see, there are many things you can do to stop The Outlast Trials from crashing. It is your responsibility to take action! Let us know what solution worked out for you, and share any additional fixes that stopped the game from crashing with us.
If you encounter any issues or errors while playing your favorite games and require support, feel free to contact us here. Our team is always ready to assist you and ensure your gaming experience is seamless and enjoyable.