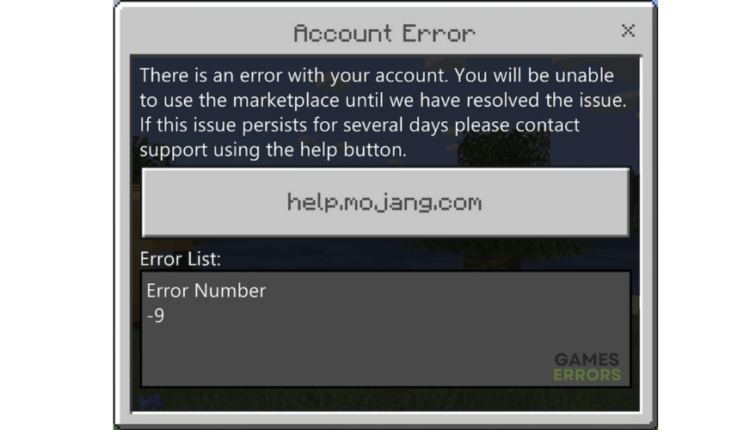 There Is An Error With Your Account Minecraft [FIXED]
Getting any error during gameplay can be annoying and make playing frustrating. Luckily, we can help you fix this 👇.
The Minecraft "There is an error with your account Minecraft?" error has frustrated many players for a while now. When it occurs, the following message pops up:
"There is an Error With your Account. You Will Be Unable To Use The Marketplace Until We Have Resolved This Issue. If This Issue Persists for several days Please Contact Support."
The error occurs when you try to play the Minecraft map bought from the Minecraft Marketplace or when you try to go to the Marketplace in Minecraft. Unfortunately, there's not much information regarding how to fix the error. Fortunately, we have detailed some foolproof solutions worth trying to resolve the issue below.
Why is Minecraft saying there's an error with my account?
"There is an error with your account Minecraft" error is likely caused by connectivity issues affecting how your device connects with Minecraft servers. For example, you'll likely encounter the error if there's a service outage, downtime, maintenance, or scheduled maintenance. Similarly, your device won't successfully connect with Minecraft servers if your internet connection is slow or you're experiencing intermittent connections.
How to fix There is an error with your account Minecraft?
Before performing any fix, we recommend doing the following:
Check the Minecraft server status to ensure they're up. Scheduled server maintenance, downtime, or outages may trigger errors. You can check their official Twitter handle for server updates. If the servers are down, consider waiting till they're up before playing the Minecraft map.
Restart the game and the client to remove issues causing errors.
Restart your device to remove glitches that trigger errors.
Update Minecraft to the latest version to install patches that fix temporary errors.
If you still get the error in Minecraft, try the following possible workarounds:
1. Check your connectivity
Minecraft requires a fast and reliable internet connection to launch successfully. So, check your internet connection to ensure it's stable and you can open and run the game with ease. To do this:
Click the network icon on the taskbar menu.
Select Network & Internet settings.
Navigate to Status.
It should read, "You're connected to the internet." If it doesn't, your network is likely sluggish and slow.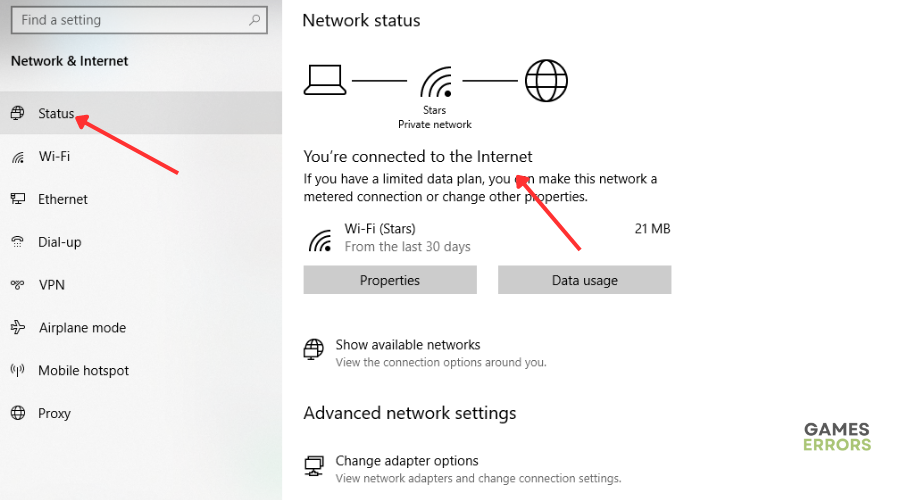 2. Run the network troubleshooter
Since the Minecraft marketplace error is a network and connectivity issue, consider running the network troubleshooter to diagnose and detect any problems with your network. This way, Windows can fix the problem, ensuring stable connectivity. To do this:
Type settings in the Windows search bar and click on Network & Internet settings.
Navigate to Advanced Network Settings and choose Network Troubleshooter.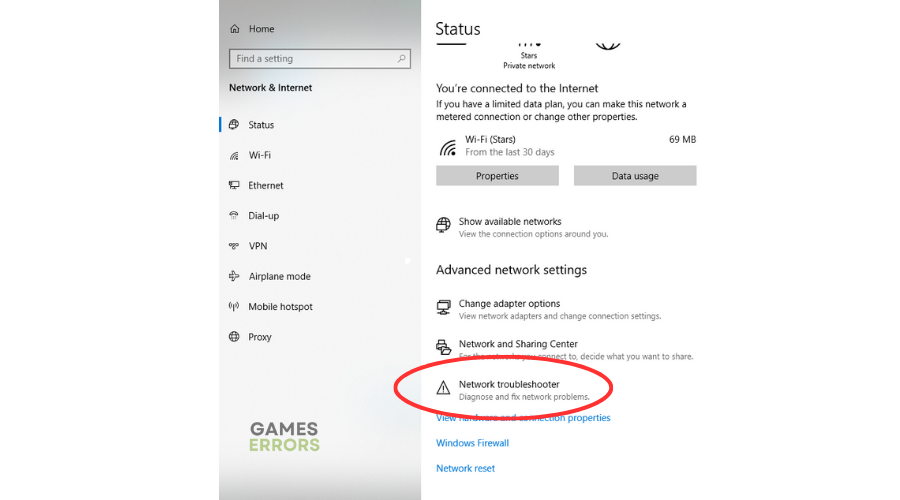 Click on All network adapters and let Windows detect and solve any network connection issues.
Launch Minecraft to see if the error is solved.
3. Update your network drivers
Time needed: 4 minutes
Outdated network drivers may trigger issues with your network connectivity, which triggers the "There is an error with your account Minecraft" error. We recommend updating your network driver to the latest version to prevent encountering errors with Minecraft. Here's how to do this:
Search bar

In the Windows search bar, type Device Manager and select Open.

Network adapters

Navigate to the network adapters tab and click to see the network drivers on your PC.

Update driver

Right-click on your preferred network driver and select Update driver.

Install

Select Search automatically for drivers and let Windows find and update drivers.

Launch

Launch your Minecraft account to see if the issue is solved.
We recommend installing Outbyte Driver Updater to automatically update and install your outdated network drivers. This driver saves you the hassle and time required to manually update your drivers.
⇒ Get Outbyte Driver Updater
4. Use a wired connection
Wi-Fi connections aren't as stable and fast as wired connections. So, switch to a wired Ethernet connection to get fast and reliable internet for playing Minecraft. A wired connection is likely to successfully connect with Minecraft game servers, ensuring you don't encounter any errors during gameplay. Just plug in your ethernet cable to your router/modem and PC and launch the game to see if the problem is solved.
Related articles:
Conclusion
Gaming errors like "There is an error with your account Minecraft?" are to be expected with any online game, but you can solve it. We advise working your way down the list to find a solution that works for you. Leave any more answers, comments, or questions in the comment section below.