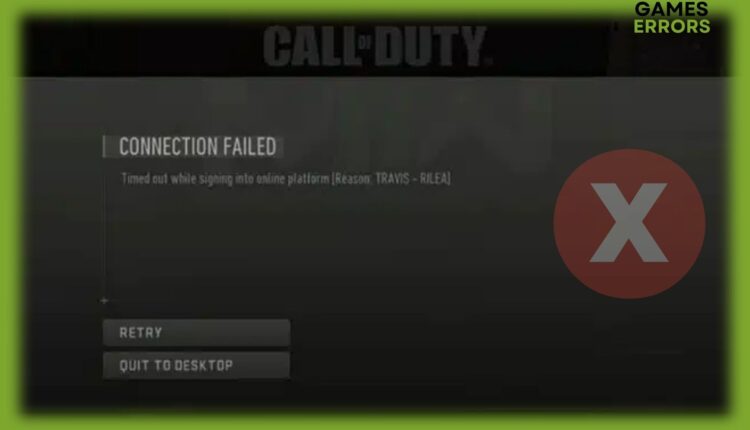 MW2 Travis Rilea Error: How to Fix Connection Failed Issue
Travis Rilea error in MW2 is usually caused by having a poor internet connection or Activision servers being down 💁🏻‍♂️.
X
INSTALL BY CLICKING THE DOWNLOAD FILE
Several Call of Duty Modern Warfare 2 players ran into Travis Rilea error preventing them from signing into the game. Users of Xbox Series X|S and Xbox One, PlayStation 4, PlayStation 5, and PC devices have experienced this error.
If you run into this problem, don't worry, continue reading our article on how to fix the problem in just a couple of steps.
What does Travis Rilea mean in MW2?
Travis Rilea error in Modern Warfare 2 is an error that stands with connection failure. In general, the error message Connection Failed Timed out while signing into online platform [Reason: TRAVIS – RILEA] will appear if there is either a problem with your internet connection or the Modern Warfare 2 servers.
How do you fix Travis Rilea in MW2?
Travis Rilea MW2 error can simply be fixed by restarting Steam, the router or optimizing your internet connection.
☑️ As a preliminary check, ensure that the game servers are up and running without any problems. To check the status of MW2 servers, head to their official website and ensure that everything is fine. After you confirm that the servers are online, restart your router and relaunch the game.
If it doesn't help, let's dive into troubleshooting!
1. Optimize your internet connection 🚀
There are a few things you can do to improve the speed and performance of your internet connection:
Restarting your router can help resolve any temporary connection troubles and enhance the overall functionality of your internet connection.
Update the firmware on your router: If your router has any new firmware updates available, check the manufacturer's website and upgrade as necessary.
Changing your wireless channel can speed up your connection because of interference from other devices using the same channel. Your connection speed may be enhanced by switching to a less congested channel.
Move your router; weak signals can result from placing it in a corner or behind a big object. When possible, relocate your router to a prominent spot with plenty of free space.
Use a wired connection: As compared to a wireless connection, try connecting your computer or laptop directly to your router via an Ethernet cable. Your connection speed will increase and any interference will be avoided.
Disable bandwidth-hogging applications: Some programs consume an excessive amount of your bandwidth. When playing games or spending a lot of time online, be aware of these and switch them off.
Reduce the number of devices you have linked to your network: A slower connection can result from having more devices connected. Your connection speed may be increased by reducing the number of connected devices.
Consult your internet service provider for more information. Some internet service providers provide tools or troubleshooting advice to assist you in maximizing your connection. If you have any queries or worries, get in touch with them.
2. Use a VPN 🌐
Connection issues and Travis Rilea error in MW2 are typically caused by playing on a server other than the one where the game is installed. Because of this, you want to think about connecting to a dedicated server that is situated in a specific country by utilizing a VPN.
Use a high-quality VPN that won't affect your connection troubles, the FPS, or the ping of the game, and enjoy playing without interruption. ExpressVPN, which operates servers in 94 countries and provides quick connections, comes highly recommended.
3. Switch to the Google DNS server
It is possible to improve the speed and dependability of your internet connection by using Google's DNS servers (8.8.8.8 and 8.8.4.4), which can help you overcome connection issues in games.
Your internet service provider (ISP) typically offers the DNS server that your computer uses by default, however, these servers can occasionally be sluggish or unreliable. You might be able to increase the speed and dependability of your internet connection by switching to a different DNS server, such as one of the biggest and most dependable tech corporations in the world, Google, whose public DNS servers are quick and accessible worldwide.
Furthermore, utilizing Google's DNS servers can help with security because they block known malicious domains, protecting your device from visiting dangerous websites.
On a Windows PC, you can take the following actions to change to Google's DNS servers:
Type "Control Panel" into the search box on the Start menu.
Head and click on "Network and Sharing Center."
Go to "Change adapter settings" and click on it.
Select "Properties" by right-clicking on the network connection you want to utilize.
Click "Properties" after selecting "Internet Protocol Version 4 (TCP/IPv4)."
Change the "Obtain DNS server address automatically" option to "Use the following DNS server addresses."
Type "8.8.8.8" in the "Preferred DNS server" box and "8.8.4.4" in the "Alternate DNS server" field.
Save the changes by clicking on "OK."
Launch the game and see if the error still persists.
4. Verify the integrity of game files
➡️ Steam users:
Open the Steam client, head to Library, and right-click on CoD MW2 or Warzone 2.
Choose Proprieties then click on the Local Files tab.
Click on Verify integrity of game files.
➡️ Battle.net users:
Open the Battle.net client and select MW2 or Warzone 2.
Click the gear icon near the Play button and select Scan and Repair.
Click on Begin Scan.
5. Reinstall CoD Modern Warfare 2
If none of the steps above assisted you in fixing the Travis Rilea error in MW2, you should consider reinstalling the game. Reinstalling the game can resolve connection issues by removing potentially damaged or out-of-date game files and updating them to the most recent version, which might include patches or fixes for known connection issues.
Reinstalling Call of Duty Modern Warfare 2 can also resolve any conflicts with other programs and any problems brought on by modifications to the operating system or hardware setup.
If you ever run into game_ship.exe crash error in Modern Warfare 2, take your time and read our article on how to fix the problem in a couple of steps.
We truly hope that our guide helped you in fixing this annoying connection failure issue. If you have any other suggestions, please drop a comment down below.
If you encounter any issues or errors while playing your favorite games and require support, feel free to contact us here. Our team is always ready to assist you and ensure your gaming experience is seamless and enjoyable.