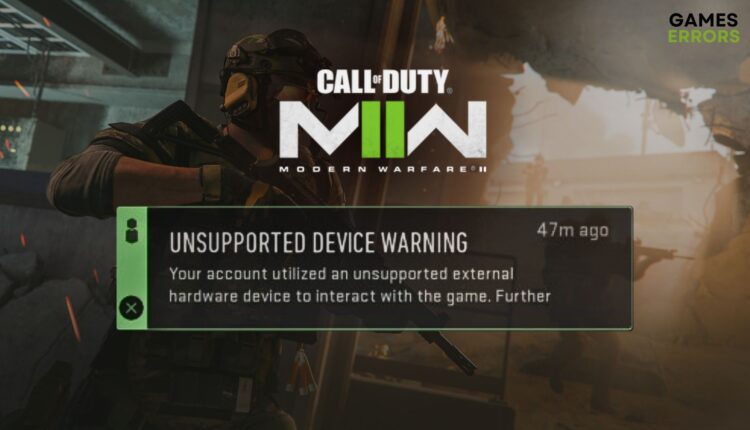 Unsupported Device Warning MW2: Easily Get Rid of It
If you keep getting unsupported unsupported device warnings in Modern Warfare 2, it may affect your gameplay experience. So, take the following steps to fix it 👇
If you are getting an unsupported device warning in MW2, don't worry. The first step should be figuring out the actual problem properly. Then, you will be able to fix it very easily.
The warning comes as a notification in the Call of Duty: Modern Warfare 2. Both PC and console users may go through this issue. When it appears, you usually see the following message:
Unsupported Device Warning

Your account utilized an unsupported external hardware device to interact with the game.
Some gamers may get a slightly different message. But the solutions are the same.
Learn how to solve the split screen not working in MW2 if you are interested.
What causes unsupported device warnings in COD: Modern Warfare 2?
Any unsupported device warnings in the COD: MW2 occurs due to the following things:
External hardware: If you connect an external controller or hardware which is not supported by the game, you may get this warning.
Problematic software: Some problematic software that can interfere with the MW2 also may cause unsupported device warnings.
Unsupported platform: Many gamers tend to play this title from an unsupported platform via various mediums. In some cases, they ended up getting this problem.
Driver issue: If the connected device's driver is problematic or not up to date, the incompatible device warning in MW2 may pop up.
How do I fix the unsupported device warning in MW2?
Before taking the actual steps, we suggest you ensure the following things:
Ensure that any controller or device you are using is compatible with MW2.
Ensure you are using the official software or driver for any external device you use.
Also, confirm that your USB ports are OK and any connected devices have no internal problems.
After that, try the following methods to troubleshoot the problem you have been going through:
1. Update the drivers
Time needed: 4 minutes
To solve unsupported device wanting in MW2, updating the related driver is the most effective solution.
Click on Search automatically for drivers and finish the process.
Restart your PC.
You should keep your devices' drivers up to date using a tool like Outbyte Driver Updater. This tool is more capable and powerful compared to the built-in device manager. In addition, it can update multiple drivers with just a single click.
⇒ Get Outbyte Driver Updater
2. Uninstall any hack tools
Any hacking or cheating apps can also cause this problem. So, we suggest you uninstall such tools by following these steps:
Go to Windows Settings by pressing Win + I on the keyboard.
Then, click on the three horizontal dots next to the hacking/cheating tool you are using and then click on Uninstall.
Follow any onscreen steps to complete the process.
Similarly, remove all other suspicious apps.
Restart Windows.
3. Update the game
Open Steam or the launcher you are using.
Go to the game library.
Right-click on Call of Duty: Modern Warfare 2 and go to Properties.
Navigate to the Updates tab.
Relaunch Steam.
4. Re-install the necessary external device
Open the Device Manager like before.
Right-click on the preferred device and then click on Uninstall.
We suggest you also uninstall any related software.
Restart your PC.
Now, install the device software again.
Now, you can run MW2 and see whether it has solved the unsupported device warning or not.
More things to do:
Still, encountering the same problem? You can take the following steps as well:
If you are trying to play Modern Warfare 2 from an unofficial device like iPad using Steam Link or any other medium, we suggest you directly play it from a PC or console.
Run the game in a clean boot state and see if it helps.
Re-install the game if nothing helps.
Contact the official support team to get more help.
If you are interested, learn how to fix the mic not working on MW2.
Hopefully, the above suggestions will help to fix unsupported device warnings in MW2. If you have any suggestions or questions, feel free to write them down in the comment box.