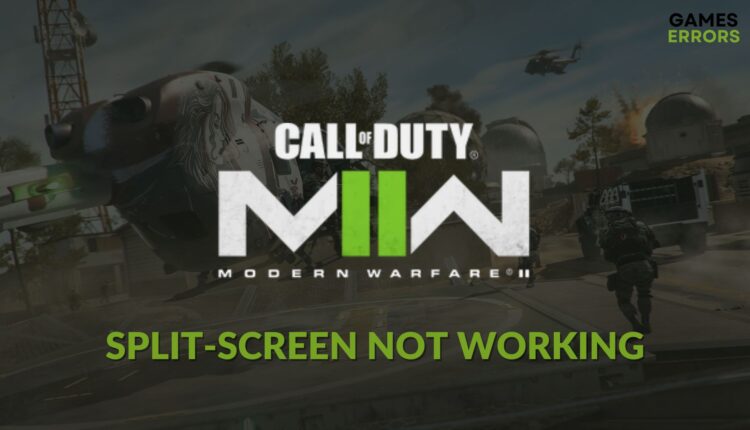 MW2 Split Screen Not Working: Fix This Issue Easily
Reset MAC address and follow these tricks if MW2 split screen doesn't work on your Xbox or PS5 console ✅
X
INSTALL BY CLICKING THE DOWNLOAD FILE
If the COD MW2 split screen is not working, you can go through the instructions and helpful information featured in this article.
One of the best features of Call of Duty: Modern Warfare 2 is the ability to play co-op with friends on the split screen. It's very simple to enable and use. But, when difficulties arise, or this feature fails to work, this functionality becomes completely useless.
Learn how to solve Purchase Modern Warfare 2 error in Warzone 2 if necessary.
Why can't I play MW2 split-screen?
This split screen not working issue can appear in both PS5 and Xbox consoles. For both devices, these are the most common reasons behind this problem:
Internal game problem: When you launch MW2, it may have some difficulties temporarily, which can be the reason why you are unable to play on split-screen.
Corrupted game files: Problematic game files and components also can be the reason.
The second player is already signed-in: If the second player is already logged in, this problem also can appear.
Crossplay problem: In some cases, gamers with crossplay enabled encounter this problem.
Conflicting MAC address: MAC address conflict also can create this problem, particularly on the Xbox console.
How do I fix MW2 split screen not working?
Before getting started, we suggest you do these things:
Ensure that the crossplay feature is disabled for both accounts.
Make sure that the Xbox and PlayStation firmware is up to date.
Now, you can go through these methods to fix COD Modern Warfare 2 split screen not activating problem:
1. Reset the Mac address
Time needed: 2 minutes.
As MAC address conflict may create this issue, you should reset it to fix MW2 split screen not working issue.
Next, tap on Clear.
2. Ensure that the second player is not already signed in
You should make sure that the second player's account is not already logged in and that the second controller is not connected. Also, ensure that you are logged in using the main account. Then, connect the second controller and log in using the second player profile.
Now, you can play Modern Warfare 2. In this way, you can easily enjoy the game with your friend on a split-screen without facing any problems.
3. Clear cache
Go to Settings like before.
Go to Persistent Storage.
Tap on Clear persistent storage.
Restart your Xbox console.
Now, launch Call of Duty: Modern Warfare 2 and see whether the split-screen feature works or not.
4. Make sure that multiplayer packs are installed correctly
Navigate to My Games & Apps.
Highlight Modern Warfare 2 and then press the Options button.
Go to Manage game and add-ons.
Press the Options button and go to Manage Installation.
Finish the process.
5. Re-install the game
In case none of the above methods help, we suggest you re-install Modern Warfare 2 to fix the split-screen not working issue. If the game files are corrupted or outdated because of this, you are having a problem; this method will save you from this unwanted situation.
🎮 How to fix MW2 multiplayer not working on PS5?
Re-install the game and also make sure that the multiplayer pack has been installed correctly.
Follow the relevant instructions mentioned above, which can be applicable to PS5 as well.
If that doesn't work, turn off PS5.
Press and hold the Power Button. You will hear the beep sound, and after a few seconds, you will hear it again.
Then, release the button.
Connect your USB controller rather than the Wireless.
Navigate to the Clear Cache and Rebuild Database and tap on it.
Tap on Clear System Software Cache and then click on OK.
Wait for a while.
Play MW2 and verify if the split-screen issue still exists or not.
If you are interested, learn how to solve the can't play the campaign on Modern Warfare.
These are the most effective solutions to fix MW2 split screen not working on your Xbox and PS5 consoles. This feature is not available for PC yet. If you have any questions or concerns, let us know in the comment box.
If you encounter any issues or errors while playing your favorite games and require support, feel free to contact us here. Our team is always ready to assist you and ensure your gaming experience is seamless and enjoyable.