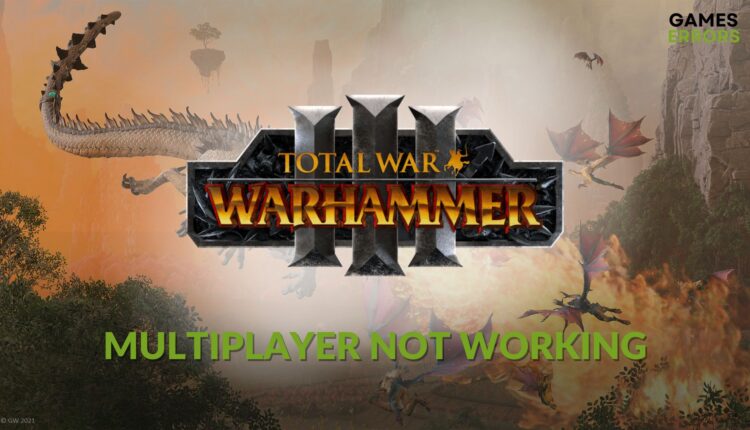 Warhammer 3 Multiplayer Not Working: Best Ways to Fix It
Re-sign into your Game Pass account and follow these tricks to fix Warhammer 3 multiplayer not working ✅
You may suddenly notice that Warhammer 3 multiplayer is not working for you. Many other gamers are also having the same problem. Even though it may occur due to varieties of reasons, you still may solve it by following some specific methods mentioned in this post.
A fantasy strategy RTS like Total War: Warhammer III is undoubtedly one of the most popular games in its genre. The ability to play with your friends and others online has made it even more exciting. Unfortunately, this multiplay functionality may fail to work sometimes. But by tweaking the right things, you can solve it.
Why is multiplayer not working on Total War: Warhammer 3?
Here are the most common reasons why TW: Warhammer 2 multiplayer may not work:
Unstable Internet connection: The first thing that can create multiplayer problems in any game is your internet connection. If it's unstable and has many other issues, including misconfiguration, you may end up getting problems on Warhammer 3.
Firewall or antivirus: Your antivirus or Firewall may block or interfere with the connection between your device and the remote server, which may be the reason why you are unable to play multiplayer on Total War: Warhammer 3.
Problematic game components: Problematic, outdated, or missing game files and related components also can create this type of issue.
Remote server issues: If the remote servers are down or under maintenance, TW: Warhammer 3 multiplayer will not work.
How can I fix Warhammer 3 multiplayer not working?
First, you should do the following things before going through the main methods:
Visit Total War's Twitter account and determine whether there is a maintenance or outage or not.
Power-cycle your PC/Console and router.
Disable any proxy and VPN.
Disable your antivirus and firewall to see if it helps.
Now, go through the following methods to troubleshoot Warhammer 3 multiplayer not working issue:
1. Re-login on the Xbox app
Time needed: 3 minutes
You should log out and then log in again to your Game Pass account on the Xbox app on Windows to fix multiplayer not working on Warhammer 3.
Log in with your credentials.
This method works if you are playing this game using your Game Pass subscription.
2. Play using Steam friend-list
If you use Steam to play Warhammer 3, this is an excellent way to solve the multiplayer not working issue. Just view the friend list and then launch the game from there. Here are the steps to follow:
Open Steam.
Locate the friend who is playing Total War: Warhammer III.
Click on the drop-down icon and then click on Launch Game.
3. Change DNS
Press Win + I on the keyboard to open Windows Settings.
Click on Edit next to the DNS Server Assignment.
Choose Manual.
Enable IPv4.
Set 8.8.8.8 and 8.8.4.4 as your DNS address and click on Save.
Restart your PC.
In the above steps, we have used Google DNS. But you can use the one you prefer.
4. Reset network
Go to Reset network.
Then, click on Reset now.
Restart Windows.
5. Repair Total War: Warhammer 3
Go to the Steam game library.
Right-click on Total War: Warhammer III and go to Properties.
Navigate to the Local Files tab.
Click on Verify integrity of game files.
Give it some time to finish the process.
Restart Windows.
Now, run the Warhammer 3 and see whether the multiplayer works or not. This method also helps if Total War: Warhammer 3 keeps crashing.
Extra steps:
If the situation is worse, the problem may still exist. In this case, do these things:
Re-link your Steam and Microsoft accounts.
Re-install the game.
Update network driver using Outbyte Driver Updater.
Update Windows.
If needed, reset Windows.
In case nothing works, contact the support team.
Learn how to fix Total War: Warhammer 3 Chaos Dwarfs stuck on the loading screen if needed.
These are the most effective ways to fix Warhammer 3 multiplayer not working issues. If you have any questions, let us know in the comment box.
If you encounter any issues or errors while playing your favorite games and require support, feel free to contact us here. Our team is always ready to assist you and ensure your gaming experience is seamless and enjoyable.