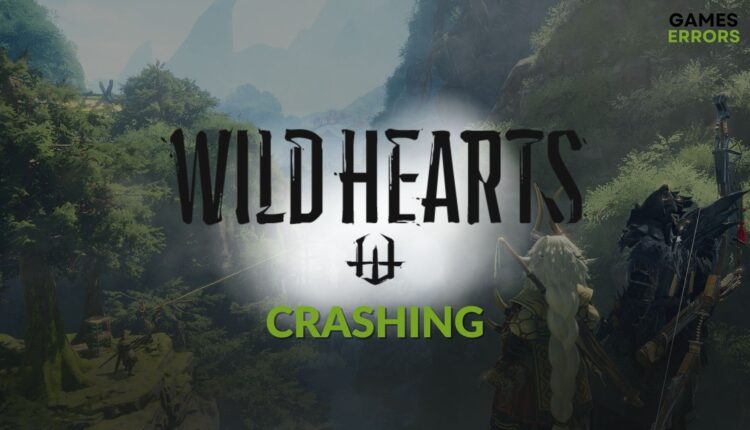 Wild Hearts Crashing: Easiest Ways to Fix It Permanently
Wild Hearts keeps crashing? Follow these methods & get back in the game 🚀
Is Wild Hearts crashing on your PC? You are not alone. This problem has become a widespread problem for PC users. After the initial release of this game, a lot of users have been facing this issue. This article will guide you on how to fix it easily.
A lot of players have already been playing this masterpiece, as this title is available in EA Play and Xbox Game Pass Ultimate subscription. However, after launching the game or while trying to play, unexpectedly, it may stop working and crashes.
Why is Wild Hearts keep crashing?
If Wild Hearts keeps crashing on your PC, it usually happens because of any of the following reasons:
Problem with the game file: Corrupted game files are the first reason you may encounter this crashing problem.
Graphics driver problem: When Wild Hearts try to utilize the graphics card, it may crash unexpectedly if there is a problem with the graphics card driver.
System requirement issues: Wild Hearts will always crash if your PC doesn't meet the system requirement for this game.
Problematic background tasks: Excessive amount of background activities and some problematic background tasks can also interfere with this game, and it may crash while starting gameplay or on launch.
How do I fix Wild Hearts' crash problem?
Before trying out the main methods, you can do some quick things. These are:
Make sure that your PC meets the System Requirements of Wild Hearts.
If you can access game settings, set graphics settings to the lowest.
Turn on high-performance mode if it is a laptop.
Now, if you still encounter crashing problems with Wild Hearts, follow these methods:
1. Update the graphics card driver
Press Win + R to open Run on Windows.

Type

devmgmt.msc

and press

Enter

to open Windows Device Manager.

Follow any onscreen steps to complete the process.
To update the graphics card driver, we strongly suggest you use Outbyte Driver Updater. This tool has the ability to detect outdated drivers and update them to the most recent version. You can't get the same performance and features from the device manager.
⇒ Get Outbyte Driver Updater
2. Clear cache
Open

Steam

.

Go to the Downloads tab, and click on Clear download cache.
Now, restart the game launcher and relaunch Wild Hearts. It may solve crash-related problems.
For the EA app, you can click on the three vertical dots in the top left corner, hover your cursor to Help, and then click on App Recovery. After that, you will get the Clear cache option.
3. Install DirectX runtime
Visit the

DirectX Runtime download page

.

Download the installer.

Install it on Windows PC.
Doing it will install any DirectX components. It will solve the Wild Hearts' crashing problem that occurs due to corrupted or missing DirectX dependencies.
4. Install missing Visual C++ redistributables
Visit the

Microsoft Visual C++ Redistributable page

.

Click on the download link for x64 architecture, as Wild Hearts runs only on x64 Windows PC.

Install the package on your computer.

Restart Windows.
5. Repair game files
Open

Steam.

Right-click on

Wild Hearts

and go to

Properties

.

Navigate to the

Local files

tab.
EA app also has a similar option. You can simply click on the three dots on the game title and choose Repair. After repairing, launch Wild Hearts and see if it has solved the crashing problem.
6. Clean boot
Open Run, type msconfig, and click on OK.

Go to the

Services

tab.

Click on

OK

.

At last, restart your PC.
Clean Boot will ensure that no other third-party services are active in the background. As a result, you will be able to run Wild Hearts without facing any problems. It will help only if any background service causes the crashing problem.
Additional things to do:
If the problem still exists, do these things:
Navigate to the game installation folder and right-click on the Wild Hearts' .exe file and go to properties. From the compatibility tab, Tick on Run as administrator and save the settings. For some users, running with full rights may solve the problem.
Update Windows to the latest version.
Disable Antivirus or Firewall.
Re-install the game.
You also may need to wait for an update if it is a known bug with a specific version of this game.
This article has explained how you can fix Wild Hearts crashing problem. If you have any suggestions, write them down in the comment box.