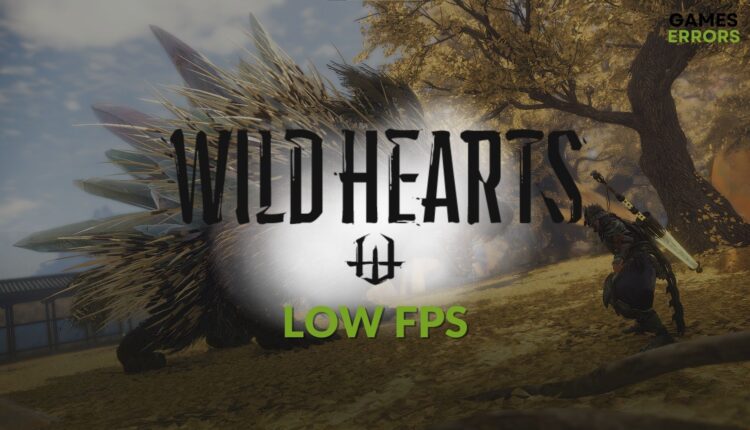 Wild Hearts Low FPS Fix: NO FPS Drops or Stuttering
Improve poor performance and Low FPS problems in Wild Hearts by following these tricks
X
INSTALL BY CLICKING THE DOWNLOAD FILE
A significant number of gamers are experiencing Wild Hearts' low FPS problem. If you are one of them, don't worry. We have very effective solutions to get rid of this problem.
Not only low-end PC users but high-end PC owners are also having performance issues with Wild Hearts game as well.
It means there is something wrong. If you can tweak a few things, the situation will improve. However, before that, you should know about some additional things.
Why is Wild Hearts so laggy?
The lagging issue in Wild Hearts is related to FPS issues. If you are having an unacceptable performance with Wild Hearts low FPS issues on your PC, it may be a result of any of the following things:
System requirement problem:

The Wild Hearts has a very strict system requirement. If your PC specifications don't meet it, you will experience very low FPS, stuttering, or even crashing problems.

A known bug:

The problem can also be related to a specific version of the game.

Video driver issue:

Outdated video driver is a very common reason for FPS issues with games.

Excessive background activities:

If there are a lot of background tasks active, you may face problems while gaming, even on a high-end PC.
How do you fix performance issues on Wild Hearts?
To improve performance, you must ensure the following things before trying out our methods:
If everything is well, go through the following ways to solve Wild Hearts low FPS problem:
1. Update the graphics card driver
Open the Start Menu,

type

device manager,

and press

Enter

to open Windows Device Manager.

Expand Display adapters.
Click on Search automatically for drivers.

Follow any onscreen steps to complete the process.
If Device Manager says that already best driver is installed, it may not be correct. So, we recommend DriverFix, which can detect outdated drivers and update them automatically or with just a single click.
2. Kill some background processes
Right-click on the taskbar and click on

Task Manager

.
Razer Synapse and other FPS boosting tools are some of the problematic tools. When you see them in Task Manager, end these processes immediately. It may help you to get rid of Wild Hearts' performance issues.
3. Repair the game files
Open

Steam

or EA app or whatever client you are using.

Right-click on

Wild Hearts

and go to

Properties

.

Navigate to the

Local files

tab.
EA app and Epic Games Launcher has similar feature. You can easily find the repair option there too. It will require a stable internet connection. After repairing, launch Wild Hearts and see if the low FPS problem has gone or not.
4. Roll-back graphics card driver
Open

Device Manager

like before.

Double-click on the graphics card driver to open its Properties.

Go to the

Driver

tab.

Restart your PC.
This method will work if you have started facing the low FPS problem after updating the GPU driver recently.
5. Re-install the graphics card driver
6.1 Uninstall the driver
Go to Device Manager.

Right-click on the GPU driver and choose

Uninstall

.

Restart your PC.
6.2 Install again
Go to

AMD

,

Intel

, or

NVIDIA driver download site

.

Download the driver software.

Install it on your PC.
6. Re-install the game
Open

Steam

or the game launcher you are using.

Install the game again by clicking on the Install button.
It should fix the low FPS problem or Wild Hearts' stuttering problem. When you install the game again, make sure it is from the official source, and it's a fresh copy from online.
🔫 Other things to try:
Uninstall any FPS booster or overclocking apps.
If possible, update Windows to the latest version.
Also, lower the in-game graphics settings to see if it helps.
In some cases, disabling V-sync also helps. So, do it from the game settings as well.
If necessary, learn how to solve Wild Hearts' crashing problem.
This article has featured the most working methods to fix Wild Hearts' low FPS problem. If you have a better method that works, let us know in the comment box.
If you encounter any issues or errors while playing your favorite games and require support, feel free to contact us here. Our team is always ready to assist you and ensure your gaming experience is seamless and enjoyable.