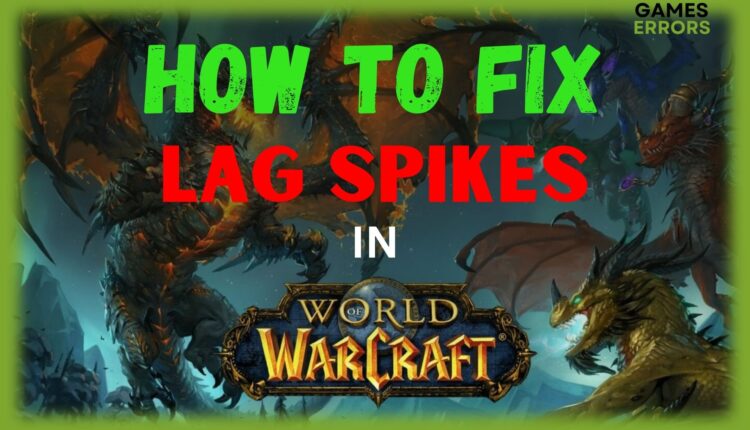 How to Fix WoW Lag Spikes For Good [Quickest Steps]
Experiencing WoW lag spikes? It could be happening because your GPU is outdated or the server is down.
Lag Spikes is one of the most frustrating issues game enthusiasts encounter while playing World of Warcraft(WoW), a popular online multiplayer game. When these random lag spikes occur, the game becomes uninteresting and unplayable.
The game was launched in 2004 and is one of the oldest online multiplayer games. But despite being around for many years, players are still having to deal with WoW lagging for no reason. If you are having a similar experience, below are quick steps to fix WoW lag spikes.
Why do I get lag spikes in WoW?
Incompatible system requirement

: If your PC does not meet the recommended system requirement to play WoW, lag spikes can randomly occur.

Outdated GPU/network drivers

: To get optimal game performance, your GPU/network drivers must be up to date. An outdated GPU driver can cause lag spikes in WoW.

Other programs running in the background

: if there are other bandwidth-hungry programs running in the background while playing WoW, there is a tendency for lag spikes to occur.

Server Issues

: if the WoW server is temporarily down or overcrowded, gamers could experience lag spikes.
How to Fix WoW Lag Spikes?
Before you try out the fixes recommended here, it is advisable to perform these preliminary checks; 
Confirm that the WoW servers are functioning.

Ensure you have a strong internet connection and you're not running other bandwidth-hogging apps.

Check to confirm your PC meets the minimum requirements.
1. Power cycle the router and modem
Unplug the power cable from the back of the modem.
Unplug the power cable from the back of the router.
Wait for at least 30 seconds.
Reconnect the power cable to the modem.
A connection to the internet should be established after the modem has finished fully booting up.
Reconnect the power cable to the router.
Wait for the router to fully boot up and establish a connection to the network.
2. Update your network drivers
The network drivers play a vital role in your system, and it is important to keep them up to date in order to enjoy WoW without lagging. Follow the steps below to update your network drivers:
Click

Windows + R,

and

when the run box appears, enter

devmgmt.msc.

In your device manager, double-click the

Network adapters

option to expand.

Locate your PC's

Network adapter

and right click on it and then select the

Update driver

option.

Press

Search automatically for updated driver software

and hold on for Windows to conduct the search.

If Windows finds the updated driver for the PC's network card, it will download and install automatically.
Sometimes updating your GPU driver manually might be a bit hard or time-consuming, just know that you can update your drivers automatically with a dedicated third-party app like Outbyte Driver Updater. You can use it for any driver that you want to update, and it works in just a couple of clicks.
⇒ Get Outbyte Driver Updater
3. Update your GPU drivers
If you randomly experience lag spikes while playing WoW, it could be a result of outdated GPU drivers in your system. Visit your graphic driver manufacturer's website to update the GPU drivers, or follow these steps to update it on your Windows PC.
Click

Windows + X

keys and select

Device Manager

from

Menu.

Click and expand the

Display adapters option which will lead to the graphics card option.


Right-click on your specific

graphics driver

and select

Update driver.

Select

Search automatically for drivers.

Windows will automatically search for available graphics card updates. Restart your PC after the installation.
4. End bandwidth-hogging programs and set WoW to high priority
Certain apps running in the background can cause WoW lag spikes. To fix this issue, you need to close all these bandwidth-hogging apps and set WoW to high priority. Here is how to end bandwidth-hogging programs:
Click

Ctrl + Shift + Esc

keys on your keyboard to open task manager.

Right-click on any bandwidth-hogging app

and press

End Task.

To set WoW to high priority, go back to the

task manager

and select the

Details

tab.

Right-click the

WoW.exe file on the list, click on Set priority, and select High.
Conclusion
Hopefully, these solutions have helped you fix the issue. You can also our article here to fix the WoW screen flickering issue if you're experiencing that as well.