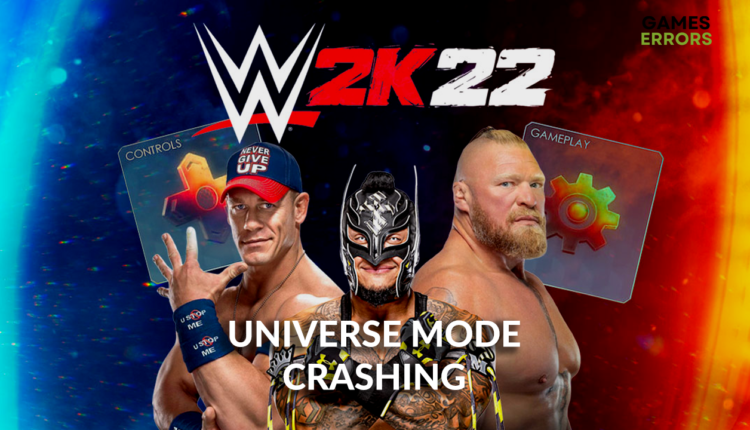 WWE 2K22 Universe Mode Crashing: Fix It Easily
Nothing is more annoying than a game crashing at the worst possible moment. Fix this issue today and enjoy WWE 2K22 Universe Mode! 😎
Many fans of the most popular wrestling game complain that WWE 2K22 Universe Mode crashing ruins their gaming experience. Plenty of things can cause this, so we will start with the most frequent causes and build our way to the last-resort solutions for this problem.
If you recently installed a new graphics card, this might be a reason for WWE 2K22 Universe Mode to crash. Read what to do if games crash after installing a new GPU.
Why is WWE 2K22 Universe Mode crashing?
WWE 2K22 Universe Mode is crashing due to an outdated game, lack of hardware resources, corrupted game files, outdated GPU driver, and a problem with save file size.
How to fix WWE 2K22 Universe Mode crashing?
Start with these fast checks and fixes:
Check for updates: The game developers are aware of this issue and are working on it. Once the patch is released, you should update the game. Check the 2K support Twitter profile for announcements.
Check your PC specifications: Head to the WWE 2K22 system requirements page and ensure your PC meets at least the minimum system requirements.
Restart your PC: Keeping it on for a long time can cause game glitches and crashes. Ensure you restart your PC before playing games.
Proceed with the following solutions if WWE 2K22 Universe Mode crashing continues.
1. Verify game files
If some of the game files are corrupted, this is likely causing WWE 2K22 Universe Mode to crash. You don't need to reinstall the whole game, you can simply verify game files using this Steam option.
Launch Steam and go to the Library.
Right-click on WWE 2K22 and select Properties.
Click on the Local Files tab.
Click on Verify integrity of the game files.

💡 After the verification is completed, Steam will provide you with a report containing information on corrupted game files and how to proceed further.
2. Update your GPU driver
Time needed: 5 minutes
An outdated GPU driver is a common cause for the WWE 2K22 Universe Mode crashing. Our advice is to always keep the GPU driver updated to avoid this and many other issues.
Click the Windows icon, type Device Manager, and open this tool from the Best Match.

Double-click on the Display Adapters section.

Right-click on GPU and select Update driver.

Select the Search automatically for drivers option.
Install GPU driver update.

Double-check using another tool if the Update Driver Wizard doesn't find an update.

Restart your PC.

The driver updater tool of our choice is Outbyte Driver Updater. This tool will scan, monitor and update GPU drivers when necessary. If the tool handles it for you, you don't have to worry about issues and game crashes caused by outdated GPU drivers!
⇒ Get Outbyte Driver Updater
3. Close background apps
We advise closing all apps and unnecessary programs before launching WWE 2K22. Doing so will leave more resources available for your game and prevent compatibility issues that lead to crashes.
Use the CTRL + Shift + ESC shortcut to open Task Manager.
Find an app that you don't need while playing WWE 2K22.
Right-click on it and select End task.

Repeat the previous two steps for all unnecessary apps.
⚠ Important: Never close Windows-related processes, antivirus software, or apps in which you have unsaved progress.
Extra steps
If the problem with WWE 2K22 Universe Mode crashing persists, try to:
💾 Limit the save file size to under 100MB: Navigate to the Deletion Utility. Once there, delete until the number at the bottom is less than 99 / XXX MB.
📧 Contact 2K support: If you applied all the solutions, and the problem still happens, the best idea is to contact 2K support for further assistance.
❌ Delete save files: If, for any reason, 2K support isn't helpful, but you want to keep and play the game, you can try deleting save files. Remember, this will delete your progress and might not be the permanent fix for Universe Mode crashes.
Related articles:
Conclusion
If you apply all the steps described, WWE 2K22 Universe Mode crashing will not happen again. However, if you still experience this inconvenience, leave a comment with more details on when the crash occurred and any additional information, and we will be glad to assist you.