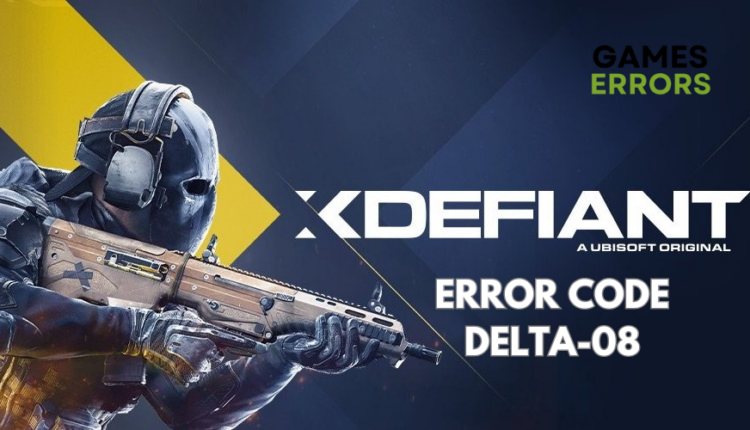 Xdefiant Error Code Delta-08: Fix it Like a Pro
Read our detailed troubleshooting guide on how to fix XDefiant error code delta-08🚀
XDefiant, a recently released first-person shooter from Ubisoft, features an array of factions and classes, each with its unique abilities and weapons. However, like any game, XDefiant is susceptible to errors and bugs that can ruin the gaming experience.
One such error that players encounter is the DELTA-08 error code, which can stem from server issues, network connectivity problems, or hardware malfunctions.
In this article, we will get into the various causes of the DELTA-08 error and offer effective solutions to resolve it.
What is Xdefiant Error Code Delta-08?
The DELTA-08 error code usually occurs when the game is unable to connect to the server or when there is a problem with the player's network connection.
There are several reasons why the Xdefiant Error Code DELTA-08 error code may occur. Some of the common reasons include:
Server issues: If the XDefiant servers are down or experiencing problems, players may not be able to connect to the game, resulting in the DELTA-08 error.
Network connection issues: If your internet connection is unstable, disconnected or slow, you may not be able to connect to the XDefiant servers.
Firewall restrictions: Some firewalls or anti-virus software may restrict access to the XDefiant servers, causing the DELTA-08 error.
Hardware malfunctions: Malfunctions such as faulty network adapters or routers can cause this error.
How to Fix Xdefiant Error Code Delta-08?
Before getting into the solutions listed below:
Check the XDefiant Servers. If the server is down, you will need to wait until the servers are back online. You can monitor server status by visiting the Ubisoft Support website.
Also, check network connectivity as you may need to troubleshoot your network connectivity if your internet connection is unstable, slow, or disconnected.
Check your network adapter, router, or other hardware devices and restart them.
If you are still experiencing the Xdefiant Error Code Delta-08, try the following steps.
Table of contents:
1. Update network driver
Time needed: 4 minutes
Open the Run box: Press the Windows key + R to open the Run box.
Open Device Manager: Type "devmgmt.msc" in the Run box and click OK to open Device Manager.

Locate Network Adapters: Double-click on Network Adapters to view the list of network drivers on your PC.

Update Network Driver: Right-click on the dedicated network driver you're using and choose Update driver.

Install Driver: Select "Search automatically for drivers" and let Windows find and update the drivers.

Launch Xdefiant to see if the issue is resolved.
If you don't find device manager as dependable as it needs to be, we recommend using Outbyte Driver Updater. Outbyte Driver Updater takes all the pain out of the process by automating both searching and updating your drivers. It scans your computer to identify currently installed devices and drivers, and recommends updates only from official sources.
2. Update the game
When starting a game, we recommended checking for updates and installing it to the latest version.
📝 Steps to update XDefiant game on Xbox:
Turn on your Xbox console and sign in to your account.
Navigate to the "My games & apps" section on the home screen.
Locate and select "XDefiant" from the list of installed games.
Press the "Menu" button (the three horizontal lines) on your controller to open the options menu.
Choose "Manage game & add-ons" from the options.
If an update is available, you will see it listed under "Updates."
Select the update and choose "Update all" or "Update selected" to begin the update process.
Wait for the update to download and install.
Once the update is complete, launch XDefiant and start playing the updated version.
📝 Steps to update XDefiant:
Highlight the XDefiant game icon in the home menu.
Press the Options button to display the options menu.
Select "Check for Update."
If an update is available, follow the instructions to install the update
3. Clear game cache
Close Ubisoft Connect on your PC completely.
Go to the installation location of Ubisoft Connect PC.
The installation files can be found under: C:\Program Files (x86)\Ubisoft\Ubisoft Game Launcher.
Right-click on the cache folder and rename it to something else, like "cache_backup".
Restart Ubisoft Connect PC.
A new and empty cache folder will be automatically created.
4. Disable background applications
Press Ctrl + Shift + Esc to open the Task Manager.
Go to the "Processes" or "Details" tab.
Look for any unnecessary applications or processes running in the background that you want to disable.
Right-click on the application/process and select "End task".
Related articles:
Conclusion
Throughout this article, we have explored the various causes of the DELTA-08 error code and provided effective solutions to resolve it. It is essential to first check the XDefiant servers' status and troubleshoot network connectivity issues. Additionally, restarting network adapters, routers, and other hardware devices can help resolve any underlying hardware malfunctions. Happy gaming!
If you encounter any issues or errors while playing your favorite games and require support, feel free to contact us here. Our team is always ready to assist you and ensure your gaming experience is seamless and enjoyable.