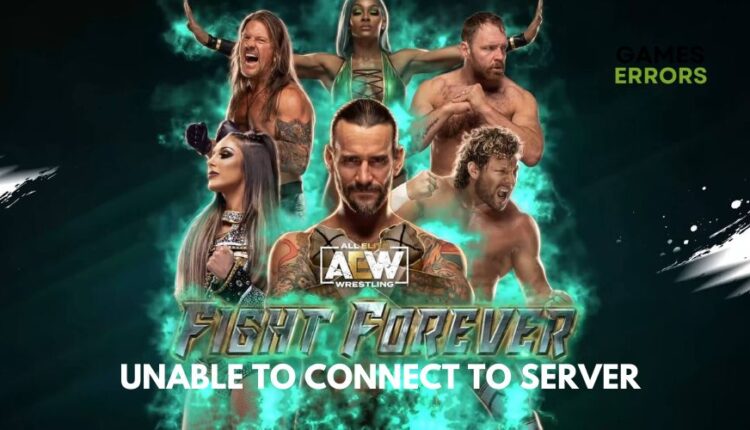 AEW Fight Forever Unable to Connect to Server: Best Fixes
Give the following troubleshooting methods a shot to put an end to the AEW Fight Forever unable to connect to server!😎
After a two-year-long wait posts its initial announcement, the official version of All Elite Wrestling Fight Forever is finally here, and fans can't wait to hop on to try it. But, as gamers from around the world try to play AEW FF, this has, naturally, resulted in overloaded servers and, eventually, a number of related issues. 
One such issue that most players are facing right now is AEW Fight Forever unable to connect to server. Understandably, this can be annoying, and to save it all, we've listed a handful of workarounds you can try.
Why am I getting the AEW Fight Forever ERROR-E000000715 message?
There can be several reasons why you may be facing the error message AEW Fight Forever unable to connect to server.
Some of these are as follows:
Issues with the game's server
Unstable internet connection
Missing or damaged game files
Excessive background app cache
How to fix the AEW Fight Forever unable to connect to server issue?
Although the game is very new, and the most practical solution is to wait for the servers to stabilize, we understand that you don't just want to sit around for that long. Luckily, there are a few things that you can do to avoid seeing AEW FF stuck at the "Connecting to AEW FF online systems."
But, before trying the troubleshooting ideas, make sure to do the following preliminary checks.
Once done making the above checks, you can proceed to implement the following solutions.
1. Run the game as admin
One way to fix the AEW Fight Forever unable to connect to server issue is to run the game as an administrator in the following steps.
Locate the icon for AEW Fight Forever on your desktop and right-click on it.
Next, click on the Run as administrator option from the drop-down list.
In the next window that pops up to confirm your choice to run the game as admin, click on the Ok button.
Restart the game to check if the issue is resolved.
2. Turn off any active proxy server
Time needed: 2 minutes
A popular and effective way to fix issues involving server connection problems is by disabling proxy servers that may hinder a stable internet connection. 
Here's how you can do the same.
Go to the Start search bar, type "Internet Options" and press Enter.
In the Internet Options window, click on the Connections tab, and then choose LAN settings.

Uncheck the option for Use a proxy server for your LAN and click on OK.
Restart your PC to see if the connection issue still persists.
3. Clear app cache
Clearing unnecessary app cache on your PC can help fix the server connection issue with AEW Fight Forever.
Just follow these steps.
Press Win + R keys to launch the Run dialog box.
Now, in the box, type "%ProgramData%/AEW Fight Forever" and hit OK.
Next, delete all the cache folders that appear next, except Disclaimer and LocalContent.
Relaunch the Run dialog box and enter "%AppData%", and delete the AEW Fight forever folder.
Additionally, go to Task Manager and end all programs related to AEW Fight Forever.
Restart your computer to apply the changes.
4. Contact your Internet Service Provider
If nothing else worked to fix the AEW Fight Forever unable to connect to server issue, try asking your internet service provider to do the needful and open particular ports as follows:
UDP: 3479, 3478, 49152 ~ 65535
TCP: 80, 3478, 443, 3479
Some other fixes to try:
If you keep seeing the AEW Fight Forever unable to connect to server error messages even after trying all the above methods, here are a few more to give a shot.
Temporarily turn off Windows Firewall and Antivirus
Uninstall and reinstall the game
Power cycle your router
If you discover more solutions for the AEW Fight Forever unable to connect to the server issue, drop them in the comments. Also, check out our fixes on AEW Fight Forever won't launch if you are facing the same.