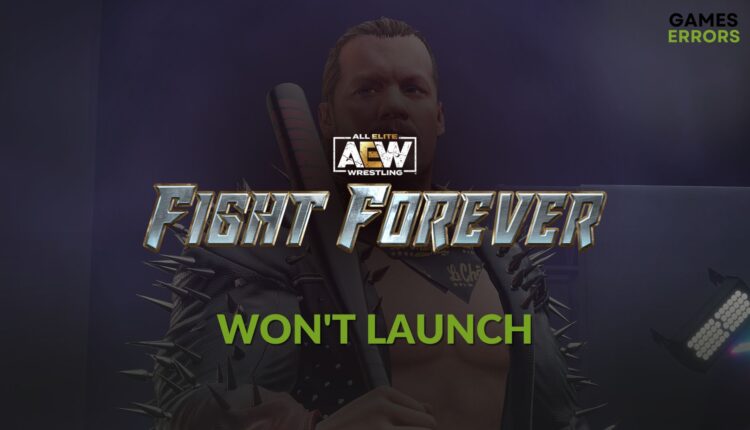 AEW Fight Forever Won't Launch: Simple Ways to Solve It
If you are unable to launch AEW: FF on your PC, try the methods featured in this article one by one to fix it ✅
Is AEW Fight Forever not launching on your PC? It's not an uncommon problem that gamers are experiencing. If you take care of a few things, this problem will go away.
A realistic-looking wrestling game like this title is always appealing to users. However, things may go wrong sometimes. The AEW: Fight Forever won't launch on your Windows PC if there is something wrong. This article will describe why it happens and how to solve it.
What is preventing AEW Fight Forever from launching on my computer?
If you cannot run the AEW FF on your Windows 11 or 10 computer, here are the main reasons behind this issue:
System requirements: In case your PC doesn't have the necessary hardware capacity, this fighting game may not run.
Problematic game files and components: You won't be able to open AEW: Fight Forever game on your computer if the related game files, cache, or components get corrupted.
Problems with the launcher: Game clients play a big role in the game launching process. If there is something unusual, it won't happen.
Third-party services: Else, third-party background services and apps can prevent you from launching AEW: FF on your PC.
How do I fix AEW Fight Forever won't launch on Windows 11/10?
You should do a few quick things before going through any major troubleshooting methods. These are:
After doing the above things, try the following methods one by one to fix AEW Fight Forever won't launch:
1. Update the display adapter
Double-click on Display adapters.
Next, right-click your GPU and choose Update driver.
Click on Search automatically for drivers and then finish the update.
Restart your PC.
You should use a tool like Outbyte Driver Updater to update the GPU driver. The device manager may fail to find the latest driver and say the best one is installed. On the other hand, this small app can get the most recent version of the game-ready driver, which helps to boost gaming performance.
⇒ Get Outbyte Driver Updater
2. Clear the client cache
Time needed: 2 minutes
Clearing the Steam cache is the best solution to fix AEW: Fight Forever not launching issues on your PC.
Restart Steam.
This method is extremely helpful if you see the preparing to launch status on Steam, but the AEW: FF is not opening.
3. Enable the best performance mode
This wrestling game may also not launch if your PC or gaming laptop is in battery/power-saving mode. Enabling the best performance mode can help you to get out of this situation. Follow these steps to do it:
Press Win + I on the keyboard to open Windows Settings.
Restart your PC.
4. Re-install the game on a faster SSD
Slow and problematic old hard drives can also be the reason why this wrestling game is not running on your PC. So, you should uninstall and install it on a faster SSD. Follow these steps to do it:
Open Steam like before.
Go to the game library.
Right-click on AEW: Fight Forever, go to Manage, and click on Uninstall.
After uninstalling, click on the Install button.
Choose the installation location and click on Next.
Keep patience until Steam finishes the downloading and installing process.
Now, attempt to launch the AEW: Fight Forever and see whether it works or not.
More methods:
Is the problem still bugging you? You can do these things as well:
Try running this wrestling game in clean boot mode to see if it solves the problem.
Update Steam and Windows to the latest version.
Uninstall any FPS or game booster.
Disable any overlay features.
Reset your PC if necessary.
If you are interested, learn how to fix crashing issues on AEW: Fight Forever.
The above methods should fix AEW Fight Forever won't launch. If you have any questions, let us know in the comment box.