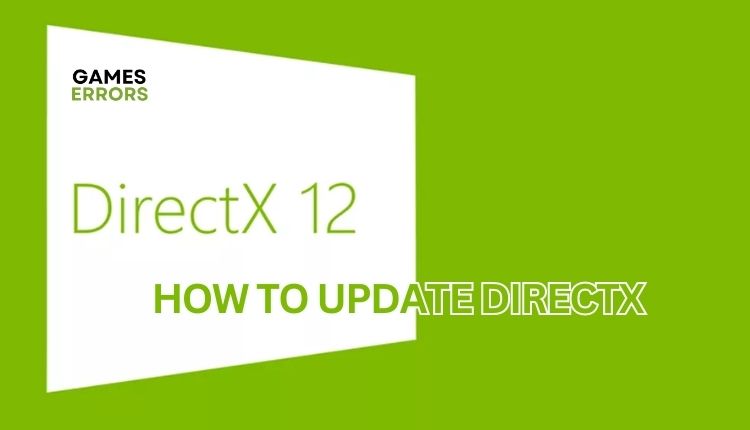 How To Update DirectX For Better Gaming Performance
Need help with DirectX and installing the latest version, DirectX 12? Our guide can assist you. 🎯
DirectX (DX) has come a long way since its inception and is now on its 12th version, 20 years after it first appeared. It's a set of application programming interfaces (APIs) widely used in the gaming industry and has become an indispensable tool. DirectX facilitates communication between the game and the computer's hardware, including the GPU, memory, and sound card. During game installations on Windows 10/11, you may have encountered a pop-up window that requests you to install a version of DirectX on your PC. This guide will assist you in checking the current DirectX version on your PC and provide easy-to-follow steps to update your DirectX.
DirectX 12
DirectX has undergone several iterations, with version 12 Ultimate being the latest. Throughout its development, there have been various sub-versions with letter or number suffixes, some of which only existed on paper and others disregarded due to unfavorable versions of Windows like Vista and DX 10. However, since Windows XP and DX 8.1, DirectX has become integral to serious gaming on Windows PCs. DirectX 12 stands out from its predecessors with new display improvements and memory-saving tricks that require hardware support. But the most remarkable aspect of DirectX 12 is its return to the roots of PC gaming, empowering games to have much more control over hardware than ever before. This means that games can manage hardware as they see fit, similar to the time of DOS. The evidence of this approach's effectiveness is clear, as consoles with weaker hardware can achieve similar performance to more potent PC configurations.
What DirectX is good for gaming?
To ensure optimal performance, it's recommended to use the latest version of DirectX (it's backward compatible). However, there's no need to fret about the version on your computer as it's likely already up-to-date with the latest supported version. While DirectX 12 and 11 were already feature-rich, the newer DirectX 12 Ultimate provides additional features designed specifically for new hardware.
How do I check the DirectX version on my PC?
1. Press the Win+R keys to open the Run dialog box.
2. Type; "dxdiag" and hit Enter.
3. By opening the DirectX Diagnostic Tool, you can access important system data, such as your current DirectX version and which features are enabled.
How do I update DirectX on my Windows PC?
There are two ways to update DirectX to the latest version. The first is manual, and the second is through Windows update.
1. Manually update DirectX
2. Update DirectX through Windows Update
To install DirectX 12, you can use the second method of forcing Windows to update. This will ensure your Windows PC is equipped with the latest DirectX version. Here's how you can do it:
1. Right-Click on the Start Menu and select Settings.
2. Click on Windows Update and then Check for Update. Also, install any pending Windows updates.
3. Once you've completed the updates, make sure to restart your PC and follow the previous steps we provided to confirm that your DirectX version has indeed been updated.
Conclusion
We hope our guide has effectively explained the benefits of DirectX and how to upgrade to the latest version. If you have any questions or recommendations, feel free to share them in the comments section below.