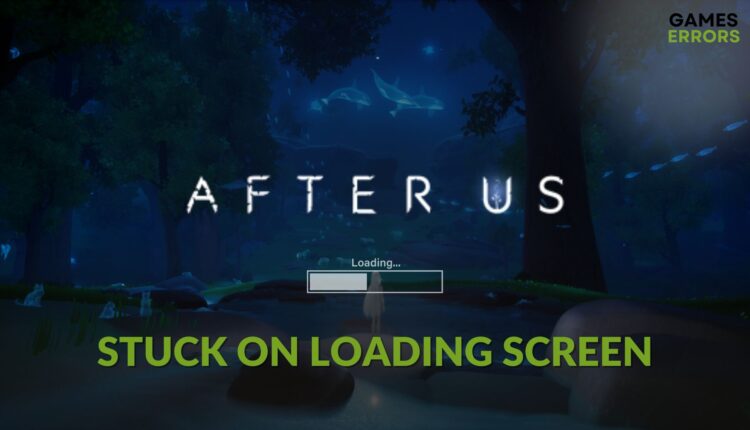 After Us Stuck on Loading Screen: Effective Ways to Fix It
Update the display driver and follow these methods if After Us is having infinite loading screen problem ✅
You may notice that After Us is stuck on the loading screen. Like you, other gamers may encounter this issue too. But, if you carefully follow this article, you will be able to fix this problem.
Due to the nature of the architecture, this platformer is not resource hungry as most other recently released titles. In addition, this game has an excellent surreal environment, an adventurous gameplay mechanism, and many puzzles to solve.
You should get a fantastic vibe while playing this title. Still, you may be easily disappointed by problems like an infinite loading screen on After Us.
In case you are interested, learn the methods to fix After Us won't launch.
What is preventing After Us from loading?
If you notice that After Us is freezing or getting stuck while loading, it is mostly because of these reasons:
Driver problem: Problems with drivers, particularly the GPU driver, can trigger infinite loading screen issues on After Us.
System requirements: If your PC doesn't meet the system requirements correctly, it also may make After Us takes an infinite amount of time in the loading screen.
Third-party services: Some third-party services are known to create this type of issue.
Corrupted game files and components: If the required game files are corrupted, and some components are missing or outdated, similar problems can arise anytime.
How can I fix After Us stuck on the loading screen?
Before taking any troubleshooting steps, we suggest you do these quick things:
Then, go through the following methods to solve the After Us infinite loading screen problem:
1. Update the drivers
Time needed: 2 minutes
Updating drivers, notably the GPU driver, is the best way to fix After Us stuck on the loading screen problem.
Click on Search automatically for drivers.
Step forward and finish the process.
In this way, update every other driver on your PC.
Updating the drivers one by one can take a lot of time. So, we suggest you use Outbyte Driver Updater. It can scan and update all outdated drivers on your PC at once with just a single click.
⇒ Get Outbyte Driver Updater
2. Disable fullscreen optimizations
Even though fullscreen optimization can be helpful, it may cause problems in some games. So, you should disable it and see if it fixes the infinite loading screen issue on After Us. Here are the steps to follow:
Open Steam and go to the game library.
Right-click on the application file of this game and then click on Properties.
Go to the Compatibility tab.
Click on Apply and OK.
3. Repair After Us
Go to the Steam game library like before
Go to the Local Files tab.
Click on Verify integrity of game files.
Wait for a while until it finishes the process.
4. Run in clean boot
Press Win + R on the keyboard to open Run.
Type msconfig and hit Enter.
Go to the Services tab.
Click on Apply and OK.
Now, launch After Us and see whether it still gets stuck while loading. If the clean boot doesn't help, undo the changes to boot into normal mode.
5. Re-install After Us
Go to the Steam game library like before.
After that, click on the Install button.
Choose a location located on an SSD and click on Next.
Finish the process.
Now, you can launch After Us and see if it still gets stuck or not. Usually, the above methods are enough to fix the problem.
Extra methods:
If the problem still exists, do these things as well:
Delete any locally saved game profiles and files.
Update Windows to the latest version.
Uninstall any apps that can monitor your gaming activities.
Learn how to fix After Us crashing if necessary.
This article has clearly shown the methods that can fix After Us stuck on the loading screen and similar problems. Feel free to let us know in the comment box if you have any questions.