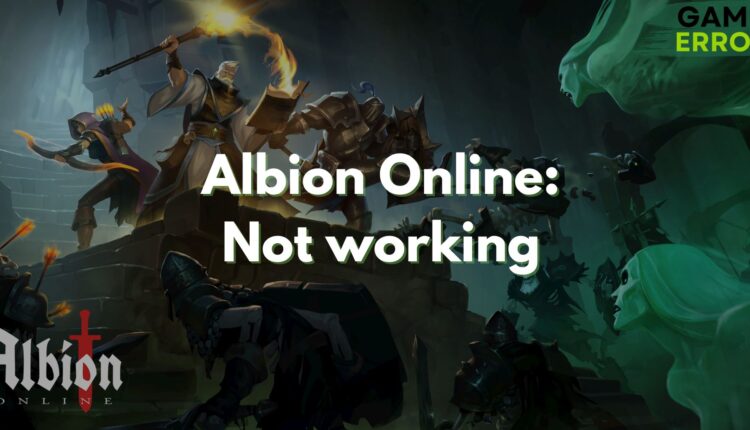 [FIX] Albion Online Not Working: Not Launching, Crashing & More
Is Albion Online Not Working for you? Don't worry, you can fix it easily by identifying the problem and using the solutions from this guide.
If your Albion Online is Not working, the issue might be caused by a variety of factors, such as launching problems, crashing issues, errors, and more. However, like any other game, even if it sometimes encounters technical difficulties that hinder your gaming experience, they are not permanent, and there are many solutions for them.
In this article, we will address the most common issues players face and provide effective solutions for each problem. Let's dive in and get your Albion Online back on track!
Why is Albion Online not working?
Albion Online may encounter several issues that prevent players from enjoying a seamless gaming experience. Some of the most common problems are crashing, not opening, and performance issues.
Albion Online not launching/opening: This could be caused by an outdated or corrupted game client, launcher, or DNS settings. It could also be due to server outages or high ping issues.
Albion Online crashing: This could be caused by incompatible or outdated drivers, Windows updates, or game files. It could also be due to fullscreen optimizations, background processes, or GPU settings.
Albion Online performance issues: This could be caused by low-end PC specifications, Steam overlay, or game priority settings. It could also be due to DDoS attacks on the game servers.
How to fix Albion online not working?
Albion Online is not working because your device might have outdated drivers, your Firewall and Antivirus might block required processes of the game, your game files are corrupted, faulty or missing, or because your device doesn't meet the system requirements. If none of the problems mentioned previously apply to you, the culprit might be an internet connection error.
✜ Albion Online Not Opening
If you find yourself unable to launch Albion Online, it can be incredibly frustrating. But fear not, we have some troubleshooting methods to help you get the game up and running:
1. Check System Requirements
Ensure your PC meets the minimum system requirements to run Albion Online. Verify that you have enough free disk space, updated graphics drivers, and a stable internet connection.
2. Disable Firewall or Allow Albion through it
Sometimes, overzealous antivirus software or firewalls can block Albion Online from launching. Temporarily disable them and attempt to start the game. Learn how to allow Albion through the firewall or disable it by following the steps below.
Allow Albion Online through Firewall
To allow an application all you have to do is to press Win + S and to type Firewall.
Click on Firewall and Network Protection.
Press on allow an application through Firewall and check the list for Albion Online.
If it is missing click Change Settings and go to Allow another app.
Find the Albion folder and look for the .exe.
Once added, look for Albion and tick both boxes.
Press Ok and run the game.
Disable your Firewall
Press Win + S once again but type Control Panel.
Go to System and Security.
Click on Windows Defender Firewall.
Find the Turn Windows Defender Firewall on or off button and select it.
Turn off both options and press Ok.
Now run Albion Online.
3. Verify Game Files
Time needed: 5 minutes
If certain game files are corrupted, it might prevent Albion Online from opening. To fix them fast, you can use the repair tool provided by Steam. In many instances, it was the right solution to solve game-related problems.
Launch the Steam client and go to games LIBRARY.

Right-click Albion Online and select Properties.

Select the Local Files Tab from the left pane and click the Verify integrity of game files

Wait until verification is done

Check the game for issues
4. Run as Administrator
Running the game as an administrator can resolve permission-related issues.
Locate the Albion Online Launcher Icon: Look for the Albion Online launcher icon on your desktop or in the Start menu.
Right-Click on the Launcher Icon: Once you've found the Albion Online launcher icon, right-click on it using your mouse or trackpad.
Choose "Run as Administrator" from the Context Menu: After right-clicking on the launcher icon, a context menu will appear. Select the option that says "Run as administrator." You may be prompted to confirm the action with a User Account Control (UAC) prompt. If prompted, click "Yes" to proceed.
Wait for the Launcher to Open: The Albion Online launcher will now open with elevated privileges, giving it the necessary permissions it needs to run smoothly.
Launch the Game: Once the launcher is open, log in with your credentials, and click on the "Play" or "Start" button to launch Albion Online. The game should now start with administrative privileges, which may help resolve any issues related to permissions.
5. Run Albion in Compatibility Mode
Some games work better when you run them in compatibility mode, as they were made for a previous version of Windows and they were not updated to match the processes the newer ones. Check the methods below to learn how to do it.
Go into the File Explorer folder navigator by pressing the Windows logo + E keys simultaneously.
Open the installation folder for the game you need to run in compatibility mode.
Right-click on the EXE application file for the game to select Properties.
Select Compatibility on the window's tab bar.
Click Run this program in compatibility mode to activate the drop-down menu.
Then choose a suitable Windows platform for the game on the drop-down menu. Select what was the latest Windows platform when the publisher released the game.
Select the Apply and OK options on the game's properties window to set your chosen compatibility mode.
6. Repair the Easy Anti-Cheat service
The Easy Anti-Cheat service might also have faulty, corrupted, or missing files, thus resulting in Albion Online not Working. This could happen after installation or due to a new update. Follow the steps below to learn how to repair it manually.
Open Steam and go to Library
Go to Albion Online and select Properties
Select Installed Files and click Browse
Find the Easy Anti-Cheat folder inside the Game's folder
Locate the EasyAntiCheat_Setup.exe, open it and use the Repair function.
Restart your PC and open the game.
💥 Albion Online Crashing
Sudden crashes during gameplay can be infuriating. Follow these methods to troubleshoot and fix the crashing issue:
1. Update Graphics Drivers
Ensure your GPU drivers are up to date. Outdated drivers can cause conflicts and crashes. You can go fast by updating them automatically via Outbyte Driver Updater (safe option), or by updating them manually via Device Manager:
Right-click on the Start button and select Device Manager.
Once opened, go and expand Display adapters to find your GPU.
Right-click on the GPU, and select Update driver.
Choose Search automatically for updated driver software. Windows will search and install the latest driver if available.
Restart your computer to apply the changes.
2. Lower Graphics Settings
Reduce in-game graphics settings to alleviate strain on your system, especially if you are encountering crashes during intensive scenes.
Open Albion Online and go to Settings.
Go to Graphics and start by changing most settings to Medium or Low.
Lower your Resolution.
Use VSync.
Play in Windowed Mode.
3. DirectX/OpenGL
Try switching between DirectX and OpenGL in the game's settings to see if either mode provides better stability.
4. Disable Overlays
Turn off any in-game overlays or third-party overlays (e.g., Discord, Steam) as they might interfere with the game's performance.
Click on the Steam icon on the top-left corner, and click on Settings.
Navigate to the In-Game tab, and disable all in-game features shown on the screen.
Tap on OK to apply the changes, and restart the game soon after.
5. Increase Paging Size
To fix the Albion Online Not Working problem, you can try to increase the paging size of your game drive, thus allowing the system to allocate a larger portion of memory to the game and making it work smoothly.
Right click This PC / My Computer and select Properties.
Press Advanced System Settings.
Press the Settings found under Performance.
Go to the Advanced tab and press Change.
Uncheck the box with Automatically manage paging size for all drives.
Select the Drive where your Albion Online is installed
Add custom values to the Initial Size and Maximum size.
To keep your system stable:
Initial Size value needs to be 1.5 times the size of your device's physical memory
Maximum size should not be over 4 times the physical memory
Once you added the values click on Set, and press Ok to save your settings.
*Also games can crash due to low memory. There are many ways you can free your space in our dedicated guide.
6. Cooling and Ventilation
Overheating can cause crashes. Make sure your PC is adequately cooled and free from dust.
⚡️ Albion Online Performance Issues
Addressing Low FPS, FPS Drops, Lag, and Stuttering poor performance can significantly impact your Albion Online gaming experience. Here's how to get improve your performance:
Lower Graphics Settings: Reducing graphics quality can lead to a smoother gaming experience and higher FPS.
Background Processes: Close unnecessary background applications that may be consuming system resources.
Graphics Card Settings: Adjust your GPU settings through the graphics control panel to prioritize performance over visuals.
Network Optimization: If you experience lag, try connecting to a different, more stable network or use a wired connection if possible.
Monitor Resource Usage: Keep an eye on your CPU, GPU, and RAM usage while playing. Close resource-intensive applications to free up system resources.
Albion Online offers a captivating world for players to explore, but technical issues can disrupt the adventure. By following the solutions provided for Albion Online not launching, crashing, and other performance problems, you can restore a smooth gaming experience. Remember to keep your system up to date and optimize settings to enjoy Albion Online to the fullest!