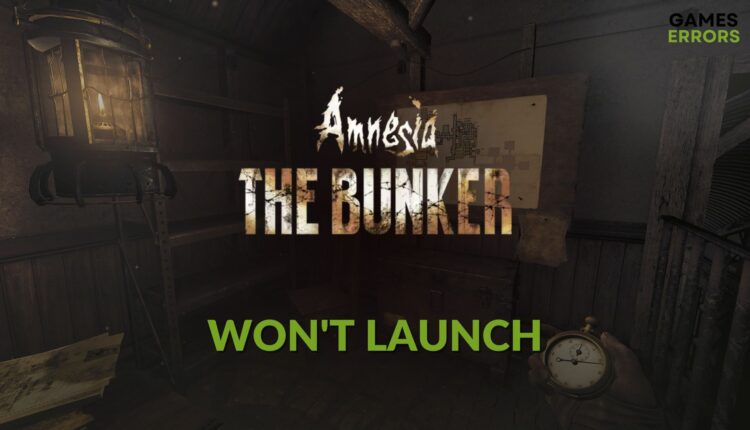 Amnesia: The Bunker Won't Launch: Best Ways to Fix
Clear Steam or Epic Games cache, update the GPU driver and repair Amnesia: The Bunker if you can't run it on your PC ✅
Some gamers may be going through Amnesia: The Bunker not launching problem on their PC. If you are one of them, don't worry. This article has the methods to run this game successfully if such problems occur.
For any horror game lover, this first-person game is an excellent choice. The graphics, in-game atmosphere, and horror characters in the bunker of WWI have made this title unique. However, if you see that Amnesia: The Bunker won't launch, you will miss a lot of things. But taking proper steps can get you out of this difficult situation.
Why is Amnesia: The Bunker not launching on my PC?
Usually, the followings are the most common reason why this horror title may not run on your Windows 11 or 10 computer:
Display driver: Without a proper graphics card driver, any modern game will not run on your PC.
Third-party services: Your antivirus, firewall, or other third-party services may create conflict and prevent Amensia: The Bunker from opening on your PC.
Issues with components: Corrupted game files or components also can be why you are not being able to play this horror item.
How can I fix Amnesia: The Bunker won't launch?
We have prepared the most successful methods that can help to run Amnesia: The Bunker on your Windows 11 or 10 PC if something is wrong. Howsoever, before trying these methods, ensure the following things:
Now, try the following solutions one by one to fix not launching problem on Amnesia: The Bunker.
1. Run as an administrator
Go to the game installation directory.
Right-click on AmnesiaTheBunker_Steam.exe or something similar, and then click on Properties.
Navigate to the Compatibility tab.
Click on Apply and OK.
Now, run Amnesia The Bunker and see if this method has worked.
2. Update the display driver
Press Win + X on the keyboard and then click on Device Manager.
Double-click on Display adapters to expand it.
Right-click on the GPU you are using and then click on Update driver.
Click on Search automatically for drivers.
Finish the process.
Restart your PC.
We suggest you use Outbyte Driver Updater to update the GPU driver. Device Manager may often tell you that already the best driver is installed, even though it's not the case. In this case, Outbyte Driver Updater is very successful.
⇒ Get Outbyte Driver Updater
3. Clear client cache
To solve any steam games like Amnesia: The Bunker not launching problems, clearing the download cache is the best idea.
Launch the Steam desktop app.
Go to its Settings, as shown in the screenshot.
Navigate to the Downloads.
Relaunch Steam.
For Epic Games Launcher, there is no such options in the settings. In this case, you can clear the web cache.
For details, please read how to solve games not launching on Epic Games.
4. Repair the game files
Time needed: 3 minutes
If you see that Amnesia: The Bunker is not launching on your PC, take steps to repair the game files. It will fix the problem.
Navigate to the Local files tab and then click on Verify integrity of game files.

Wait for a while until it finishes the process.
In case you use Epic Games Launcher for this item, go to its Library. Click on three horizontal dots under Amnesia: The Bunker, and then click on Manage. Then, click on Verify. It will repair the game files there.
This method is also helpful if Amnesia: The Bunker is stuck while loading.
5. Run in clean boot
Open the Start Menu, type Run, and press Enter.
Type msconfig and press Enter.
Navigate to the Services tab.
Click on Apply and OK.
Restart Windows.
Now, run Amnesia: The Bunker and see whether it is still not opening or not. If you don't face problems in clean boot, try to find out the problematic service which was causing the issue. Then, uninstall it.
Extra steps:
Still experiencing the same problem? Try these things:
Update Windows to the latest version.
Re-install the completely on an SSD.
Uninstall any cheating tools.
If you are interested, learn how to solve Amnesia: The Bunker crashing.
You have just learned the methods fix Amnesia: The Bunker won't launch. Do you have any better suggestions? Feel free to write it down in the comment box.