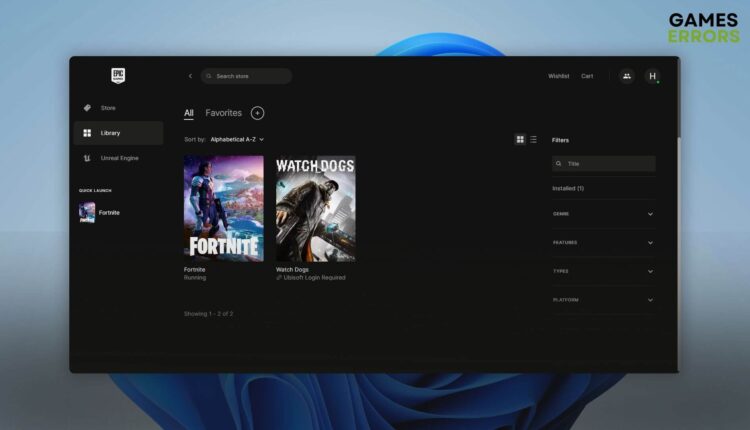 Games Not Launching on Epic Games: Quickest Ways to Fix
Clear the web cache and try these fixes if games are not running on Epic Games 😎
Some users may notice that games are not launching on Epic Games on their PC. If you are one of them, don't worry. Here, you will learn how to fix this issue.
Like Steam, Epic Games has a lot of users. Their flagship game Fortnite is probably one of the main reasons. However, if you can't launch games on this platform, it will be a very disappointing situation.
What may prevent Epic games from launching games on my PC?
Usually, if you cannot open a game on Epic Games, it may be because of these reasons:
Corrupted cache: If the related cache files get corrupted, you may not be able to launch games from Epic Games.
Problems with the game: Rather than the launcher, it can be an individual game's problem.
Antivirus or Firewall: Your antivirus or firewall may interfere and prevent the game launching operation.
Problem with Windows: In worst cases, the root of the problem can be Windows system file corruption or anything else related to the OS.
How do I fix games not launching on Epic Games? 🚀
✅ Before going through our methods, we want you to do the following things:
Restart your PC.
Disable your antivirus or firewall to see if it helps.
Ensure that your PC is not going through any disk-related problems.
Now, you can try the methods mentioned below to fix games not launching on Epic Games:
1. Run Epic games launcher as an admin
Open the Start Menu, and type epic games.
Now, try to run something on this platform and see if it fixes games not running on Epic Games.
2. Verify the game files
Open the Epic Games Launcher.
Go to Library.
Click on the three horizontal dots on the problematic game and go to Manage.
Click on Verify and wait for a while.
Doing the above things will verify the game files and repair them if necessary. After completing the process, run any games on Epic Games and see if you are still unable to run a game.
3. Clear Web cache
Time needed: 2 minutes.
Corrupted web cache files can be a reason your Epic Games game is not launching. Clearing this cache will help you to get rid of this problem.
Open Run
Restart your PC.
4. Disable fullscreen optimization
Go to the problematic game installation directory.
Right-click on the EXE file and click on Properties.
Navigate to the Compatibility tab.
Click on Apply and OK.
According to a number of users, this method has worked for them.
5. Re-install the game
Go to the library of Epic Games Launcher.
Click on the three horizontal dots for your preferred game and click on Uninstall.
Now, install the game again.
This solution will work if you face not running issue with a specific game on Epic Games Launcher.
6. Re-install Epic Games Launcher
Press Win + I on the keyboard to open Windows Settings.
Click on the three horizontal dots next to the Epic Games Launcher and then click on Uninstall.
Restart your PC.
Visit the Epic Games Launcher download page.
Click on the Download button.
After downloading, install it on your PC.
7. Clean boot
Open Run, type msconfig, and hit Enter.
Navigate to the Services tab.
Click on Apply and OK.
Restart your PC.
If any of the third-party services is the culprit, the clean boot will work. If it works, enable the services one by one until you face the problem again. Uninstall that service-related software completely. It will permanently fix games not launching on Epic Games Launcher on Windows 11 or 10.
8. Corrupted system files
Press Win + X on the keyboard and click on Terminal(Admin).
Restart your PC.
This method will work if the problem is related to Windows system file corruption.
Additional tips:
Update Windows to the latest version.
Update all of the components, including drivers, on your PC.
Re-install Windows if nothing works.
If interested, you can also learn how to fix games not launching on steam and how to stop games from crashing.
This article has described the most helpful methods to solve games not launching on Epic Games launcher. Let us know in the comment box if you have any better suggestions.
If you encounter any issues or errors while playing your favorite games and require support, feel free to contact us here. Our team is always ready to assist you and ensure your gaming experience is seamless and enjoyable.