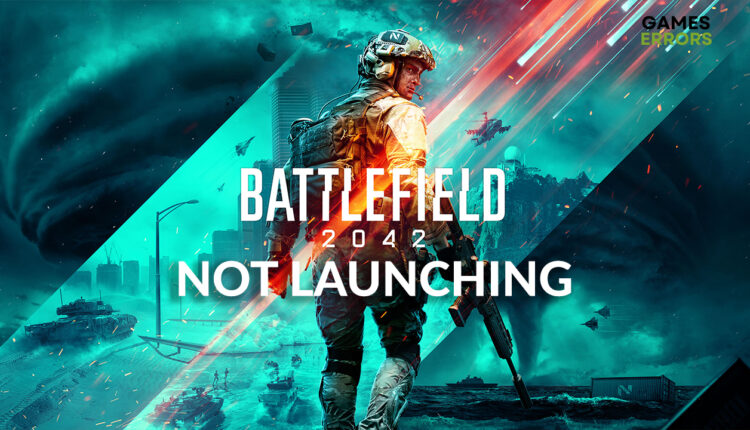 Battlefield 2042 Not Launching: Why & How to Fix It Easily
Battlefield 2042 won't launch? We know how to fix it! 🤩
Battlefield 2042 not launching, and you can't enjoy this first-person shooter? Many players have experienced this issue lately, so we did our homework and investigated the most frequent causes of these issues. We also made a step-by-step guide on troubleshooting this issue on your PC.
If you are experiencing performance issues, check out our guide on how to increase FPS in Battlefield 2042.
Why is Battlefield 2042 not launching?
There is no definite solution to the Battlefield 2042 doesn't launch, but the most frequent causes are:
Outdated graphics driver
Resource-consuming apps
Apps that create overlays
Windows permission issues
Missing Visual C++ packages
How to fix Battlefield 2042 not launching?
Battlefield 2042 is a title from late 2021 and has decent system requirements. Before proceeding with other steps, ensure your PC meets these hardware requirements.
If you overclock GPU or CPU, return the clock speed to normal. Many players reported that this fixed the issue for them.
1. Update the graphics driver
Click on the Windows icon and type Device Manager.
Select the Device Manager tool from the search results.
Find and double-click the Display adapters section to expand it.
Right-click on your graphics card and select the Update driver option.

In the Update Driver Wizard, click on the Search automatically for drivers option.
After Windows searches the database, it will navigate you through the driver installation process if drivers are found.
Restart your PC.
There is software that can scan, maintain and update all of the drivers on your PC, which doesn't require any technical knowledge. Outbyte Driver Updater can be your best friend when it comes to driver management.
⇒ Get Outbyte Driver Updater
2. Disable background apps
Depending on your PC configuration possible issue is that apps running in the background are taking your hardware resources, thus leaving demanding Battlefield 2042 without enough resources to launch.
Use CTRL + Shift + ESC shortcut to open Task Manager.
You will see a list of apps running in the default Processes tab. Find the apps that you are not using.
Right-click on the app you want to disable and select the End task option.

Repeat this process for all unnecessary apps.
Launch Battlefield 2042.
Pay close attention to any apps that create an overlay on your screen, such as Discord and GeForce Experience. However, if you need these while playing Battlefield 2042, you can disable overlay in the app settings instead of closing the app.
Never close apps and processes that you are unfamiliar with. This can lead to security breaches and operating system malfunctioning.
3. Run the game as an administrator
Time needed: 1 minute
Running the game as an administrator can help if your Battlefield 2042 is not launching properly.
Find the installation folder of Battlefield 2042.
Right-click on the executable file (.exe) and click on Properties.
Click on the Compatibility tab.
Save changes by hitting Apply and OK buttons.
Launch Battlefield 2042 using the executable file.

If the solution helped you, create a desktop shortcut that you can use in the future. To do so, right-click the executable file and click the Create shortcut option.
4. Download Visual C++ packages
Many PC games rely on Visual C++ Redist Packages, and if they are not installed properly, it can cause game launching problems. To ensure you have the latest version of the package, follow these steps.
Open the official page for Visual C++ Redist Packages download.
If you are using a 32-bit system, download X86. If you are using a 64-bit system, download X64.

Double-click on the installation package and follow the instructions to install the package.
Restart your PC.
Launch Battlefield 2042.
Related articles:
Conclusion
Share with us what solution worked the best for you, and let us know if you discover another fix to the Battlefield 2042 not launching problem.