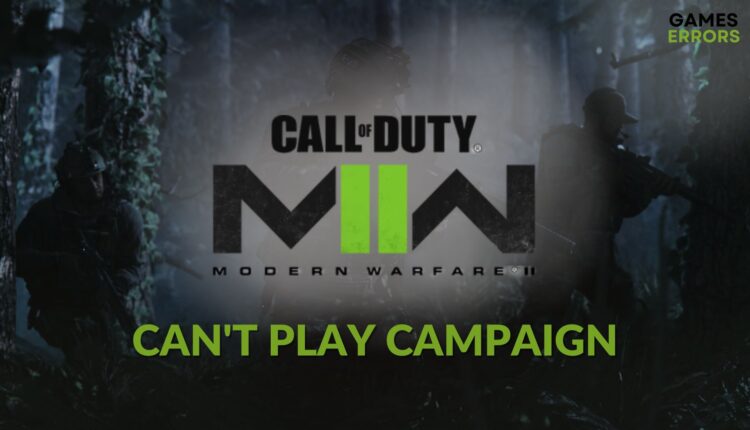 Can't Play Modern Warfare Campaign: Best Fixes
Sign out and sign in with your account and follow these tricks to fix can't play campaign on MW 💥
X
INSTALL BY CLICKING THE DOWNLOAD FILE
If you can't play the Modern Warfare campaign, don't worry. Like you, many other gamers are encountering this issue. This article will provide you with the best solutions to fix this problem.
The problem we are discussing can appear on your PC, Xbox, and even the PS5. However, the Xbox Series X and S users seem to encounter this problem more.
Learn how to fix error code 2901 on COD MW2 if necessary.
Why can't I play campaigns on Modern Warfare?
If you try to play campaigns on MW, but it doesn't start or shows an error message, or tells you to try later, it can be because of the following reasons:
Problem with the game itself: If there is something wrong with the game files, you may encounter this problem.
Missing Add-ons: In many cases, users try to play the campaign without installing the required Add-ons/DLC. As a result, this problem can appear.
Temporary problem: Sometimes, you may not be able to play Modern Warfare campaigns due to a temporary issue on your devices.
Internal issues: This problem also can arise because of some internal problems on your PC or console.
How do I play the campaign on Modern Warfare?
Before getting started, we suggest you do these quick things:
Relaunch the game
Power cycle your PC or Console.
Ensure that the console firmware or PC OS is up to date.
Also, check the Xbox Live status to determine if everything is OK or not.
Now, follow these tricks to fix the can't play Modern Warfare campaign:
1. Re-sign in
Time needed: 2 minutes.
In most cases, signing out and then signing in with the correct account on your Xbox console will fix campaign playing problems on the Modern Warfare game.
Press and hold the power button of the Xbox console and restart it.

Again, press the Xbox button on the controller and add your account.
2. Install the campaign add-ons properly
If the required add-ons are missing, you may encounter this problem. So, verify and install the essential items to fix can't play the campaign on MW by following these steps:
Go My games & apps.
Select Call of Duty: Modern Warfare and press the Options button.
Go to Manage game and add-ons.
The game title should be selected. Press the Options button and go to Manage Installation.
Complete the installation.
3. Clear cache
Go to Settings.
Select persistent Storage and then clear the cache.
Restart your Xbox console.
4. Re-install the game
If the previous three methods fail to solve campaign play issues on Modern Warfare, you should uninstall the game. And then, install it again. Doing this will fix the problem on your Xbox console.
🖥️ How to fix can't play COD: Modern Warfare campaign on PC?
Open Steam or the game launcher you are using.
Go to the game library.
Right-click on Call of Duty: Modern Warfare and go to its Properties.
Go to the DLC tab and tick all DLC packs. Steam will automatically install the missing DLCs.
If it doesn't work, go to the Local Files tab.
Then, click on Verify Integrity of game files.
Give it a few moments to complete the process.
🎮 How to solve campaign playing problems on Modern Warfare on PS5?
Ensure that the DLCs are installed correctly.
Power off the console.
Press and hold the Power button until you hear the beep twice.
Connect a USB controller.
Go to the Clear Cache and Rebuild Database and tap on it.
Click on Clear System Software Cache and then click on OK.
Wait for a while.
Now, try to play the MW and see if it has worked.
The above methods are sufficient to solve any campaign-related problems on MW. However, if you are interested, learn how to solve Call of Duty Modern Warfare crashing on PC.
This article has explained the most effective methods to fix can't play Modern Warfare campaign on your Xbox, PS5, and PC. If you have any questions, let us know in the comment box.
If you encounter any issues or errors while playing your favorite games and require support, feel free to contact us here. Our team is always ready to assist you and ensure your gaming experience is seamless and enjoyable.