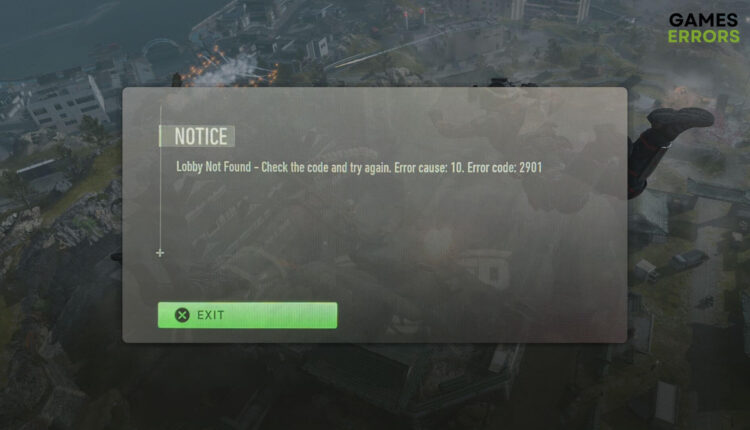 Error Code 2901 on COD MW2: Best Methods to Fix This Problem
To fix COD: Warzone 2 lobby error 2901, solve the connection issues and repair the game files 🎯
Many gamers are experiencing Call of Duty: Modern Warfare 2 error code 2901 these days. This article has the most appropriate solutions to solve this problem completely.
Warzone 2 is undoubtedly an excellent multiplayer game available on various platforms. This First-Person Shooter game has been entertaining millions of gamers for years. But, some users have been encountering MW2 error code 2901, which is preventing them from playing certain types of matches.
What is error code 2901 on MW2?
COD error code 2901 is a very critical problem that can prevent you from playing multiplayer in this game. It may appear in different situations.
Usually, this error pops up during the game startup or while attempting to find a multiplayer match. When it appears, the game may freeze and stop responding. In this period, you may see a similar message to the following one:
Lobby Not Found – Check the code and try again. Error cause: 10. Error code 2901
This problem can occur due to Warzone 2's server issues, network driver problems, corrupted game files, etc. Luckily, you can apply some simple tricks to fix this problem.
How do I fix MW2 error code 2901?
We have prepared the best methods that will work on all devices, including PC, Xbox, PlayStation, etc. But, before that, we suggest you do the following things:
Check the Activision service status page or the Downdetector to see if it's a server-related problem or not.
Restart your PC or console and power cycle the internet router.
Disable your antivirus and firewall.
Disable any proxy or VPN and ensure a stable internet connection.
If the problem still exists, you can follow these methods to solve COD error code 2901:
1. Change DNS
Press Win + I to launch Windows Settings.
Choose Manual.
Enable IPv4.
Restart your PC.
Now, launch Warzone 2 and see if it has solved the lobby not found error code 2901 or not.
2. Reset the Network
Open Windows Settings like before.
Go to the Network Reset.
Click on the Reset button.
Restart your PC.
After resetting the network, you may need to configure your connection settings for specific cases. But it's a very good way to fix error code 2901 on Call of Duty.
3. Run internet troubleshooter
Go to Other troubleshooters.
Follow any onscreen steps to complete the troubleshooting process.
Restart your PC.
Now, launch Modern Warfare 2 and see whether the error code 2901 still appears or not.
4. Update COD: MW2
Open Steam or the Battle.net launcher.
Go to the game library.
Right-click on the Call of Duty: Modern Warfare 2 and go to the Properties.
Go to the Updates tab.
In your Battle.net app, you can simply click on the gear icon and then click on Check for updates.
5. Update network and GPU driver
Press Win + X and click on Device Manager.
Expand Display adapters by clicking on the arrow icon next to it.
Right-click on the GPU driver, and choose Update driver.
Click on Search automatically for drivers.
Update the network driver in the same way.
Finish the update process.
To update drivers, we strongly suggest you use Outbyte Driver Updater. This tool can update and install the game-ready drivers, which are extremely helpful in solving various game-related error codes.
⇒ Get Outbyte Driver Updater
Updating the GPU driver is also very helpful in solving Modern Warfare 2 GPU driver version error.
6. Repair the game files
Time needed: 5 minutes
Right now, repairing the game files of COD: Modern Warfare 2 is the best way to fix error code 2901.
If you are not using Steam but the Battle.net launcher only, click on the gear icon for COD: MW2. Then, click on Scan and Repair and follow any onscreen steps.
This method will also work if the Call of Duty Modern Warfare keeps crashing.
7. Install any pending OS update
Install any available updates.
Restart your PC.
For Xbox or PlayStation consoles, you will also get an option for firmware updates. Just figure it out and complete the update to solve Warzone 2 error 2901.
If the problem still exists, re-install the game. You also can consider resetting your PC or console.
If you are interested, learn about the ways to solve the MW2 Game_ship.exe crash error.
This article has explained methods to fix the MW2 error code 2901. If you have any questions, let us know in the comment box.