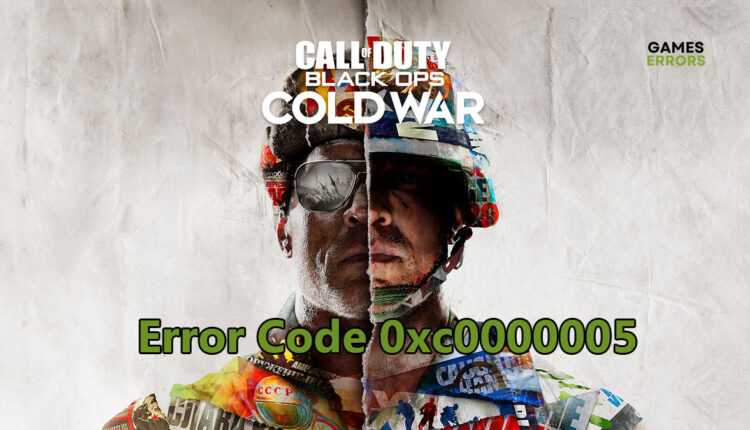 Quick Fixes For Cold War Error Code 0xc0000005
Don't let error code 0xc0000005 interrupt your Black Ops Cold War game. These solutions will fix the problem
X
INSTALL BY CLICKING THE DOWNLOAD FILE
Only a few errors have irritated COD Black Ops gamers as much as Cold War error code 0xc0000005. It can pop up any time you're playing and make it almost impossible to continue your game. Worse still, if you're in the middle of a mission and the infamous error stops your progress and keeps you from finishing that mission.
What Causes Cold War Error Code 0xc0000005?
Cold War Error Code 0xc0000005 will make itself known when the game suddenly vanishes and is replaced by a notification that COD has stopped unexpectedly. This error can be traced back to a recent update to the game. However, some gamers reported the same issue long before installing the update. So we can sum up the reasons for this error as follows:
Outdated Graphics Drivers: COD is a graphics-intensive multiplayer game that requires the latest graphics drivers installed on your system to work properly.
Corrupt Battle.net Cache: The game launcher cache needs to be reset or refreshed.
Background Applications: Many applications and services running in the background can interfere with the game and hog precious resources.
How to Fix Cold War Error Code 0xc0000005?
1. Update Graphics Driver
Many gamers who encountered the Cold War error code 0xc0000005 reported that the main reason was an outdated graphics driver. GPU manufacturers always release new updates to your graphics card after every major game update. Here's how to update your graphics driver.
Right-click the Windows log and select Device Manager.
Click Display Adapters to expand it.
Right-click your graphics driver and select Uninstall device.
Restart your PC then double-click the graphics driver file you downloaded in step 1.
Follow the instructions on the screen to install the driver.
Launch COD Black Ops and see if that fixes the error.
It is recommended to use a driver update tool such as DriverFix. It checks the installed drivers on your system regularly and automatically updates the graphic drivers along with others.
2. Reset Battle.net Cache
Time needed: 2 minutes.
The game cache can get corrupted for any number of reasons. If the game crashes or your system doesn't shut down properly, this could lead to errors in the game. Here's how to reset the Battle.net cache.
Close down the COD Black Ops game and Battle.net game launcher.
Press Windows+R to open the Run dialog app.
Type %ProgramData% and click OK.

Search for the Battle.net folder in the new window and delete it.
Restart the Battle.net game launcher and launch the game.
3. Clean Boot your System
Background applications and services use up a lot of RAM, and CPU resources and slow down your internet connection. All of these can cause Cold War error code 0xc0000005. To shut down these apps, you'll need to perform a clean boot of your system.
Launch Run dialog app with Windows+R.
Type msconfig and press Enter to launch the System Configuration app.
Uncheck Load Startup items box.
Click Services tab and check Hide all Microsoft services box.
Make sure all other services are checked then click Disable All button.
Click Startup tab and click Open Task Manager.
Under Startup, disable all unnecessary apps such as Cortana and browsers.
Restart your computer and launch COD Black Ops.
4. Repair Game Files
If you tried to update the game but the new patch wouldn't install, this could corrupt the installed game files. Luckily, it's easy to repair the game files from the launcher.
Shut down Black Ops Cold War and open the Battle.net game launcher.
Click All Games and choose My Games.
Scroll down to Black Ops and select it.
Click the gear icon next to the Play button to open a new menu.
Select Scan and Repair and wait for the launcher to verify the integrity of the files and repair them.
Launch Black Ops Cold War and check that it's working.
5. Fix Memory Problems
Memory problems on your system can cause errors in the game. Here's how to check for and fix these problems.
Open the Start menu and type Windows Memory Diagnostic.
Click the app to open it and select Restart now and check for problems.
After your system restarts, launch the game.
Related Articles:
Try one or more of those solutions to fix the error code 0xc0000005. We'd like to hear from you in the comments section.
If you encounter any issues or errors while playing your favorite games and require support, feel free to contact us here. Our team is always ready to assist you and ensure your gaming experience is seamless and enjoyable.