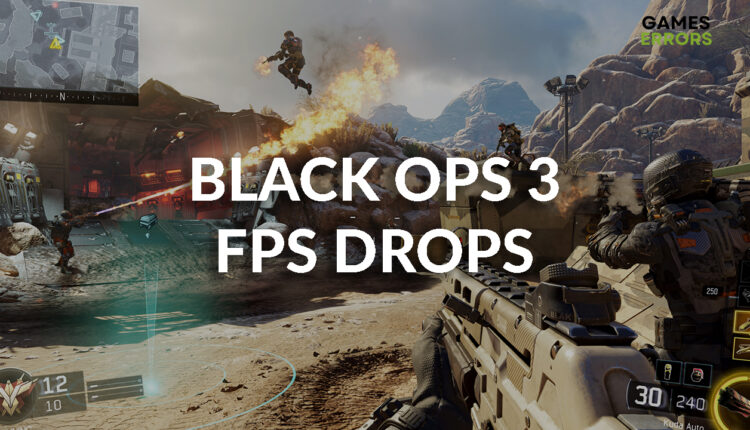 Black OPS 3 FPS Drops: How to Fix the Performance Issues
Having problems with Black Ops 3 FPS drops? No worries, we know what to do! 🚀
X
INSTALL BY CLICKING THE DOWNLOAD FILE
Black Ops 3 FPS drops happen when there is a lack of resources available for the game. Usually, these resources are GPU and CPU, but sometimes lack of RAM can bring problems with low FPS.
Some players also complain about frequent Black Ops 3 crashes on PC, so remember that you are not alone. Let's discover what steps you should take to optimize the game for better FPS.
How do I fix low FPS in Black Ops 3?
Before proceeding with any steps, please ensure that your PC meets the minimum system requirements for Call of Duty Black Ops 3.
1. Run the game as an administrator
To ensure no restrictions on your Windows user account are causing Black Ops 3 FPS drops, the first thing to do is run the game as an administrator.
Click on the Windows icon and use the search to find the Call of Duty Black Ops 3 installation folder.
Find the executable file (.exe) and right-click on it. Click on Properties.
Navigate to the Compatibility tab and check the field next to the Run this program as an administrator.

Hit Apply and OK.
2. Update GPU drivers
Click on the Windows icon, type Device Manager, and click on this app from the search results.
Double-click on Display Adapters and locate your GPU.
Select the option Search automatically for the driver. Windows will now look through the database of new updates for your GPU driver and install the new version if found.

Restart your PC after the installation of the new driver is completed.
There is another way to update drivers for all devices on your PC.
DriverFix
is a swift and efficient solution that will keep your drivers updated hassle free!
3. Disable background processes
Some processes run invisibly and take the resource that the game you want to play can use. A solution for this is to stop these processes before playing the game.
Use CTRL + Shift + ESC to run Task Manager.
Under the rows CPU and Memory, we can see which processes use the most of the PC resources.
Repeat the process for all of the processes you want to close.
Close the Task Manager and run the game.
Never disable a process you are not familiar with – it can result in programs and/or Windows malfunction.
4. Verify game files
Launch Steam and navigate to the Library.
Right-click on the Call Of Duty Black Ops 3 and select Properties.
After the scan, Steam will let you know if any files need fixing.
5. Disable fullscreen optimization
Some Reddit users report a decrease in Black Ops 3 FPS drops when the fullscreen optimization is disabled.
Use the Windows search feature to navigate the CoD BO 3 installation folder.
Right-click on the executable file (.exe) and select Properties.
Click Apply and OK to save changes.
Why is Black Ops 3 stuttering PC?
Black Ops 3 FPS drops and stuttering can occur due to:
Insufficient hardware specifications
Outdated GPU drivers
Broken game files
Overheating of PC components
Background processes
Reinstalling your operating system is always a good idea when encountering problems with bad performance. A faster solution is to clean cache files and folders on Windows.
Related articles:

Conclusion
If you have problems with Black Ops 3 FPS drops, follow the above-described solutions to maximize your gaming experience.
Did you fix FPS drops on games on your PC? If yes, let us know how!
If you encounter any issues or errors while playing your favorite games and require support, feel free to contact us here. Our team is always ready to assist you and ensure your gaming experience is seamless and enjoyable.