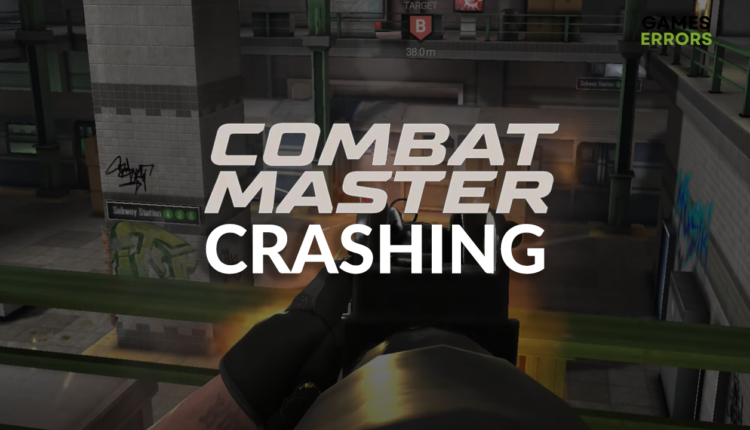 Combat Master Crashing: How to Fix It
Forget about Combat Master crashes and enjoy the game interruption-free! 🚀
X
INSTALL BY CLICKING THE DOWNLOAD FILE
Combat Master crashing and it is almost impossible to play the game? Maybe you can't even load the game because Combat Master crashes when loading a map? Regardless of the issue, here you can find the latest information on the issue and the most reliable solutions for it.
If you can't even start the game, read how to fix Combat Master won't launch.
Why is Combat Master crashing?
Combat Master is crashing because the fullscreen is not enabled, your PC is overheating, the game, Windows, or GPU driver aren't outdated, game files are corrupted, or apps are running in the background and using the resources would otherwise be allocated to the game.
How to fix Combat Master crashing?
💡 You are not alone! Combat Master crashing when loading a map is an issue impacting many gamers. There is still no official patch for this, as we are waiting for it to come from the team developing the game. In the meantime, you can do everything possible so that there is nothing wrong with your PC and the game installation.
To try to prevent crashes in Combat Master, apply these easy checks:
Ensure the game launches in fullscreen: This was discovered by one gamer that had issues with Combat Master crashing while launching. Find and right-click on Combat Master in Steam, and select Properties. Add -fullscreen parameter under the Launch Options.
Check the temperatures: If your PC is overheating, it can cause game crashes. Check the temperatures of your GPU and CPU, but also other devices. If the temperatures are high (more than 70°C or 160°F), consider cleaning the dust, changing the thermal paste, and ensuring proper ventilation.
Check for updates: You can head to Alfa Bravo's official website (the team behind Combat Master) and check if they have released any updates patching game performance and stability issues. If so, go to the Steam library, right-click on the game, and select Properties. Click on Updates, download, and install updates if they are available.
If this doesn't stop Combat Master from crashing, proceed with the step-by-step solutions listed below.
1. Verify game files
Corrupted game files are a frequent cause of game crashes. This is why Steam made it possible to find and repair these files with a few clicks. This is an excellent alternative to reinstalling the game and is much quicker.
Launch Steam and go to the Library.
Right-click on Combat Master and select Properties.
Select the Local Files tab, and click on Verify integrity of the game files.

2. Update the GPU driver
Time needed: 5 minutes
Keep your GPU driver updated to avoid crashes, stuttering, and other performance issues. Follow these steps to do it using the Device Manager. If this doesn't work, try another driver updater tool to find and install the latest GPU driver update.
Click the Windows icon, type Device Manager, and open this tool.

Double-click on the Display Adapters.

Right-click on GPU and select Update driver.

Select Search automatically for drivers.
Install driver update.
Restart your PC.
An alternative driver updater tool of our choice is Outbyte Driver Updater. We recommend it because it is a fast, reliable, and portable tool that will do magic when scanning and updating driver updates. Rest assured that Outbyte Driver Updater is on your side and always handles driver management with the minimum effort!
3. Disable background apps
Background apps will consume your PC resources even if the game runs on fullscreen. You can avoid this by disabling all of the apps before launching games. Additionally, we recommend you follow the steps below to disable 'hidden' apps using Task Manager.
💡 If any apps create screen overlays and you want to keep this app running, then head to the app settings and disable the overlay. The most common suspects are Steam, Discord, and GeForce Now.
Use the CTRL + Shift + ESC shortcut to open Task Manager.
Find the apps you don't need when playing the Combat Master in the Processes tab.
Right-click on the app and choose End task.

Do the same for remaining unnecessary apps.
⚠ Remember: Avoid closing apps in which you have unsaved progress. Never terminate Windows or security software background processes.
Extra steps
If you still have issues with an interruption when playing Combat Master, double-check if you applied all of the checks and solutions we already mentioned, and try to:
🆙 Update Windows: If your Windows is outdated, it can cause various issues, including Combat Master crashing. Click the Windows icon, type Check for updates, and open System Settings from the search result. Click on Windows Updates and then hit the Check for Updates button.
🔁 Reinstall Combat Master: Although not the most attractive solution, you can try uninstalling the game and deleting all cache files. After this, install the game again while connected to a reliable internet network to avoid additional issues.
📞 Ask for support: Combat Master uses Discord for interactions with their support team. Find the section Contact Staff and follow the instructions for submitting a support ticket. Please provide them with all the necessary information on what you have already tried and what problem you face.
Once you fix crashes, you might experience performance issues in this first-person shooter. If so, read how to improve FPS in Combat Master.
Conclusion
Combat Master crashing can be annoying, and we sincerely hope you have fixed your issue. However, if the problem persists, drop a comment explaining in which situations the interruption occurs and share with us an error code if you get one.