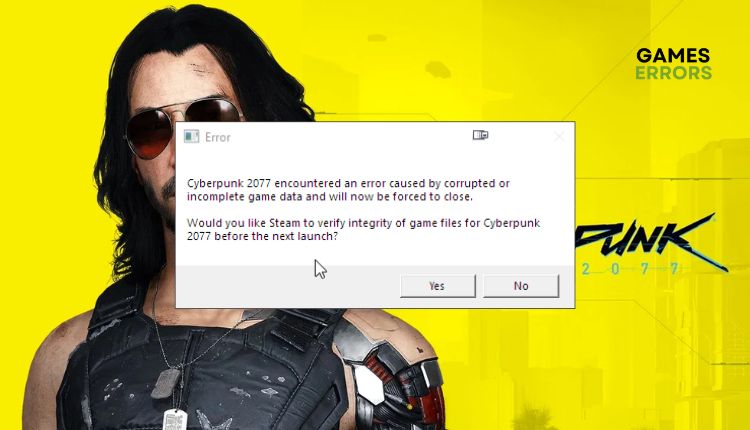 Fix Cyberpunk 2077 Error Caused by Corrupted or Missing File
Cyberpunk 2077 "Error Caused by Corrupted or Missing File" is easily solved with our solutions. 😎
Since its appearance, Cyberpunk 2077 has caused a hurricane of mixed feelings, hardware conflicts, unrealistic expectations, and awareness that it is a non-series game whose premiere came too soon. It's a game you won't easily forget because Cyberpunk 2077 belongs to that rare breed of games that we see once in a decade, a fantastic title with a story and characters that only exist in better sci-fi titles. Technical problems, errors, and non-optimization are a constant companion of this game, so Cyberpunk 2077 "Encountered an error caused by corrupted or missing scripts file" is unsurprising. Why this error occurs and how to solve it is the subject of this article. We have created a guide on how to fix the error and continue the game.
What causes Cyberpunk has encountered an error?
There are several possible reasons why you are getting an "error caused by corrupted or missing file":
outdated system drivers
corrupted game files
Cyberpunk 2077 is not updated
installed mods issue
bad game installation
How do I fix a corrupted or missing Cyberpunk 2077 script file?
We always advise you to try some more straightforward steps that can help you immediately, such as:
Restart the game or PC.
Update Windows to the latest version.
Run the game as an administrator.
If the game still has a problem, do the following:
1. Update system drivers
Outdated or corrupted drivers for GPU, network, sound, etc., often cause the main problem with most game issues. First, update your drivers to the latest version. We will give an example of how to update the GPU driver:
👉 Update GPU driver through Device Manager
1. Press the Windows+R keys to bring up the Run dialog.
2. Type; devmgmt.msc and hit Enter.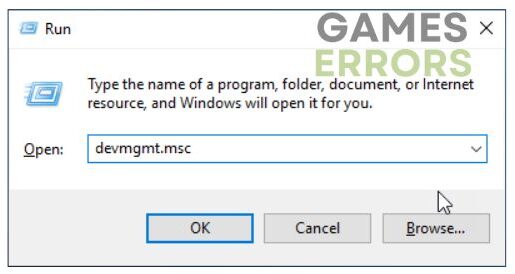 3. Double-click on the Display adapters to expand, right-click on GPU, and select Update driver.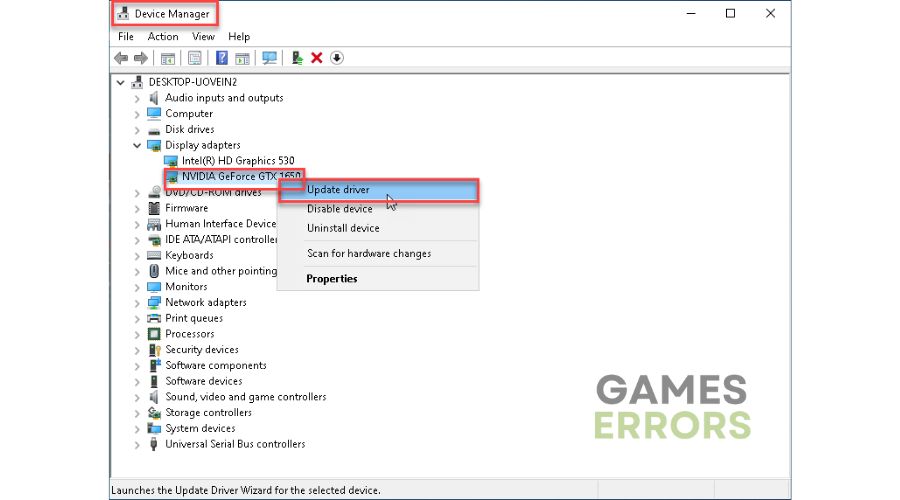 4. Wait while the wizard searches for, downloads, and installs the latest GPU driver version.
👉 Update GPU driver through the web browser
Based on your graphics card's model, download the newest driver from the official website of AMD, NVIDIA, or Intel.
👉 Update GPU driver with Outbyte Driver Updater
The third way we recommend is the easiest and fastest way to update all the drivers on your Windows computer using Outbyte Driver Updater. This helpful tool will come in handy to constantly have updated drivers, thus avoiding the hassle of manual updates and saving your precious time.
2. Verify and repair game files
Time needed: 3 minutes
If one or more Cyberpunk 2077 files are missing or corrupted, you may have an "Error Caused by a Corrupted or Missing File." You must verify and repair game files like this example for the Steam client.
Open Steam client

Navigate to your game Library and locate Cyberpunk 2077.

Select game

Right-click on the Cyberpunk 2077 and select Properties.

Verify the integrity of game files.

Select Local Files from the menu and click on Verify integrity of game files.

Launch Cyberpunk 2077

Wait for the file verification process to complete and launch the game to see if the issue is gone.
If you're using the Epic Launcher, go to the Library and search for Cyberpunk 2077. Select the three options dots next to the game icon and select the Verify option.
3. Update Cyberpunk 2077
You may not have updated your game to the latest version, and an outdated version can cause various problems and errors. To update Cyberpunk to the new version of the game, do the following:
1. Open the Steam client and go to Library.
2. Locate Cyberpunk 2077, and if there is an Update option (instead of the Play button), click on it.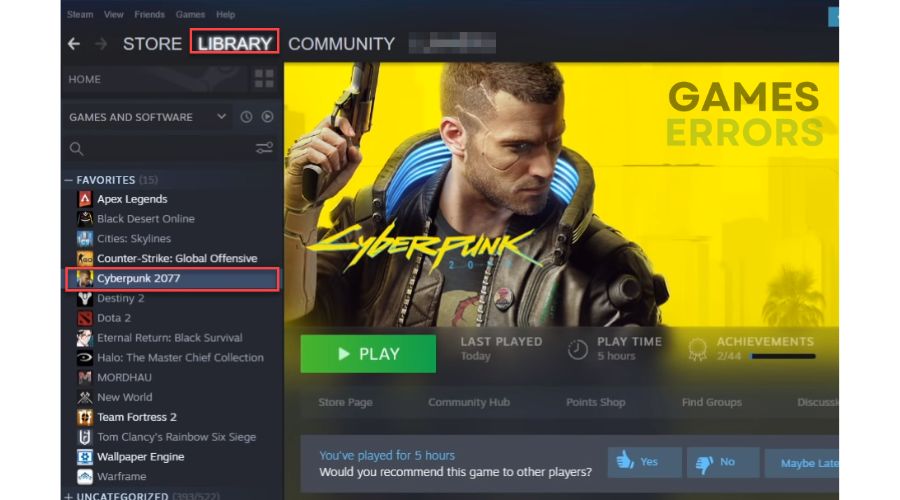 3. Wait until the update completes; restart the PC to apply changes.
4. Try to launch Cyberpunk 2077 to check if the error is gone.
Another way to update your game is to open the Steam client. From the menu, select Steam>Exit. Launch Steam again, and all necessary updates will be downloaded automatically.
4. Delete problematic game mods
Do you have mods installed in Cyberpunk 2077? If you are still facing "Corrupted Or Missing Scripts File Error," we recommend that you isolate the problematic mods as follows:
1. Open the game folder with your mods. The default path is Program Files(x86)>Steam>steamapps>common>Cyberpunk 2077>archive>pc >mod.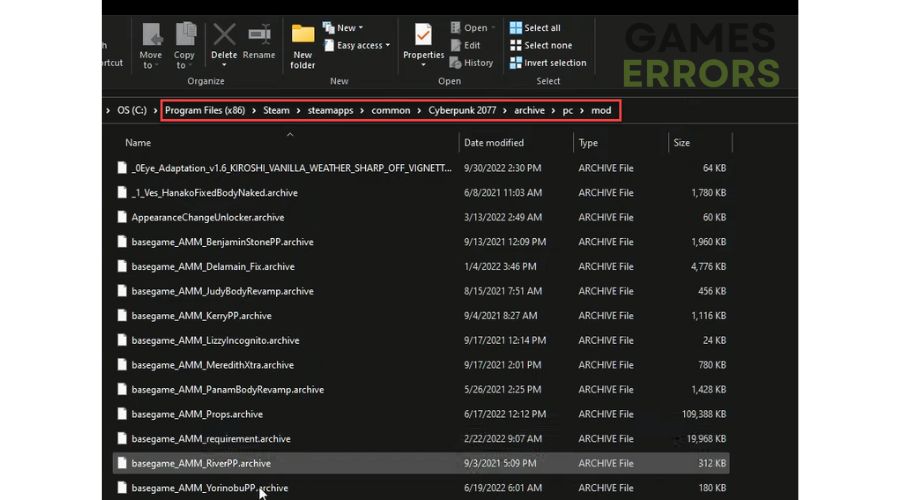 2. Create a new folder on your desktop and move in all your Cyberpunk 2077 mods.
3. Start the game. If the game works without problems, restore one mod at a time to the original folder until you find out which mod is causing the pain.
Please note that these mods cause the most problems in Cyberpunk 2077: Red4ext, Redscript, TweakXL, CyberEngineTweaks, and ArchiveXL.
5. Reinstall Cyberpunk 2077
Suppose the previous steps did not give results for the Cyberpunk 2077 "Corrupted Or Missing Scripts File Error" problem; you are left with a complete wipe and reinstall of the game. Unfortunately, the game's authors, CD PROJECT, propose a similar solution without explaining the causes of this problem. This is no small task; due to its size, the game takes patience and time to download and install. We also recommend installing the game in a different folder on your disk.
Related articles:
Conclusion
That's all we have prepared for you if you face the problem "Encountered an error caused by corrupted or missing scripts file" in Cyberpunk 2077. You can contact CD PROJEKT customer support if you still have the problem. Also, if you have any questions or suggestions, don't hesitate to comment below.