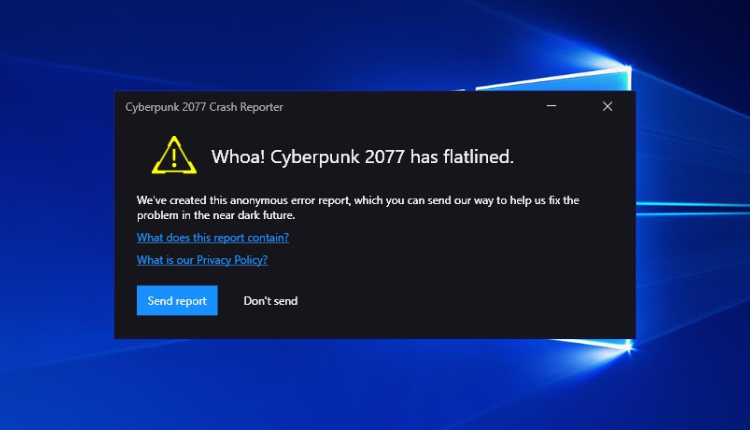 Cyberpunk 2077 Has Flatlined: 5 Working Fixes [Updated]
Learn what to do when you encounter this error ✅
X
INSTALL BY CLICKING THE DOWNLOAD FILE
An error that appeared on multiple discussion boards was one that read: "Whoa! Cyberpunk 2077 has flatlined." While the development studio has been busy rolling out patches, many still see the error code surfacing mid-game moments after playing.
This article will address how you can fix the Cyberpunk 2077 crashing PC issue. All the methods listed are DIY and beginner-friendly, so you don't have to break a sweat over them.
What causes the Cyberpunk 2077 flatlined error?
The main cause of the Cyberpunk 2077 has flatlined error are outdated drivers. However, Cyberpunk 2077 could be flatlining for a multitude of other reasons, but through research and expansive observation, we have narrowed down the possible causes to a mere handful. Find out some of the main reasons why Cyberpunk 2077 has flatlined on startup:
Check system requirements:

This is one of the most commonly-faced and most frequently ignored reasons behind a Cyberpunk 2077 crash on startup. Sometimes systems are not equipped to render the most resource-heavy parts of the game, and as a result, the game flatlines immediately. It is always advisable to go through the game's minimum requirements before launching it on your PC. If you are unsure how to ascertain if your PC is adept at running the game, you can check it on

Can You Run It

.

Corrupted files:

Needless to say, corrupt game files never mean well.

So, if you see Cyberpunk 2077 flatlining on startup, it could just be a case of one or some of your game files being corrupted.

Try checking the integrity of all game files either on GOG, Steam, or Epic Games (depending on where you bought the game from). If you do find a corrupt game file, reinstalling could often be the only viable option.

Overlay tools:

In-game overlay software are notorious for causing game crashes and glitches. So, if

Cyberpunk 2077 flatlined on your PC, you might want to disable all in-game overlays for the time being and relaunch the game again to see if it still crashes. Be it Steam's overlays or otherwise, you can head straight to the software and disable the overlay feature.

Enabled debug mode:

Mods are common in the gaming community, so Cyberpunk 2077 encountered an error can be a result. So, if you are trying to run multiple mods with the game on an Nvidia GPU, you will need to enable the Debug Mode present in the Nvidia Control Panel to stabilize the game.

Outdated GPU driver:

If your PC lacks the graphical dependencies required to render Cyberpunk 2077, it could lead to the game's flatlining. So, if your game flatlines, do check for GPU driver updates, along with any updates available for the physics module. You might consider using Device Manager to look for updates automatically. If you prefer doing this manually, the Nvidia or AMD proprietary update tools will come to your rescue.
These are the common reasons why Cyberpunk keeps flatlining on your PC. Make sure you affirm all the necessary requirements before launching the game. 
Disclaimer: The following solutions were tested by gaming technicians on multiple systems.
How can I fix the Cyberpunk 2077 has flatlined error?
To fix Cyberpunk 2077 has flatlined error, make sure that everything is up to date. Then, before starting with more technical fixes for Cyberpunk has flatlined issue, you can make the first steps and try the most basic workaround which is restarting your PC and checking the system requirements.
Table of contents:
Now that we know the common causes behind Cyberpunk 2077 flatlining, it's time to go through the ways to fix the issue.
There are quite a few effective ways to resolve the Cyberpunk 2077 crash on startup. It's just a matter of trial and error before you get to the bottom of the issue. Let's look at one fix at a time:
1. Restart your PC
The preliminary method to try out is inevitably restarting your PC immediately. This is an old trick in the book, but often it works surprisingly well. If Cyberpunk 2077 flatlined on your system, try to follow these few steps to restart your PC:
You will be surprised by how many times this method gets rid of the issue, but if you still see the error code, move on to the next best fix.
2. Reinstall/ Update Graphics Drivers
Many times, you will see Cyberpunk 2077 crash on start-up solely because your graphics card drivers are in desperate need of updates. If this rings true for you, you are in luck. The fix is quite easy, and it takes but a few minutes to update your GPU driver. 
Choose Display Adapters to see the graphics drivers currently installed on your PC.

Disclaimer: We are affiliated with the following Driver Update tool.
Sometimes updating your GPU driver manually might be a bit hard or time-consuming, just know that you can update your drivers automatically with a dedicated third-party app like Outbyte Driver Updater. You can use it for any driver that you want to update, and it works in just a couple of clicks.
3. Check Minimum Requirements
Not all systems are compatible with Cyberpunk 2077, so before installing the game, make sure your PC checks off the compatibility requirements.
Here's a brief idea of the system requisites to run Cyberpunk 2077. Take a look and cross-check with your system. The game might just be crashing because your PC is not compatible with the game's minimum requirements.
➖ Minimum Requirements:
CPU: Intel Core i5-3570K/ AMD FX-8310

GPU: GTX 780/ Radeon RX 470

RAM: 8 GB

Operating System: 64-bit Windows 7/ 64-bit Windows 10

Pixel Shader: 5.1

Vertex Shader: 5.1

Sound Card: Yes

Free Disk Space: 70 GB

Dedicated VRAM: 3 GB
4. Check Game Files
If Cyberpunk 2077 is flatlined on your system, it is a good idea to check the integrity of all your game files. It's quite simple to do that if you go about it the right way.
Follow the steps listed below, and verify the integrity of your Cyberpunk 2077 game files without much hassle. Here's how to check:
Open 'Steam', head to 'Library', and right-click on 'Cyberpunk 2077'.

Select 'Proprietes' click on 'Local Files' and click on 'Verify Integrity of Game Files.'

After the completion of the process, check if Cyberpunk 2077 launches.
GOG:
Launch the 'GOG' launcher and head to the 'Library.'

Right-click on 'Cyberpunk 2077' and choose 'Manage Installation' from the pop-up.

Choose the 'Verify/Repair.'

GOG will then start verifying the game files. If something looks odd, the launcher will take care of it.
Epic Games:
Open the Epic Games launcher, and navigate to the 'Library.'

Go to 'Cyberpunk 2077', and tap on the 3 dots.

Select 'Verify' from the drop-down list.

Give the launcher a few minutes to verify the game files.
If you have already verified the game files and all seem hunky-dory, it's time to move on to the next fix.
This should fix the issue of Cyberpunk 2077 flatlining. If the issue still persists, there's one more way to resolve it.
5. Disable Overlays
You might like to have in-game overlays while playing if you are a streamer. However, the overlays are among the most commonly noticed culprits behind games such as Cyberpunk 2077 crashing. If your in-game overlays are on and Cyberpunk 2077 flatlined on startup, it might help to disable them from the overlay software for the time being. Here's how to go about it:
Click on the 'Steam' icon on the top-left corner, and click on 'Settings.'

Navigate to the 'In-Game' tab, and disable all in-game features shown on the screen.

Tap on 'OK' to apply the changes, and restart the game soon after.
If overlays were behind Cyberpunk 2077 flatlining on your PC, it is time to resolve this quite simple-to-handle problem. These steps will definitely make the job easier.
6. Repair Microsoft Visual C++ Package
The Microsoft Visual C++ Redistributable Package might have some issues which emerged after the latest update or install. But you can either uninstall it by using Programs and Features from Control Panel, or Repair it manually by following the next few steps.
Go to Control Panel
Click on Programs and Features
Right Click on Microsoft Visual C++ Redistributable Package
Press Change and select Repair
Restart your computer and you are good to go.
Related Articles:
Final Thoughts
We hope this article helped you fix the Cyberpunk 2077 flatlined issue. Remember, the best way to fix this error is to keep everything updated. Additionally, consider disabling overlays and other resource-hungry applications. Feel free to share with us any solution or fix that worked for you. If it is not on our list, we will verify it on various systems, and if it works, we will add it to the list.