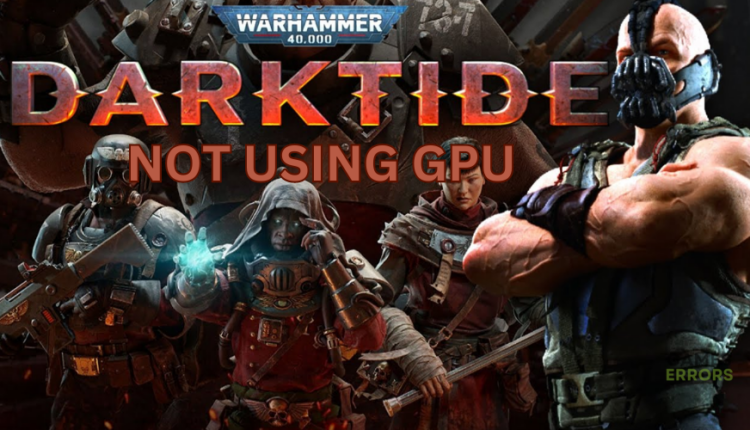 Darktide Not Using GPU: Why And How To Fix It
When Darktide doesn't use GPU, you get reduced graphics quality. Luckily, we can help fix this below 👇.
If your Warhammer 40k Darktide not using GPU, you probably experience terrible performance with the game. This means your game has low FPS, reduced graphics quality, and increased CPU dependency. There's nothing more annoying than playing an intense game with stunning visuals like Darktide when it doesn't use a dedicated GPU. The result is horrible graphics and an awful gaming experience. Luckily, we have discovered a few possible solutions that may help solve Darktide not using GPU. Check them out below.
Why is Darktide not using GPU?
Graphics Processing Unit (GPU) is a specialized processor designed to elevate the visual quality of games. It accelerates graphics renderings, ensuring gamers have an immersive experience when playing high-resource games like Warhammer 40k Darktide. If your game is not using GPU, it could be due to several reasons, including:
Outdated and corrupt GPU drivers may prevent Darktide from using GPU.
If Darktide uses an integrated graphics card, it won't use the dedicated GPU.
Compatibility issues between your game and your PC's GPU card.
Improper PC power settings since games like Darktide require a high-performance power plan.
Darktide may prioritize the usage of CPU instead of GPU.
How to fix Warhammer 40k Darktide not using GPU?
Before doing anything, perform the following pre-checks first:
Confirm your PC meets the system requirements for playing Warhammer 40k Darktide.
Confirm you're using the correct GPU drivers to play Warhammer 40k Darktide, either NVIDIA GeForce GTX 970 OR AMD Radeon RX 570.
Ensure your monitor is connected to the dedicated GPU and not the motherboard.
If Darktide is still not using GPU, try the following fixes:
1. Disable integrated graphics
If Darktide uses integrated graphics instead of a dedicated GPU, disable it. This forces the game to use a dedicated GPU, ensuring you get the best graphics. Here's how to disable integrated graphics:
In the search bar, type Device Manager and click to open.
Find Display Adapters from the list of options and click to expand the tab.
Right-click the integrated graphics, usually Intel.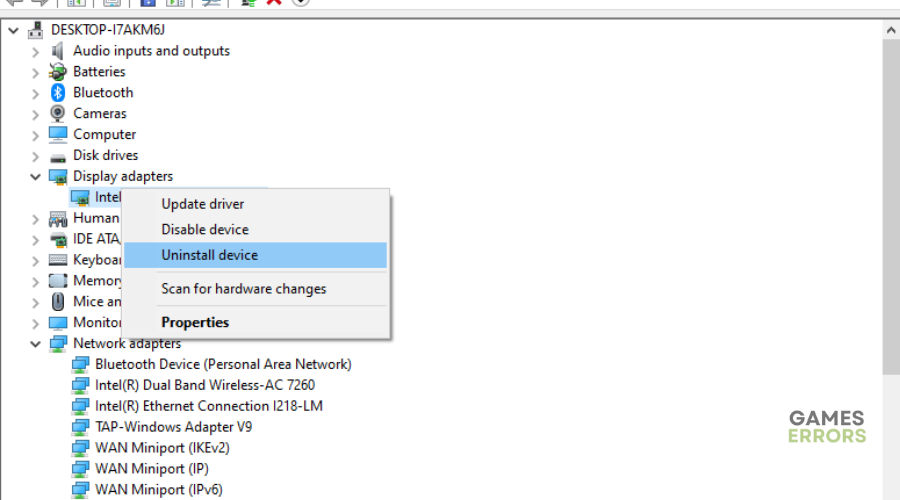 Select Disable device.
Try playing Darktide to see if it uses a dedicated GPU.
2. Update GPU divers
Time needed: 2 minutes
If you want Darktide to use GPU, ensure they're updated. Outdated GPU drivers trigger problems during gameplay and impede the graphics quality of Darktide. Here's how to update your GPU drivers:
Open device manager

In the Windows search bar, key in Device Manager and click to open.

Display adapters

A new window will appear. Locate Display Adapters on this window.

Find the dedicated GPU driver.

Click on Display adapters to expand it and locate the dedicated GPU driver, such as NVIDIA.

Update GPU driver

After finding the dedicated GPU driver, right-click it and select Update driver.

Choose the update method.

Select how you want to update the GPU driver. We recommend the Search automatically for drivers option.

Complete process.

Windows will now search for and install the latest GPU driver updates. After the process is complete, restart your PC to apply changes.

Relaunch the game

Relaunch Darktide to see whether it uses GPU.
You don't have to manually update your GPU drivers. With Outbyte Driver Updater, you can automatically update your drivers, saving you time and effort.
⇒ Get Outbyte Driver Updater
3. Change Darktide's graphic performance preference
If your PC uses the integrated graphics driver by default, try changing the graphics preference for specific games like Darktide. This way, when you play Darktide, your PC automatically switches to a dedicated GPU to render graphics quality. To do this:
On your desktop, right-click anywhere.
Select Display settings.
Scroll down to look for Graphic settings and click to open.
Find Graphics Performance Preference and click it.
From the drop-down menu, choose Desktop App and select Browse.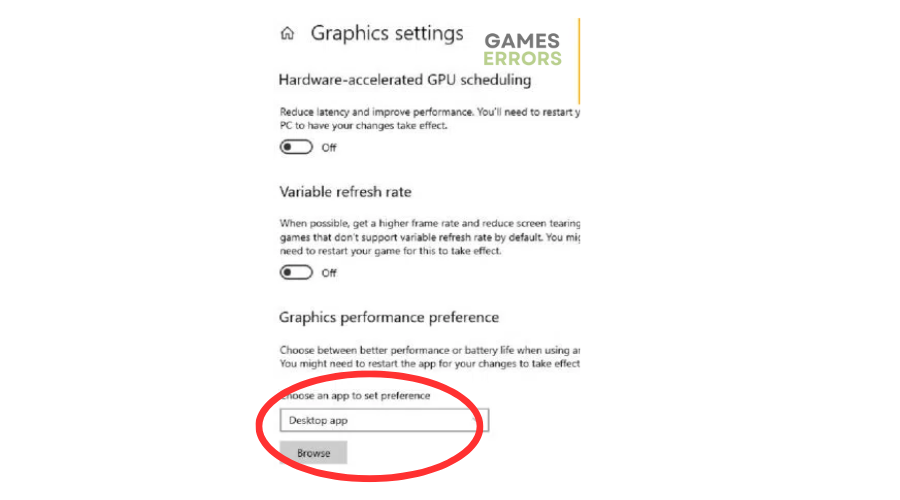 Find the installation or executable folder of Darktide and select it.
Click Add to add Darktide to the Graphics performance preference.
When you see the game's icon, click the options under it.
A pop-up menu will appear. Select High-Performance.
This sets the dedicated GPU for Darktide.
🚀Additional fixes
Other things you can try include:
Overclock GPU to boost performance
Adjust graphics settings to improve performance
Re-install your dedicated GPU drivers
Enable hardware-accelerated GPU settings
Related articles:
Conclusion
Darktide not using GPU negatively affects the game's performance and lowers the game's graphical quality. Luckily, if you disable integrated graphics and update GPU drivers, you can fix this. Additionally, change Darktide's graphic performance preference to ensure it uses the dedicated GPU. Let us know if any of the mentioned fixes work for you.