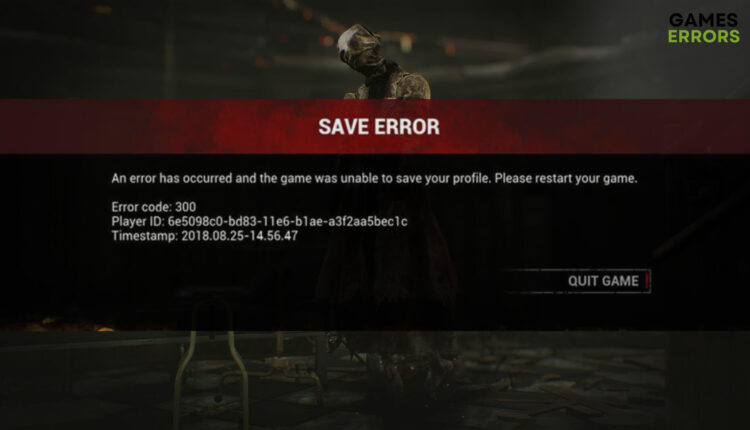 DBD Save Game Error: How to Fix It Successfully
Check the Dead by Daylight server status, repair the game files if it constantly shows the save game errors 🎯
X
INSTALL BY CLICKING THE DOWNLOAD FILE
Are you encountering the save game error on Dead by Daylight (DBD) on your PC or Xbox? The solutions we are going to cover in this article will work and help to get rid of this issue from any platform.
The DBD is one of the most unique games in the industry. It's a 4 vs. 1 multiplayer horror title that features excellent gameplay elements. However, DBD save game error can prevent you from playing the game smoothly. When this problem appears, you may get error codes like 107, 130, 300, etc.
Learn the ways to fix the Dead by Daylight initialization error if necessary.
What causes save game error on Dead by Daylight?
If you keep getting the save game error codes on DBD, it is most likely because of the following reasons:
Connection problem: DBD may trigger various errors while saving the game if the internet is not stable.
Server issues: Server outage is another thing that can prevent your device from saving the game.
Corrupted components: Corrupted, outdated or problematic game components also can trigger DBD save game error.
Known bug: In some cases, it can be a known issue on a specific version of the game for specific devices.
Sometimes, you may not assume the reason behind this issue. But following the tricks from the next part of this article will definitely help.
How do I fix DBD save game error?
We suggest you do the following things before going through the main methods:
Check the Dead by Daylight server status from DownDetector or the official Twitter page and confirm that everything is OK.
Power-cycle your PC/Console and internet router.
Ensure that the game client is up to date.
Disable your antivirus and firewall.
Now, go through the following methods to fix the save game error on DBD:
1. Change DNS
Press Win + I on the keyboard to open Windows Settings.
Select Manual and enable IPv4 by toggling the switch next to it.
Restart your PC.
2. Repair the game files
Time needed: 3 minutes.
To fix the save game error on Dead by Daylight (DBD), you should repair the game files.
Wait for a while until it finishes the process.
If you use Epic Games or Xbox app, you will get a similar option to repair the game files there too.
3. Repair Anti-cheat software
Navigate to the Dead By Daylight installation directory.
Look for the EasyAntiCheat folder.
Double-click on EasyAntiCheat_Setup.
Re-install/repair this software.
Restart your PC.
Now, launch DBD and see whether it has fixed the save game error code 107/300/130 or not.
4. Update Dead by Daylight
Open Dead by Daylight's properties from the Steam game library like before.
Go to the Updates tab.
Relaunch Steam.
Now, Steam will automatically update the game with the highest priority. For Xbox and Epic Games, you can take steps to update this game there too.
🎮 How to fix DBD save game error on Xbox?
Press the Xbox button on the controller and go to Settings.
Navigate to Devices & Connections and then select the Blu-ray option.
Go to Persistent storage.
Then, tap on Clear persistent storage.
If it doesn't help, update Dead by Daylight.
The above methods should fix DBD save game errors on both PC and Xbox. You start playing the survival horror game and verify it by yourself.
Extra steps for PC and Xbox:
You may still keep encountering the same problem on Dead by Daylight. So, we suggest you try these solutions on your PC or Xbox:
Re-install Dead by Daylight completely.
Update Windows 11/10 or Xbox firmware.
Reset your device.
If nothing works, contact DBD support.
If necessary, learn how to fix Dead by Daylight crashing.
This article has described the best methods to fix DBD save game error that works on both Windows PC and Xbox Console. You can let us know in the comment box which method has worked for you.
If you encounter any issues or errors while playing your favorite games and require support, feel free to contact us here. Our team is always ready to assist you and ensure your gaming experience is seamless and enjoyable.