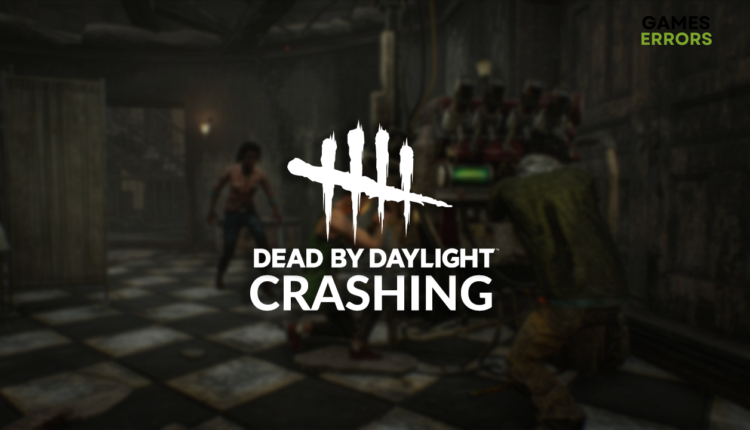 Dead by Daylight Crashing: Fix It Quickly
You were just about to find the killer, when the game crashed! This is probably the most scary moment you can live through in this game. Luckily we have the fix! 👾
X
INSTALL BY CLICKING THE DOWNLOAD FILE
Are you tired of continuous Dead by Daylight crashing in the worst possible situations? Many gamers are, so we created this ultimate list of causes and solutions to stop this problem and enjoy this survival-horror game at its fullest potential!
Another common problem with this survival horror game is the network-related error that stops you from connecting to online services. Learn how to fix error code 8012 in Dead By Daylight.
Why is Dead by Daylight crashing?
Dead by Daylight crashes due to a lack of hardware resources, faulty overclock settings, Windows-related permission issues, outdated GPU drivers, background apps that create overlays, or corrupted game files.
How to fix Dead by Daylight crashing?
Begin troubleshooting this issue with these easy fixes and quick checks:
Check the system requirements: Your PC must meet at least the minimum DBD requirements to expect smooth and stable gameplay.
Disable overclock settings: If you overclocked your GPU or CPU to enhance the performance of your PC, this might cause crashes in DBD. Disable these settings, and check if the crashing stops.
Run the game as an administrator: To run the game as an administrator, right-click on the game executable file, select Properties, go to the Compatibility tab, and enable this option.
Fix crashes in Dead by Daylight by applying these step-by-step solutions.
1. Update the GPU driver
Time needed: 5 minutes.
An outdated GPU driver will cause problems with launching Dead by Daylight and directly influence the game's stability. Frequent crashes can be avoided if you keep your GPU driver updated.
Click on the Windows icon, type Device Manager, and open it.

Double-click on Display adapters.

Right-click on your GPU and select Update driver.

Choose Search automatically for drivers.
Follow the steps for the update installation.
Restart your PC.
The best way to update drivers is by using a driver updater tool. Our recommendation goes to DriverFix, a portable tool that scans, monitors, and updates device drivers whenever necessary.
2. Close background apps
Background apps will consume your PC's resources and leave less computing power available for Dead by Daylight. Since this can directly cause the game to crash, we advise you to close all unnecessary apps before launching the game.
💡 Another essential thing to consider is apps that create overlays on your screen. The usual suspects are Steam, Discord, and GeForce Experience. Try disabling the overlay in the app settings if you need the app running while playing DBD.
Using the CTRL + Shift + ESC shortcut, open Task Manager.
Find the apps you don't need when playing the DBD in the Processes tab.
Right-click on the app and choose End task.

⚠ Warning: Never disable your antivirus software or Windows-related apps and processes.
3. Verify game files
Verifying the integrity of game files is an excellent alternative to reinstalling a game, as it is faster and more efficient. This feature is included whether you use the Epic Games Launcher or Steam.
For Steam users:
Launch Steam and go to the Library.
Right-click on Dead by Daylight and select Properties.
Select the Local Files tab, and click on Verify integrity of the game files.

For Epic Games users:
Open Epic Games Launcher and navigate to the Library.
Find Dead by Daylight, click the three vertical dots, and select Manage.
Click the Verify button.

Extra steps
If you still struggle with Dead by Daylight crashing, try to:
⬆ Update Windows: Outdated Windows will cause various issues, including potential crashes when you want to play Dead by Daylight. Check for Windows updates and install them if available.
🧹 Perform a disk cleanup: Click on the Windows icon, type Disk Cleanup, and open this application. Do this every once in a while to prevent potential issues.
💿 Run DBD in compatibility mode: Right-click on the game, click on Properties, navigate to the Compatibility tab and tick Run this program in compatibility mode for Windows 8.
Related articles:
Conclusion
If our recommendations helped you resolve Dead by Daylight crashing issues, let us know which one helped you. However, if the problem still occurs on your PC, let us know, and somebody will happily assist you in resolving it.
If you encounter any issues or errors while playing your favorite games and require support, feel free to contact us here. Our team is always ready to assist you and ensure your gaming experience is seamless and enjoyable.