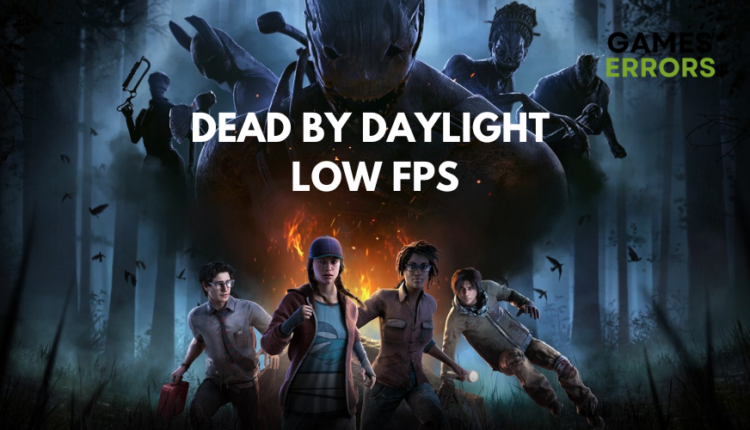 Dead by Daylight Low FPS: How to Boost Performance
Here's everything you need to know about Dead by Daylight FPS and how to fix it🎯
Dead by Daylight, a multiplayer asymmetric survival horror video game, has received positive reviews from its fan base, but some players have reported low frame rates while playing.
Experiencing low FPS while playing Dead by Daylight can ruin the gaming experience.
Fortunately, there are several steps you can take to increase your FPS and improve your gaming experience. We have done our research and found out why this is happening and how to fix it.
Why are my frames dropping in dead by daylight?
If you have noticed a drop in framerate, this could be for a number of reasons other than your PC not meeting the minimum system requirements to run Dead by Daylight. Some of the other reasons could be an Outdated GPU driver and Graphics settings, just to mention a few.
How do I fix FPS in DBD?
Before jumping into the solutions listed below, make sure your PC meets the minimum system requirements. If so, continue with the workarounds below:
1. Update Graphics Drivers
Time needed: 3 minutes
Updating your graphics driver enhances the overall gaming and visual experience by providing better performance, smoother gameplay, and fewer graphical glitches while playing Dead by Daylight. To do this:
Right-click on the Start Menu to open up the Quick Access Menu.
Click on Device Manager from the list.

Double-click on the Display adapters category to expand the list.

Right-click on the dedicated graphics card name.
Select Update driver.

Choose Search automatically for drivers.

If an update is available, it will automatically download and install the latest version.

Once done, make sure to reboot your computer to apply the changes.
Although the Device Manager is the default tool that downloads the latest driver for your PC, It doesn't always work. That is why we recommend using Drivefix, a third-party tool that scans, finds, and downloads the best driver for your PC.
2. Tweak your DbD Game User Settings
Close Dead by Daylight.
Press the Windows+R keys to open the run dialogue box.
Type in %AppData% in the run box to open the File Explorer.
Open AppData > Local > DeadByDaylight > Saved Config > WindowsNoEditor.
Open the GameUserSettings file using a text editor like Notepad.
Scroll down to the bottom of the file.
Leave the HDR Display Output Nits option as it is.
Set the desired screen width, screen height, and two options below to your native monitor resolution or a custom resolution.
Set the FrameRateLimit option to your monitor's refresh rate.
Disable the Dynamic resolution and VSync options by setting their values to False.
If you still experience performance issues, reduce the ScreenResolution option to around 80, but keep in mind that this will affect the visual quality of the game.
Finally, apply your changes and save the file.
3. Run the game as an administrator
Right-click on the Dead By Daylight exe shortcut file on your PC.
Select Properties and click on the Compatibility tab.
Make sure to click on the "Run this program as an administrator" checkbox to checkmark it.
Click on Apply and Select OK to save the changes.
4. Close Background Running Tasks
Press Ctrl + Shift + Esc keys to open up the Task Manager.
Click on the Processes tab.
Select tasks unnecessarily running in the background and consuming enough system resources.
End Task Manager.
Click on "End Task" to close it.
Repeat the same steps for all unnecessary tasks.
Once done, restart your system to apply the changes.
5. Switch to Auto Settings in Video
Press the Esc button on your keyboard during gameplay.
Go to the in-game Settings menu.
Click on Video and Select Auto Settings.
Resume the gameplay to cross-check whether the frame drops or lags are still appearing or not.
If the in-game lag or frame drops are still there, select All.
Try lowering the video settings from the game menu.
6. Set High Performance in Power Options
Click on the Start Menu.
Type "Control Panel" and click on it from the search results.
Go to Hardware and Sound.
Select Power Options.
Click on High Performance to select it.
Close the window.
Fully shut down your computer.
Extra Steps:
Stop other background downloads
Switch between display modes
Contact Dead By Daylight support
Related articles:
Conclusion
There you have it! We hope one of the solutions has helped you fix Dead by Daylight low fps. As always, leave us a question in the comment section below.
If you encounter any issues or errors while playing your favorite games and require support, feel free to contact us here. Our team is always ready to assist you and ensure your gaming experience is seamless and enjoyable.