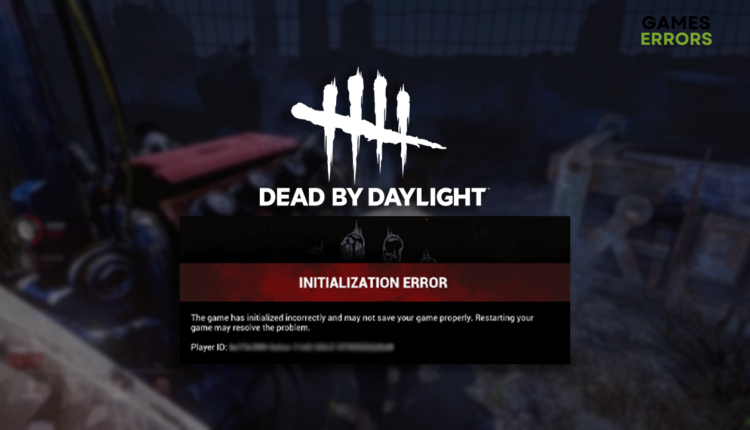 Dead by Daylight Initialization Error Xbox [Explained]
Got scared even before the game launched? The reason is not the gameplay but the initialization error? No worries, we know what to do! 👾
X
INSTALL BY CLICKING THE DOWNLOAD FILE
Being welcomed by the Dead by Daylight initialization error Xbox is pretty unpleasant. As the information provided indicates, restarting the game right away might be the way to solve the issue. However, if you are reading this, it probably didn't resolve your issue, so following through with our explanations and solutions is best.
If you face this problem when playing the game on your desktop setup, learn how to fix the Dead by Daylight initialization error on your PC.
What does initialization error mean in Dead by Daylight?
The initialization error in DBD means a problem with game or Xbox services, temporary issues with your network devices or Xbox, problematic MAC address, bugs with your Microsoft account, or pilled-up files in the persistent storage.
💡 Since this error is directly related to server-side issues, you might be unable to fix it. However, you can follow through with our solutions and do everything possible to remove the problems on your device.
How to fix the Dead by Daylight initialization error on Xbox?
Begin troubleshooting with these quick fixes and easy checks:
Restart your network devices: Your home network is managed by a router or a modem. These devices can have temporary issues, which you can fix by pressing the restart button.
Check the Xbox Live status: The initialization error is unfixable if the problem is not on your side. Make sure that all of the Xbox services are running and operational.
Power cycle your Xbox: Switch the console off, unplug it from the electricity socket, and wait a few minutes. Plug the console back into the power source and boot it.
Proceed with the step-by-step solutions listed below.
1. Clear the MAC address
Time needed: 5 minutes
Media Access Control (MAC) address is a unique identifier for your console on your home network and the internet. Since it caused issues in the past, Xbox developers added an option for clearing and resetting MAC addresses, which is useful when encountering connection-related errors.
Press the Xbox button on the Xbox controller.

Navigate to Profile & System tab and then select Settings.

Navigate to the General tab and select Network Settings.

Select Advanced Settings.
Select Alternate MAC address.
Hit the Clear button and restart your Xbox.
2. Re-add your account
Using multiple accounts on your Xbox console may cause an initialization error when launching Dead by Daylight. However, there is a quick way to resolve these temporary issues.
📝 Write down your Microsoft account login credentials before proceeding!
Press the Xbox button on the Xbox controller.

Navigate to Profile & System and then select Settings.

Select Account and then Remove Accounts.

Select your account and then select Remove.
Restart your Xbox.
Navigate to Profile & System and select Add or Switch.

Select Add New.

Enter your email address and select Enter.
Enter your password, select Enter, and configure your Microsoft account.
3. Clear persistent storage
Every modern device stores temporary files so the apps and games launch faster and run smoother. However, there is one issue – this often causes bugs and errors like the initialization one we are discussing. On Xbox, you can clear these files and eliminate the chance of them causing the error.
Press the Xbox button on your controller.

Navigate to Profile & System tab and then select Settings.

Go to Devices & Connections and then select the Blu-ray option.

Select the Persistent storage option.

Press the Clear persistent storage button.

Restart your console.
Extra steps
If you still get Dead by Daylight initialization error Xbox, try to:
📶 Enable UPnP: According to the DBD support team, the Universal Plug and Play should be enabled in your router settings. Open the router interface, log in, and allow UPnP under Forwarding.
🌐 Use a wired connection: Although a wireless connection is convenient, connecting your Xbox directly to the network using an ethernet cable is best. The ethernet port is located on the console's back panel.
🎮 Factory reset your Xbox: Factory reset usually means deleting all data and apps from your device. However, you can save the game installation and reset the Xbox software.
Related articles:
Conclusion
Hopefully, our suggestions helped you resolve the Dead by Daylight initialization error on Xbox. Let us know if you find any causes or solutions we didn't cover, so we can share them with other gamers facing the same issue when they want to enjoy this excellent survival horror game.