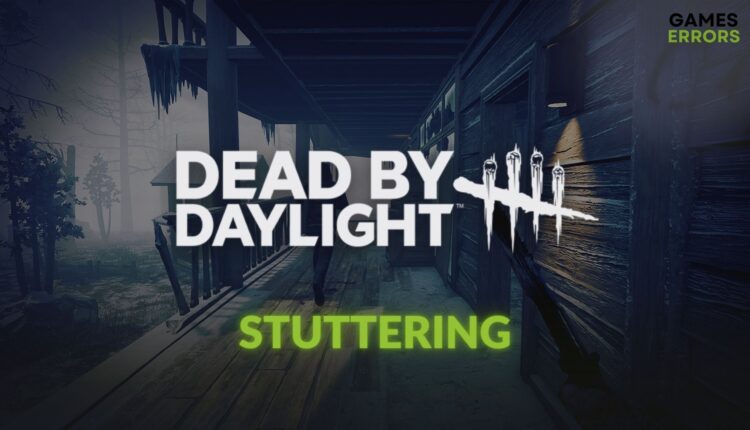 Dead by Daylight Stuttering: How to Make It Smoother
You will not get the actual vibe of the eerie world of Dead by Daylight if it keeps stuttering on your PC. To fix this issue, try the following fixes 👇
Are you having constant or random stuttering issues on Dead by Daylight on your PC? Like you, many other players are reporting this problem. By tweaking certain things, you can fix this situation.
Undoubtedly, this asymmetrical multiplayer horror game, Dead by Daylight, is a perfect source of fear where you will have to survive by using your strategy and gameplay style. However, it's not only a fight between the desperate survivors and the relentless killer; it's also between you and the performance problem on your PC.
For a lot of gamers, DBD may go through stuttering issues. The good thing is you can fix this trouble and have a thrilling and haunting gaming adventure.
If necessary, learn how to solve the save game error on DBD.
Why is Dead by Daylight stuttering on my PC?
The DBD may lag or stutter on your Windows PC, no matter whether it is a high-end system or a low-end one. This happens primarily due to the following reasons:
GPU driver problem: Outdated and problematic graphics card drivers can trigger stuttering issues on Dead by Daylight.
Outdated or problematic components: If the game components and related services become corrupted, you will get this problem as well.
Network issues: Network stability and configuration also play a significant role in stuttering problems on DBD on PC.
Third-party services: Too many background activities and third-party services can cause lagging and stuttering issues in this horror game.
How do I stop Dead by Daylight from stuttering?
If your PC meets the system requirements of Dead by Daylight, try these quick things before going through the main solutions:
Power-cycle your PC and internet router.
Use a wired connection.
Enable high-performance mode.
Disable VPN, Proxy, Antivirus, and Firewall.
Ensure that you have a stable internet connection.
After that, try these techniques to make DBD smoother on Windows 11 and 10:
1. Update the graphics and network driver
Time needed: 2 minutes
To stop stuttering in Dead by Daylight, you should update your graphics and network drivers to the latest version without thinking about anything else. In most cases, it will work and save you time.
Select Search automatically for drivers.
Finish the process.
Expand Network Adapters.
After updating, restart your PC.
To update the network, GPU, or any other drivers, use Outbyte Driver Updater. It's one of the most powerful tools that can keep all drivers updated without manual interaction.
⇒ Get Outbyte Driver Updater
2. Launch in fullscreen mode
Launch Steam.
Navigate to the game library.
Next, right-click on Dead by Daylight and click on Properties.
Go to the General tab.
Relaunch DBD and see if it works.
If you use Epic Games Launcher, go to its Settings. Scroll down, expand DBD, tick on Additional Command Line Arguments, and use the above-mentioned command. It should reduce the stuttering on Dead by Daylight.
3. Disable fullscreen optimizations
Navigate to the DBD installation directory using File Explorer.
Right-click on the application file of this game and then go to Properties.
Go to the Compatibility tab.
Click on Apply and OK.
4. Change DNS
Press Win + I to launch Windows Settings.
Click on Manual from the dropdown menu.
Enable IPv4.
Restart Windows.
5. Reset network
Go to the Network Reset.
Click on the Reset Now.
Restart your PC.
6. Enable hardware-accelerated GPU scheduling
Open Windows Settings.
Restart Windows.
You also can disable this feature if the Dead By Daylight keeps stuttering with GPU scheduling enabled.
Extra solutions:
In case the problem still exists, try these solutions:
Run in a clean boot state so that no extra background activities can hamper the gameplay.
Update the game and Windows.
Re-install DBD.
Roll back the display driver or re-install it if necessary.
Disable sound optimization from Windows Settings.
Update the BIOS/UEFI.
Play with lower settings.
After trying the techniques featured in this post, you should be able to fix the Dead By Daylight stuttering problem. However, if the problem persists, consider resetting Windows. If you have got this item using your Game Pass subscription, you can consider trying it on Steam or Epic Games if possible, as it has helped some gamers. Have you got any questions? Let us know in the comment box.